Overview
Background
Cerebral autosomal dominant arteriopathy with subcortical infarcts and leukoencephalopathy (CADASIL) is the most common form of hereditary cerebral angiopathy (see image below). As the name implies, it is dominantly inherited. The condition was first described more than 30 years ago in a Swedish family [1] , although the acronym CADASIL did not emerge until the early 1990s [2] . Clinically, CADASIL is associated with progressive dementia, mood disorders, migraine, and recurrent subcortical cerebral infarctions.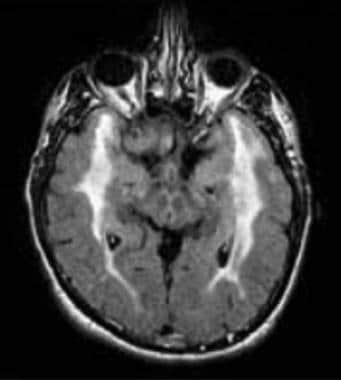 FLAIR MRI of the brain showing hyperintensities involving the temporal poles in a patient with cerebral autosomal dominant arteriopathy with subcortical infarcts and leukoencephalopathy (CADASIL). (Reprinted with permission from Mayo Clin Proc, Meschia, 2005.)
Pathophysiology
CADASIL is caused by a mutation in the NOTCH3 gene on chromosome 19q12. The gene mutation was first identified in 1996. [3] NOTCH3 codes for a transmembrane receptor protein whose function is not precisely known. The NOTCH3 receptor is located on the surface of smooth muscle cells surrounding arteries. Mutations are typically located within epidermal growth factor–like repeat domains in the extracellular part of the NOTCH3 receptor. [4] Accumulation of the pathologic NOTCH3 receptor protein in small and medium-sized cerebral arteries is responsible for the pathogenesis and phenotypic presentation of CADASIL. [5] Cerebral infarctions result from thickening and fibrosis of the walls of small and medium-sized arteries.
Epidemiology
Frequency
United States
The incidenceand prevalence of CADASIL in the United States are not known.
International
The incidence and prevalence of CADASIL worldwide are not known.
Mortality/Morbidity
The exact mortality rate in patients with CADASIL is unknown. The age at onset for stroke is 45-50 years. The mean age at death has been reported to be 61 years after a mean disease duration of approximately 23 years. [6] Men tend to die earlier than women. [7] Fewer than half of patients older than age 60 could walk without assistance. [5] Close to 80% of patients are completely dependent immediately before death. [7]
Race
Although CADASIL was first reported in European families, it has been observed in American, Middle Eastern, African, and Asiatic pedigrees. [8]
Sex
CADASIL appears to be equally distributed between men and women.
Age
The onset of clinical symptoms usually occurs in the fourth decade of life [9] , with a mean age at presentation of 46.1 years [6] . Symptomatic onset as early as age 8 years has been reported. [10]
What would you like to print?