Periprocedural Care
Equipment
Equipment used for transjugular intrahepatic portosystemic shunt (TIPS) creation includes the following:
Good ultrasound machine with linear-array probe

Fluoroscopy

Chlorhexidine or povidone-iodine solution for skin disinfection

Heparinized saline (1000-2000 U heparin in 1000 mL of 0.9% NaCl)

Basic angiography set

Sheath, 5 French, and curved catheter

Guide wires - 0.035-in. Terumo Glidewire and exchange-length 0.035-in. Amplatz wire

Pressure transducer

TIPS kit (Cook Medical, Bloomington, IN; see the first image below) - Sheath, 10 French, 40 cm; guide catheter, 51 cm, with metal stiffener; portal venous access needle, 60 cm

Medical CO

2

and its kit

[12]

(if available)

Angioplasty balloons, typically 8 mm × 40 mm

Covered stent - Gore Viatorr (WL Gore, Flagstaff, AZ) or another brand, such as Wallgraft (Boston Scientific, Natick, MA; the advantage of the Gore Viatorr is the design, which consists of a distal 2-cm-long unlined segment that is deployed in the portal vein and therefore gives better anchorage without obstructing the flow and allows for nutrient portal perfusion (see the second image below)

Bare stents may be used, if needed, to extend to the right atrium

[13]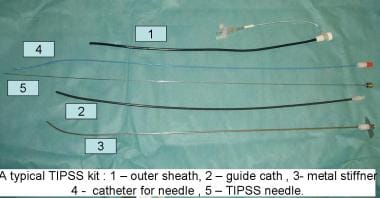 Typical TIPS kit.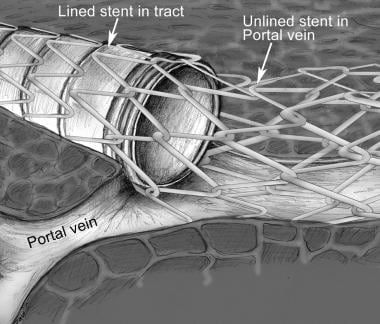 Artist impression of stent in situ.
Patient Preparation
Anesthesia
General anesthesia is usually required for pediatric patients and is preferred in many institutions for adults as well. Procedural sedation may be used, depending on local practices. Midazolam with fentanyl citrate is a reasonable combination for achieving procedural sedation. Local anesthesia is achieved with approximately 5 mL of lidocaine 1% at the jugular puncture site.
Positioning
Position the patient supine, with the neck turned away from the side of vein puncture. Avoid pillows unless they are needed.
Monitoring & Follow-up
The high frequency of shunt stenosis warrants close surveillance with Doppler ultrasonography or portography. Patients undergo a baseline Doppler study within 24 hours of the procedure to document functional parameters, including the direction of portal vein flow and flow velocities throughout the shunt and within the hepatic vein. Although TIPS venography with direct portal and right atrial pressure measurements is the criterion standard for stent assessment, high sensitivity and specificity for shunt function has been reported with certain Doppler criteria, as follows:
Absent flow

Low peak shunt velocity (<50 to 90 cm/s)

High peak shunt velocity (190 cm/s)

Low mean PV velocity (<30 cm/s)

Return of antegrade flow in the intrahepatic PVs

Significant change in shunt velocity (>50 cm/s) as compared with the immediate postprocedural result
In the acute phase, the stent can thrombose. To treat this, the stent can be lysed, or mechanical thrombectomy can be performed. If later in-stent stenosis occurs, perform angioplasty or insert another stent, as required.
Postprocedural follow-up for TIPS placement is important to ensure patency. Post-TIPS Doppler ultrasonography may be performed at 24 hours, 3 months, 6 months, 12 months, and annually thereafter.
What would you like to print?