Periprocedural Care
Equipment
The biopsy kit commonly used is manufactured by Cook Medical (Bloomington, IN). The kit contains the following materials, which can be assembled if the kit is unavailable:
Long (49 cm) sheath, 7 French (see the first image below)

Angled metal sheath stiffener (see the second image below)

Straight catheter, 5 French

Cutting biopsy needle, 60 cm (see the third image below)

Multipurpose catheter, 5 French

Guide wire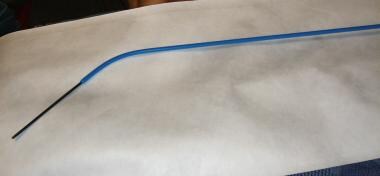 7F sheath (outer blue) with inner straight catheter (black).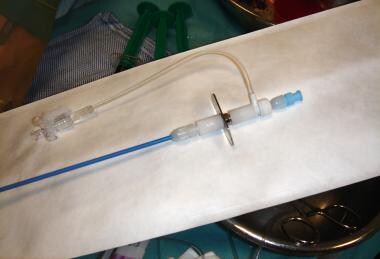 Sheath with metal stiffener. Note the metal guide at the proximal end.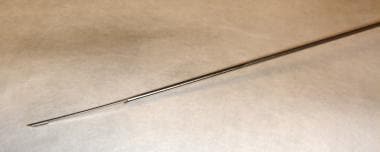 Biopsy needle.
Other equipment needed includes the following:
Ultrasound machine with linear-array probe

Fluoroscopy

Skin disinfectant (eg, chlorhexidine, povidone-iodine solution)

Heparinized saline (1000 U heparin in 1000 mL of 0.9% NaCl)

Basic angiography kit, including puncture needle

Sheath, 5 French

Cobra-2 catheter

Hydrophilic-coated guide wire (Terumo, Somerset, NJ)

1-cm floppy-tip Amplatz guide wires
Patient Preparation
Anesthesia
In adults, local anesthesia (eg, lidocaine 1% 10 mL) is required for the jugular puncture site on the neck. (For more information, see Local Anesthetic Agents, Infiltrative Administration.) In children, general anesthesia is usually required for this procedure.
Positioning
Position the patient supine with the patient's head turned away from the jugular puncture site.
What would you like to print?