Workup
Laboratory Studies
Blood work is required to exclude possible systemic diseases. A complete blood count (CBC) is obtained if infection is suspected.
Imaging Studies
Lateral view radiographs of the skull can be substituted for panoramic radiographs of the mouth; the disadvantage of this view is the overlapping between styloid processes of both sides and/or with adjoining bony structures. An antero-posterior view radiograph should be obtained to determine whether the styloid process is medially or laterally deviated.
An advantage of orthopantomogram (panoramic view) is that the entire length of the process can be seen very distinctly and its deviation can also be made out clearly. Although conventional radiographs provide a rough idea of the anatomy, the actual diagnosis is difficult due to the superimposed anatomical structures.
CT scanning (and in particular 3-D CT scanning; see images below) represents an extremely valuable imaging tool in patients with Eagle syndrome, offering an accurate evaluation of the styloid process in relation to its anatomical relationship with the other head and neck structures, to its length and to its usefulness in surgical planning.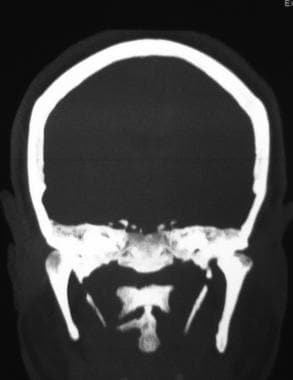 CT scan: calcification of the stylohyoid ligament.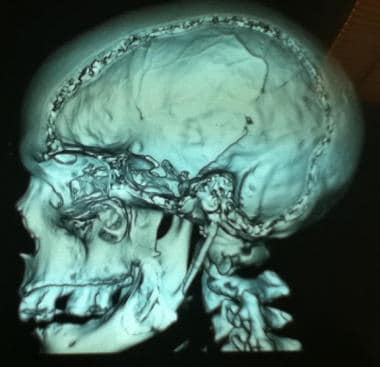 Three-dimensional reconstruction CT scan.
CT scanning of the skull base and neck is best for diagnosis, although an accurate case history and the specialist's intuition are also important for the differential diagnosis.
Three-dimensional cone-beam CT is an excellent alternative to study the styloid process.
A study by Kent et al suggested that the distance from the tip of the styloid process to the tonsillar fossa may be a better diagnostic criterion for Eagle syndrome than the actual length of the styloid process. Using conventional and 3-D CT scanning analysis in persons with Eagle syndrome, glossopharyngeal neuralgia, or neither condition (asymptomatic controls), the study found that the average distance from the tip of the styloid process to the tonsillar fossa was significantly smaller in the Eagle syndrome cases (12.7 mm, versus 21.4 mm and 24.8 mm, respectively). Moreover, no significant difference was found in the average length of the styloid process between each group of subjects. [31]
Diagnostic Procedures
Reproduction of the patient's pain on palpation of the tonsil or tonsillar fossa and relief of this discomfort by injection of local anesthetic are diagnostic. In the lidocaine infiltration test, 1 mL of 2% lidocaine is infiltrated into the anterior pillar and deep into the tonsillar fossa; after a few minutes, if the patient's symptoms are relieved temporarily, the test is regarded as positive, confirming the diagnosis of Eagle syndrome. [32]
What would you like to print?