Workup
Laboratory Studies
Results of relevant laboratory studies in patients with nephroptosis are as follows:
Urinalysis may reveal microhematuria; however, the workup for microhematuria should be completed in a standard fashion before nephroptosis is implicated as its cause.

Urine culture results are typically negative.

Blood urea nitrogen (BUN), creatinine, and electrolyte levels are typically normal.
Imaging Studies
Intravenous urography is the primary diagnostic tool in nephroptosis. In patients with nephroptosis, intravenous urography shows kidney descent of two or more vertebral bodies (ie, > 5 cm) when the patient moves from the supine to the upright position (see the images below). Delayed imaging may also show hydronephrosis. [1, 3]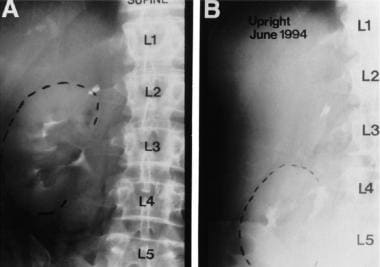 Intravenous urogram. (A) Supine intravenous urogram showing the kidney in proper position with the renal pelvis opposite vertebral body L3 and no hydronephrosis. (B) Upright intravenous urogram showing descent of the kidney and malrotation, with subsequent hydronephrosis development. (Reprinted from Hoenig DM, Hemal AK, Shalhav AL, Clayman RV. Nephroptosis: a "disparaged" condition revisited. Urology. Oct 1999;54(4):590-6, with permission from Elsevier.)
In patients with nephroptosis, diuretic (furosemide) renography may show hydronephrosis and/or decreased split kidney function when scans taken in the supine position are compared with those taken in the sitting position. [1, 17]
Retrograde pyelography can demonstrate obstructive changes in the ureter, pelvis, or calyces (eg, kinking) when the kidney position is changed by tilting the operative table. [3]
Computed tomography scan findings are usually normal when the patient is in the supine position. [1]
Supine-to-upright ultrasonography and Doppler ultrasonography scans can show kidney ptosis, while the Doppler study can show diminished blood flow in the ptotic kidney when the patients is upright. This method may yield sensitivity superior to that of isotope renography (renal scanning) in detecting symptomatic nephroptosis. [18]
When scanning is performed in both a supine and sitting position, it may show decreased blood flow and reduced clearance. [19]
Grauer et al reported use of an anterograde urodynamic study, the modified Whitaker test, to diagnose nephroptosis after standard imaging was inconclusive. [10]
What would you like to print?