Workup
Approach Considerations
Pulmonary veno-occlusive disease (PVOD) should be suspected in patients who have been diagnosed with pulmonary arterial hypertension (PAH) but who have radiographic findings suggestive of left-sided heart failure. The diagnosis is based on clinical and radiographic findings. Surgical or transbronchial biopsy should not be performed secondary to the very high rate of complications, including death.
Most patients with PVOD present with progressive dyspnea upon exertion. [38] Often, right-sided heart failure is initially suspected (owing to edema, jugular venous distention, a loud P2 sound, and hypoxemia) or left-sided heart failure is considered (secondary to radiographic findings of bilateral pulmonary infiltrates and Kerley B lines).
When these patients are evaluated using echocardiography or right-sided heart catheterization, the diagnosis of pulmonary hypertension is confirmed but their wedge pressure (if the pulmonary artery catheter is properly wedged) is within normal limits. In summary, PVOD is currently recognized based on one of two sets of findings, as follows (see the Table below):
The patient is diagnosed with pulmonary arterial hypertension (PAH) but a review of the chest radiograph and CT scan raises the suggestion of pulmonary edema.

The patient is diagnosed with suspected pulmonary edema but echocardiography or right-sided heart catheterization reveals pulmonary hypertension.
Table. Distinguishing Pulmonary Edema From PVOD Based on Radiographic, Echocardiographic, and Heart Catheterization Data (Open Table in a new window)
Features

Pulmonary Edema

PVOD

Chest radiograph

Kerley B lines

Present

Present

Pleural effusion

Usually present

May be present

Enlarged cardiac silhouette

Present

Less prominent

Enlarged pulmonary artery

Present

Present

Chest CT scan

Thickened septae

Present

Present

Pleural effusion

Usually present

May be present

Enlarged heart

Present

Less prominent

Enlarged pulmonary artery

Present

Present

Septal concavity into left ventricle

Absent

Present

Echocardiogram

Pulmonary artery systolic pressure

Elevated (usually not >80 mm Hg)

Elevated (may be >80 mm Hg)

Left atrial enlargement

Present

Absent

Right atrial enlargement

Present

Present

Right ventricular hypertrophy

Absent

Present

Paradoxical septal motion

Absent

Present

Large pericardial effusion

Absent

May be present

Right-sided heart catheterization

Pulmonary vascular resistance

Below 3.0 Wood units

Above 3.0 Wood units

Pulmonary capillary wedge pressure

Above 18 mm Hg

Usually below 15 mm Hg

(if catheter is properly wedged)

Mean pulmonary artery pressure

Elevated (almost never >50 mm Hg)

Elevated (may be >50 mm Hg)

Cardiac output

May be normal, low, or high

Mostly decreased, may be low normal

Oxyhemoglobin step-up

Absent

Absent
Lab studies
Laboratory parameters are generally unremarkable and not helpful in the diagnostic workup, although microangiopathic hemolytic anemia, proteinuria, and elevations in serum immunoglobulin G and M concentrations have been reported. Note, however, that laboratory results are more abnormal in cases of PVOD associated with autoimmune disease. The level of brain natriuretic peptide is expected to be high in patients with overt right-sided heart failure.
Pulmonary function tests
The single-breath diffusing capacity for carbon monoxide (DLCO) is usually reduced in persons with PVOD. A restrictive ventilatory defect has also been reported in many cases. However, the decrease in DLCO is usually out of proportion to the degree of restrictive or obstructive abnormality.
Echocardiography
An echocardiogram is an extremely useful initial noninvasive tool to assess right-sided pressures and to rule out left ventricular abnormalities and valvular heart disease.
Chest Radiography
The most common chest radiography finding in pulmonary veno-occlusive disease (PVOD) is the presence of interstitial infiltrates. Kerley B lines similar to those associated with pulmonary edema may be seen as a result of interstitial edema and enlargement of pulmonary lymphatic channels. Central pulmonary arteries may be enlarged, as in other causes of pulmonary hypertension, and scattered, patchy opacities may be present. Pleural effusion may be present and is mostly right sided. However, the absence of these radiographic abnormalities does not exclude the condition. [39]
CT Scanning
CT scanning commonly reveals septal thickening and diffuse or patchy ground-glass opacities. [40] The presence of subpleural septal thickening (observed in 93% of cases) and diffuse, ill-defined, centrilobular ground-glass opacities (observed in 73% of cases) is highly suggestive of PVOD in patients with pulmonary hypertension. Other findings on CT scans include small nodules, dependent areas of consolidation, lymphadenopathy, and pleural effusions. The association of ill-defined nodules, septal thickening, and lymphadenopathy should raise the suggestion of a diagnosis of PVOD. (See the image below.) [41, 42]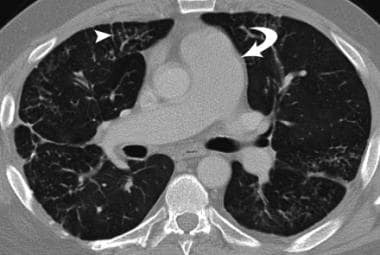 Pulmonary veno-occlusive disease in a 43-year-old man. An axial computed tomography (CT) scan (lung window level) shows multiple septal lines (arrowhead) and a dilated central pulmonary artery (arrow). Image courtesy of Thoracic Imaging Section, Department of Radiologic Pathology, Armed Forces Institute of Pathology.
The ground-glass attenuation may result from alveolar septal thickening and epithelial hyperplasia. The central pulmonary veins and the left atrium are not enlarged, in contrast to patients with mitral stenosis, cor triatriatum, or left atrial myxoma. [43] Pericardial effusion may be present in patients with advanced right-sided heart failure. Enlarged pulmonary arteries resulting from pulmonary hypertension are almost universal.
Selective Pulmonary Artery Angiogram
This study may be helpful in ruling out chronic pulmonary thromboembolic disease, but it is rarely needed. A ventilation-perfusion scan is generally sufficient to clinically exclude significant or, more precisely, operable, chronic pulmonary thromboembolic disease.
A selective pulmonary artery angiogram in a patient with suspected pulmonary veno-occlusive disease (PVOD) offers very little additional clinically relevant information when ventilation-perfusion scan findings are normal or show a low probability for chronic pulmonary thromboembolic disease or in patients who are not suitable candidates for pulmonary thromboendarterectomy, even if they were diagnosed with chronic pulmonary thromboembolic disease. [44]
Ventilation-Perfusion Scanning
In patients with pulmonary veno-occlusive disease (PVOD), abnormal ventilation-perfusion scan findings are not unusual. The scan may reveal focal areas of hypoperfusion, which may lead to a misdiagnosis of chronic thromboembolic pulmonary hypertension. A high-probability ventilation-perfusion scan in a patient with pulmonary hypertension does not always indicate a proximal pulmonary arterial process.
The reported ventilation-perfusion scan findings have also included (1) diffuse, patchy distribution of tracer material without clear segmental or subsegmental defects and (2) a unilateral absence of perfusion due to severe, asymmetrical involvement. The type of defect may vary depending on the size and location of the involved veins. [45]
Cardiac Catheterization
Interestingly, a clue to the diagnosis of pulmonary veno-occlusive disease (PVOD) is the inability to accurately measure the wedge pressure during cardiac catheterization. Multiple wedge pressure measurements or a distal wedge reading confirmed by a partial pressure of oxygen similar to arterial blood should be performed to determine the correct wedge pressure.
A correctly performed pulmonary capillary wedge pressure measurement generally reveals normal or decreased wedge pressure, despite the fact that the pulmonary capillary pressures (in the absence of a static blood column) are elevated. Occasionally, an elevated wedge pressure may be obtained, depending on the degree of venous occlusion and collaterals. This may occur because of the patency of the larger pulmonary veins. [27]
In PVOD, the use of a short-acting pulmonary arterial vasodilator, such as inhaled nitric oxide or intravenous epoprostenol or adenosine, during acute vasoreactivity testing may precipitate acute pulmonary edema. The edema results from increased transcapillary hydrostatic pressures in the setting of acute arterial vasodilation and preexisting venous occlusion. The development of pulmonary edema in response to a pulmonary vasodilator, therefore, is strongly suggestive of the diagnosis of PVOD. [46] This complication in association with the poor response of PVOD patients to PAH-specific therapy argues against vasodilator testing in patients in whom PVOD is strongly suspected.
The development of acute fulminant pulmonary edema, and even death, has been reported with infusion of even a very low dose of intravenous epoprostenol. Hence, great caution should be used in patients with suspected PVOD while administering intravenous epoprostenol. [47]
Bronchoscopic Examination
Bronchoscopy does not have a major role in the management of PVOD but it may be performed to rule out other lung diseases in cases of an atypical presentation. Hyperemia of the small airway mucosa with vascular engorgement in the form of bright red, longitudinal streaks has been reported. The trachea and main bronchi may be spared because the venous drainage of the central airways is into bronchial veins, which are not involved. Bronchoalveolar lavage may suggest chronic alveolar hemorrhage.
Transbronchial lung biopsy is contraindicated because of the presence of pulmonary hypertension and the risk of excessive bleeding.
Surgical Lung Biopsy
Surgical lung biopsy in the presence of moderate or severe pulmonary arterial hypertension (PAH) is associated with a significant risk of morbidity and mortality. Although this is a somewhat controversial issue, a surgical lung biopsy in patients with suspected pulmonary veno-occlusive disease (PVOD) also carries a serious risk of morbidity and mortality, particularly in the setting of high pulmonary vascular pressure. [48] Moreover, the results of the biopsy rarely affect PVOD treatment.
Some experts who favor biopsy argue that it provides prognostic information that facilitates decision making with regard to the timing of lung transplantation listing. In the authors' opinion, however, the risk of surgical lung biopsy outweighs the value and usefulness of the information obtained. Alternative means of assessment, such as CT scan findings and observation of the patient (to determine whether there has been a lack of improvement or continued clinical worsening despite specific PAH therapies), may be used to make decisions about the listing for and timing of lung transplantation.
What would you like to print?