Workup
Approach Considerations
According to National Comprehensive Cancer Network (NCCN) guidelines, multidisciplinary testing (immonohistochemistry, cytochemistry, and molecular genetic analysis) are needed to diagnose APL in accordance with the 2016 WHO classification system. An APL diagnosis requires APL morphology and one of the following [16] :
t(15:17) by cytogenetics, or

Promelocytic leukemia (PML)/retinoic acid receptor alpha (RARA) by molecular testing
Patients are further classified as low risk (white blood cell [WBC] count ≤10,000/μL) or high risk (WBC >10,000/μL) [16]
If major neurologic signs or symptoms are present, appropriate brain imaging studies should be performed to detect meningeal disease, chloromas, or central nervous system (CNS) bleeding. [16]
Laboratory Studies
The initial laboratory workup of acute promyelocytic leukemia (APL) should include the following:
Complete blood cell (CBC) count with differential

Peripheral blood smear

Comprehensive metabolic profile for baseline renal and liver function tests,

Electrolyte levels

Prothrombin time (PT) and activated partial thromboplastin time (aPTT)

Fibrinogen assay
Other Tests
Many authorities recommend lumbar puncture at diagnosis of acute promyelocytic leukemia (APL) in high-risk patients who present with a very high WBC count. In these cases, the CNS may serve as a sanctuary site warranting intrathecal therapy. Coagulopathy should be corrected first, and lumbar puncture may sometimes be delayed until after induction therapy.
The cerebrospinal fluid (CSF), in addition to undergoing routine chemical and hematologic studies, should be cytospun and examined by a pathologist trained in examination of fluid cytospins. Flow cytometry of CSF should be done to look for the abnormal clonal cells.
In addition, cardiac function should be examined by echocardiography or scintigraphy before the administration of anthracyclines.
Procedures
A bone marrow biopsy with aspirate should be performed immediately. The sample should be sent for flow cytometry and cytogenetics. Fluorescent in situ hybridization (FISH) for the translocation or reverse transcription–polymerase chain reaction (RT-PCR) for the PML-RAR alpha transcript should also be done. The typical phenotype of acute promyelocytic leukemia (APL) is myeloperoxidase positive and CD33 positive, human leukocyte antigen (HLA)-DR negative.
Histologic Findings
Acute promyelocytic leukemia (APL) has the following morphologic variants [14] :
Hypergranular (classic M3)

Microgranular (M3v)

Hyperbasophilic

PLZF-RAR alpha (M3r)
The hypergranular subtype has frequent Auer rods, clumps of granular material containing lysosomes, peroxidase, lysosomal enzymes, and large crystalline inclusions (see the image below). Auer rods can be seen in other types of AML, but they are usually seen in APL. The nucleus is folded or bilobed, and the cytoplasm contains prominent azurophilic granules. The bone marrow is usually hypercellular. The cells stain intensely for Sudan black and myeloperoxidase, but not for periodic acid–Schiff (PAS) and HLA-DR.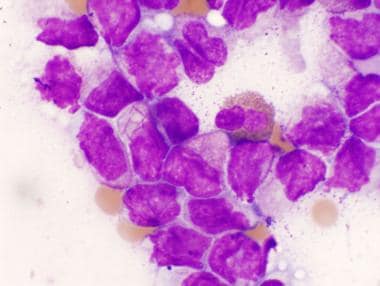 Regularly hypergranular subtype of acute promyelocytic leukemia. Image courtesy of Dr. William Kocher.
The microgranular variant also has a folded nucleus, but the cytoplasm has fine, dusky granules and Auer rods are rare. It is seen in 25% of cases of APL.
The hyperbasophilic subtype shows an increased nucleocytoplasmic ratio and strongly basophilic cytoplasm with blebs. There are few granules and no Auer rods.
The PLZF-RAR alpha variant has regular, condensed chromatin in the nucleus. There are fewer granules and rare Auer rods compared with the hypergranular subtype.
What would you like to print?