Periprocedural Care
Equipment
Ideally, the patient arrives in the emergency department (ED) with the dislodged gastrostomy tube (G-tube). The same tube or same type of tube can be placed. The fact that the G-tube was dislodged often indicates a malfunction with that particular tube (eg, balloon rupture); thus, a new tube should be used. When information on the tube type is not available or known to the patient, a dedicated feeding tube suffices. If no feeding tube is accessible, a Foley catheter (≥16 French) can be used temporarily until a dedicated feeding tube can be placed.
Before G-tube replacement, gather the following items:
Gloves

Stethoscope

G-tube or Foley catheter

External bolster

Lubricant

Syringe that fits tube for air insufflation

Syringe that fits tube for saline inflation (if a balloon is involved)

Saline

Suture material

Needle driver

Scissors
Certain tubes require specialized plugs, connectors, and clamps, which should be specified on the packaging insert. In addition, some tubes necessitate the use of a hemostat, an endotracheal tube stylet, a guide wire, or other support to assist tube passage.
Two types of catheters are depicted in the images below.

Commonly used by radiologists, Cope loop catheters (illustrated with a metal introducer stiffener) are easily placed into the stomach. However, their small lumina and small side holes predispose them to catheter occlusion.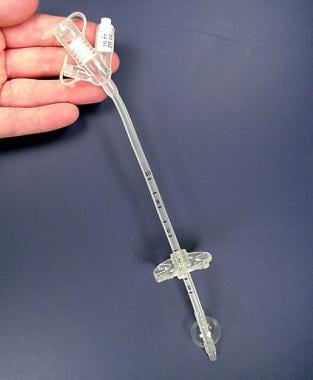 Commonly used for surgical, endoscopic, and radiologic gastrostomy access, balloon catheters provide secure intraluminal retention and are simple to place and replace.
Bentley et al reported the outcomes of balloon vs nonballoon G-tubes in 145 patients, of whom 37.2% had a balloon-type G-tube and 62.8% had a non-balloon-type tube. [7] Patients in the nonballoon group had 1.14 ED visits related to the G-tube (range, 0-15), whereas those in the balloon group had 0.48 (range, 0-6). The nonballoon tubes had both radiologic and surgical tube replacement, whereas the balloon types were managed radiologically. These findings underscore the importance of selection of the appropriate type of G-tube.
Patient Preparation
Anesthesia
G-tube replacement generally requires no anesthesia. If the skin site is sore, local administration of lidocaine or bupivacaine can decrease discomfort associated with tube replacement. For more information, see Local Anesthetic Agents, Infiltrative Administration.
Positioning
G-tube replacement is most easily performed with the patient in a comfortable recumbent position.
What would you like to print?