Periprocedural Care
Equipment
Equipment used in hernia reduction includes the following:
Means of anesthesia or sedation

Cold compress

Gurney capable of Trendelenburg positioning
Patient Preparation
Anesthesia
Anesthesia is generally not required for most reductions. Procedural sedation is recommended if the patient is a young child. Procedural sedation can also be used in adults if a difficult reduction is expected or if initial attempts without sedation are unsuccessful. Epidural anesthesia has also been successfully used and might be an alternative for infants. [17] Ilioinguinal nerve blocks have been used as an adjunct for pain control for inguinal hernias. [18, 19]
Positioning
For reduction of an inguinal hernia, the patient should be placed in a 20° Trendelenburg position (see the image below). Gravity pulls the bowel contents inward from the site of herniation and facilitates reduction. A supine position is appropriate for a hernia of the upper abdomen.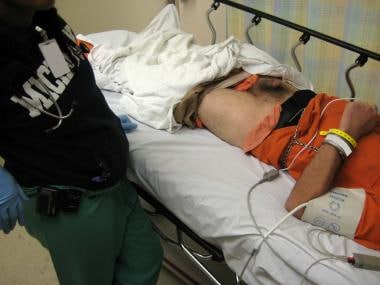 40-year-old man presents with left inguinal pain, swelling, and erythema consistent with left inguinal hernia. He is placed in Trendelenburg position to aid in reduction.
What would you like to print?