Periprocedural Care
Patient Education and Consent
Obtain written consent, using the appropriate patient consent form. Explain the benefits and risks of the procedure to the patient, and make sure that he or she understands them well.
Equipment
Sterile gloves are required.
A liver biopsy tray should be available that contains the following items (see the image below):
Core biopsy needle, preferably 16 gauge, 11.5 cm

Povidone-iodine solution

Formalin bottle (specimen container)

Injection needle, 21 gauge, 3.75 cm

Injection needle, 25 gauge, 2.5 cm

Sterile drape(s)

Saline solution (0.9%), 10-mL ampule

Surgical scalpel blade

Gauze pads, 7.5 × 7.5 cm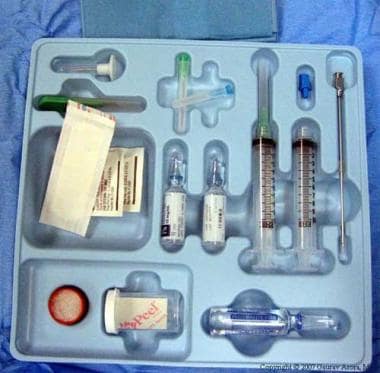 Percutaneous liver biopsy. Liver biopsy tray.
Appropriate vials should be available for cultures and special stains, if indicated.
A study comparing the adequacy rates of the BioPince (Argon Medical, Frisco, TX; n = 53) 16-gauge and Achieve (Becton Dickinson, Franklin Lakes, NJ; n = 141) 18-gauge biopsy needles for percutaneous liver biopsy in patients with parenchymal liver disease found that the BioPince needle acquired a significantly greater total core length and a great number of portal tracts, with significantly improved adequacy rates and no major complications. [12]
Patient Preparation
Anesthesia
Local anesthesia with 1% or 2% lidocaine is used. Some anxious patients may require a small oral or intravenous dose of a benzodiazepine (eg, lorazepam). In rare cases, consideration may be given for the use of procedural sedation (eg, midazolam and fentanyl). Overnight fasting by the patient is usually required prior to the procedure.
Positioning
The patient should be supine, with his or her right side near the edge of the bed. The patient's right arm should be above the head. The feet should be angled across the bed to expand the intercostal space as much as possible. Adjust the height of the bed for comfort; the optimal position is usually at or slightly below the level of the operator's elbows.
What would you like to print?