Periprocedural Care
Equipment
Equipment used in aspirating the olecranon bursa includes the following:
Antiseptic solution

Gauze pack, 4 × 4 in. (10 × 10 cm)

Sterile drapes

Sterile gloves

Lidocaine 1%

Syringes, 10 mL (2)

Needles, 18 gauge (2)

Needle, 25 gauge

Adhesive bandage
Patient Preparation
Anesthesia
Anesthesia is achieved with inject of a local anesthetic (see Technique). For more information, see Local Anesthetic Agents, Infiltrative Administration.
Positioning
Position the patient sitting upright on a stretcher. Rest the affected arm on a side table with the elbow flexed 90º (see the image below).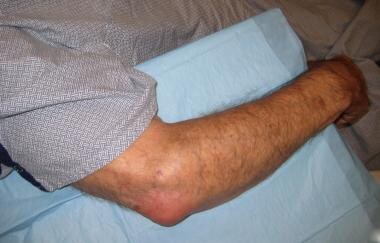 Olecranon bursitis.
What would you like to print?