Workup
Electrocardiography
The electrocardiogram is the most commonly used modality to diagnose this problem. Findings show the underlying rhythm and P-wave morphology. In complete AV dissociation, P waves and QRS complexes have no fixed temporal relationship to each other. P-wave morphology depends on atrial activation.
The relationship between the atrial and ventricular rates is very important to understanding AV dissociation. The ventricular rate is the same or faster than the atrial rate.

Atrioventricular (AV) dissociation. Ventricular tachycardia and complete AV dissociation. P waves are marked.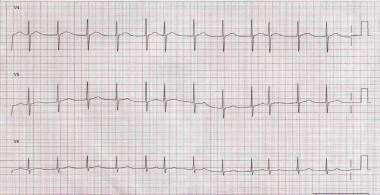 Atrioventricular (AV) dissociation. Complete AV block and no fixed relationship between P waves and QRS complexes.
Occasionally, other methods are required to assess atrial and ventricular activation, and the diagnostic approach to AV dissociation is given in the image below.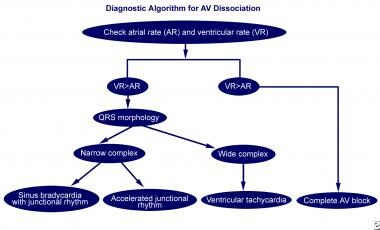 Diagnostic algorithm for atrioventricular dissociation.
Determining whether a P wave conducts can be difficult. To distinguish AV conduction from AV block, having the patient perform a maneuver to change the atrial and ventricular rate may help. While attached to a monitor, the patient can sit up or can perform some form of exercise.
What would you like to print?