Presentation
History
Obtaining a thorough history from the patient, family members, or other witnesses is necessary to obtain insight into the events surrounding the sudden death. Patients at risk for sudden cardiac death (SCD) may have prodromes of chest pain, fatigue, palpitations, and other nonspecific complaints. History and associated symptoms, to some degree depend on the underlying etiology of SCD. For example, SCD in an elderly patient with significant coronary artery disease may be associated with preceding chest pain due to a myocardial infarction, while SCD in a young patient may be associated with history of prior syncopal episodes and/or a family history of syncope and SCD and due to inherited arrhythmia syndromes. As many as 45% of persons who have SCD were seen by a physician within 4 weeks before death, although as many as 75% of these complaints were not related to the cardiovascular system. A prior history of LV impairment (ejection fraction < 30-35%) is the most potent common risk factor for sudden death.
Risk factors that relate to coronary artery disease and subsequent myocardial infarction and ischemic cardiomyopathy also are important and include a family history of premature coronary artery disease, smoking, dyslipidemia, hypertension, diabetes, obesity, and a sedentary lifestyle. Specific considerations include the following:
Coronary artery disease
Prior myocardial infarction, especially within 6 months

Ejection fraction below of less than 30-35%

History of frequent ventricular ectopy: More than 10 premature ventricular contractions (PVCs) per hour or nonsustained ventricular tachycardia (VT)
Dilated cardiomyopathy
Ejection fraction below 30-35%

Use of inotropic medications
Hypertrophic cardiomyopathy
Symptoms of heart failure

Drop in systolic blood pressure (SBP) or ventricular ectopy upon stress testing

Presence of ventricular arrhythmias

Considerable structural abnormality usually defined as more than 3 cm left ventricular septal thickness

Presence of myocardial fibrosis detected by late-gadolinium enhancement in cardiac MRI

Most persons are asymptomatic
Valvular disease
Valve replacement within past 6 months

History of frequent ventricular ectopy

Symptoms associated with severe, uncorrected aortic stenosis or mitral stenosis
Long QT syndrome
Family history of long QT and SCD

Medications that prolong the QT interval

Excess QT length; usually QTc over 500 ms
Wolff-Parkinson-White (WPW) syndrome (with atrial fibrillation or atrial flutter with extremely rapid ventricular rates)
With extremely rapid conduction over an accessory pathway, degeneration to VF can occur.
Other
Brugada syndrome, arrhythmogenic right ventricular (RV) cardiomyopathy/dysplasia, and other cardiac conditions should be considered.
Physical Examination
The physical examination may reveal evidence of underlying myocardial disease or may be entirely normal, depending on the underlying cause. Initial evaluation studies show that patients who survive to emergency department (ED) presentation can be stratified by a cardiac arrest score, which has excellent prognostic value. The cardiac arrest score, developed by Thompson and McCullough, can be used for patients with witnessed out-of-hospital cardiac arrest and is defined by the criteria outlined below. [22, 23]
Clinical characteristic points
ED systolic blood pressure (SBP) greater than 90 mm Hg = 1 point

ED SBP less than 90 mm Hg = 0 points

Time to return of spontaneous circulation (ROSC) less than 25 minutes = 1 point

Time to ROSC more than 25 minutes = 0 points

Neurologically responsive = 1 point
Patients with a score of 3 points can be expected to have an 89% chance of neurologic recovery and an 82% chance of survival to discharge (see the image below).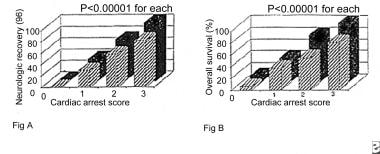 Sudden Cardiac Death. Figure a: Neurologic outcome stratified by initial cardiac arrest score. Neurologic recovery is defined as discharged to home and able to care for self. Figure b: Overall survival stratified by initial cardiac arrest score.
McCullough indicates that even in the setting of ST elevation and early invasive management with primary angioplasty and intraaortic balloon pump insertion, patients with low cardiac scores are unlikely to survive. [24]
Severe anoxic encephalopathy in patients with scores of 0, 1, or 2 mitigates conservative management with empiric supportive and medical therapy. Given the very poor actuarial survival rates for these patients, invasive management with catheterization and electrophysiology studies (EPS) is rarely justified.
What would you like to print?