Technique
Laparoscopic Cholecystectomy via Single Port
In a single-port cholecystectomy, three working ports are placed through a single incision (see the video below). One extracorporeal stay suture is used to achieve the standard cephalad retraction of the gallbladder fundus. Lateral retraction of the infundibulum is accomplished with a roticulating instrument, allowing optimal exposure of the gallbladder hilum.
Laparoscopic cholecystectomy. Video courtesy of SAGES.
A 2-cm vertical incision is made through the center of the umbilicus. Access to the abdominal cavity is gained either with a Veress needle or by means of the Hasson technique. Carbon dioxide is insufflated into the abdomen to a pressure of 15 mm Hg. Three 5-mm ports are placed through the same umbilical incision but through three separate fascial incisions (see the image below).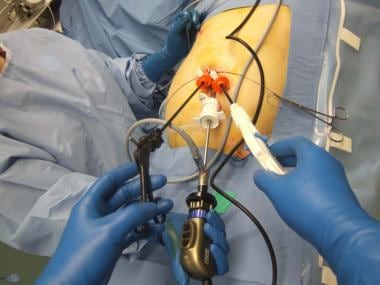 External view of single-port access through umbilicus.
A Keith needle is used to pass a 2-0 glycolide-lactide suture extracorporeally through the right upper quadrant close to the lowest rib and through the body of the gallbladder for cephalad retraction (see the first image below). A roticulating grasper is applied to the infundibulum for lateral retraction (see the second image below).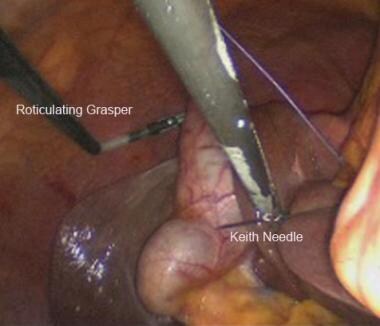 Suture being placed for cephalad retraction.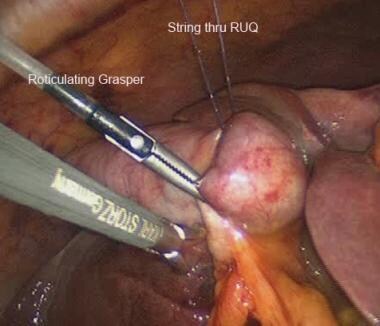 Typical intra-abdominal view of gallbladder retraction.
The gallbladder hilum is dissected with a Maryland dissector to expose the cystic duct and the cystic artery (see the image below). The cystic duct and artery are clipped with a 5-mm clip, then divided with scissors.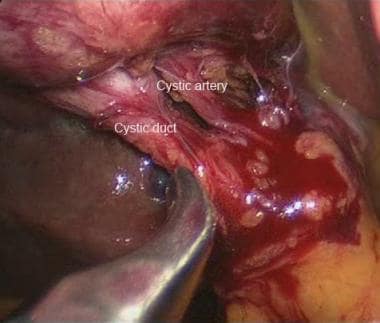 Critical view of cystic duct and cystic artery.
A hook electrocautery is used to dissect the gallbladder from the gallbladder fossa. At this point, one of the 5-mm ports is removed, and another is exchanged for an 11-mm port to facilitate placement of a retrieval bag. The bag is positioned beneath the gallbladder, and the retraction sutures are cut to permit removal of the gallbladder (see the image below).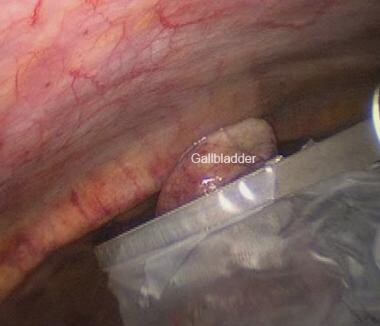 Gallbladder placed in retrieval bag.
The fascial defect is repaired with a 0 glycolide-lactide suture in a figure-eight configuration, and the skin is reapproximated.
What would you like to print?