Workup
Laboratory Studies
CBC with differential is used to assess absolute eosinophil count in patients with autosomal dominant hyper-IgE syndrome (AD-HIES). Eosinophilia usually accompanies the IgE elevation but is not correlated with it. Absolute lymphocyte counts are usually normal, and lymphocyte subsets do not need to be obtained for routine clinical care. Anemia and thrombocytopenia are not typically associated with AD-HIES.
Quantitative serum immunoglobulins IgG, IgA, IgM, IgE: the serum IgE is typically >2000 IU/mL, while other immunoglobulin levels are normal. However, IgE level normalizes in adulthood in about 20% of cases.
Qualitative immunoglobulins to specific antigens may be useful in patients with severe sinopulmonary disease and in those who develop recurrent infections despite effective use of antimicrobial prophylaxis. Some patients with HIES have decreased specific antibody responses to vaccines for Haemophilus influenzae type b (HiB), Streptococcus pneumoniae, tetanus, or diphtheria.
Erythrocyte sedimentation rate (ESR) and C-reactive protein (CRP) are useful if levels are elevated, but normal ESR and CRP levels do not rule out bacterial infection.
Electrolytes, coagulation, renal and hepatic function studies are not affected in HIES.
Skin abscesses should be incised and drained; obtain cultures of drainage.
When lung infection is present, sputum should be obtained through routine collection, sputum induction, or bronchoscopy.
STAT3 mutation analysis should be performed to confirm a high clinical suspicion of AD-HIES.
Imaging Studies
Chest x-ray, chest CT, or both are necessary to determine the extent of pulmonary parenchymal involvement in autosomal dominant hyper-IgE syndrome (AD-HIES). [18] See image below.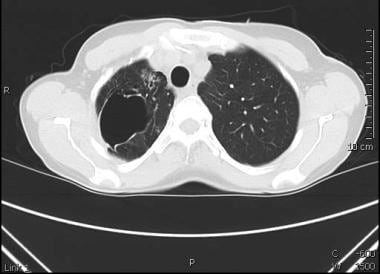 Recurrent pneumonias, particularly those due to S aureus, may lead to pneumatocele formation. Pneumatoceles such as those demonstrated in this CT image may then allow fungal superinfection.
X-rays should be taken of the spine to assess scoliosis.
Complaints of bone or joint paint should be assessed radiologically because of the increased risk of pathologic fractures in these patients.
Vascular abnormalities are usually asymptomatic, including intracranial aneurysms and coronary artery ectasia, tortuosity, and aneurysms. These anomalies are common, as detected by CT and MRI in research studies.
X-ray or MRI studies of the skull often show craniosynostosis.
MRI of the brain usually shows T2-weighted hyperintensities, an increased prevalence of lacunar infarcts, and an increased rate of Chiari type 1 malformations. See image below.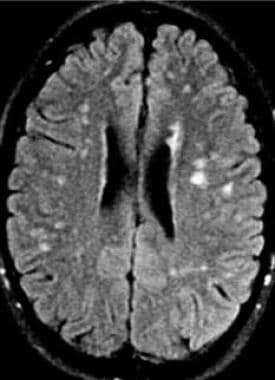 Brain hyperintensities have been noted to be present with increased frequency in patients of all ages with Job syndrome.
Other Tests
Pulmonary function tests, including diffusing capacity of lung for carbon monoxide (DLCO), provide baseline pulmonary status in patients with autosomal dominant hyper-IgE syndrome (AD-HIES).
What would you like to print?