Workup
Laboratory Studies
Perform routine baseline tests such as complete blood cell (CBC) count, electrolyte status, and renal and liver function tests.
Imaging Studies
Chest radiographic findings suggestive of mitral stenosis include left atrial enlargement (eg, double shadow in the cardiac silhouette, straightening of left cardiac border due to the large left atrial appendage, and upward displacement of the mainstem bronchi), prominent pulmonary vessels, redistribution of pulmonary vasculature to the upper lobes, mitral valve calcification, and interstitial edema (Kerley A and B lines).
Echocardiography is the most specific and sensitive method of diagnosing and quantifying the severity of mitral stenosis. [4, 7] Using a transthoracic 2-dimensional echocardiogram, Doppler study, and color-flow Doppler imaging, the anatomic abnormalities of the stenotic valve (ie, thickening, mobility, motion, calcification), involvement of the subvalvular apparatus and the characteristic fusion of the commissures can be well defined. [8]
With echocardiography, the size of the mitral valve orifice can be precisely quantified. Important information about the ventricular and atrial chamber sizes, the presence of a left atrial thrombus, measurement of transvalvular gradient, and pulmonary arterial pressure can also be obtained.
With the use of Doppler echocardiography, sufficient information can be obtained to develop a therapeutic plan, and, consequently, most patients do not require invasive procedures such as cardiac catheterization.
Transesophageal echocardiography (TEE) provides better quality images than transthoracic echocardiography (TTE) and is more accurate in assessing the anatomic features of the valve and the presence of left atrial appendage thrombus. Studies have shown that mitral valve area planimetry is feasible in the majority of patients with rheumatic mitral stenosis using 3-dimensional TEE; also, 3-dimensional TEE allows excellent assessment of commissural fusion [9] and commissural opening after catheter-balloon commissurotomy.
The mitral valve score appears to be an independent predictor of match and mismatch between opening area and resistance in mild and moderate rheumatic mitral stenosis. [10]
In study that assessed the feasibility and validity of a novel method to measure mitral valve area (MVA) in 30 patients with severe rheumatic mitral stenosis undergoing percutaneous balloon mitral valvuloplasty, investigators reported that mitral valve navigation software of the Philips Q-Lab 10.2 in a diastolic frame with maximum diastolic opening of the mitral valve was feasible and was more correlated to invasive measurements of MVA (derived by Gorlin formula) than use of 3-D TEE. [11]
See the image and videos below.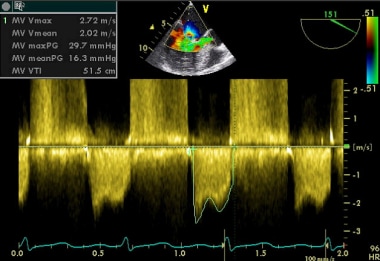 Mitral Stenosis. Transesophageal echocardiogram with continuous wave Doppler interrogation across the mitral valve demonstrating an increased mean gradient of 16 mm Hg consistent with severe mitral stenosis.
Mitral Stenosis. Magnified view of the mitral valve in apical 4-chamber view revealing restricted opening of both leaflets.
Mitral Stenosis. Transesophageal echocardiogram in an apical 3-chamber view showing calcification and doming of the anterior mitral leaflet and restricted opening of both leaflets.
Mitral Stenosis. Transesophageal echocardiogram in an apical 3-chamber view with color Doppler interrogation of the mitral valve revealing aliasing, which is consistent with increased gradient across the mitral valve secondary to stenosis. Also shown in this image, a posteriorly directed jet of severe mitral regurgitation.
Other Tests
In patients with moderate-to-severe mitral stenosis, the ECG can show signs of left atrial enlargement (P wave duration in lead II >0.12 seconds, P wave axis of +45 to -30 marked terminal negative component to the P wave in V1 [1 mm wide and 1 mm deep]) and, commonly, atrial fibrillation. A mean QRS axis in the frontal plane is greater than 80 and an R-to-S ratio of greater than 1 in lead V1 indicates the presence of right ventricular hypertrophy. As the severity of the pulmonary hypertension increases, the mean QRS axis in the frontal plane moves toward the right.
Procedures
Cardiac catheterization was routine performed in the past. However, the accuracy of echocardiographic findings has resulted in only selective use of catheterization. Cardiac catheterization is now indicated in the following situations:
When a discrepancy exists between clinical and echocardiographic findings

The patient with associated severe lung disease and pulmonary hypertension, in whom mitral stenosis has contributed to their symptoms, needs to be ascertained.

In older patients with severe mitral stenosis, cardiac catheterization is strongly indicated to rule out the presence of concomitant coronary artery disease.

In patients who developed serious symptoms after mitral commissurotomy.
What would you like to print?