Workup
Laboratory Studies
Physicians should have a high index of suspicion for myocardial rupture after acute myocardial infarction (AMI). Especially during the first week, it is critical to make the diagnosis and perform emergency life-saving interventions as expeditiously as possible. Failure to diagnose or act quickly could expose physicians to legal liability.
The possibility of cardiac injury should be considered in all patients with high-velocity deceleration blunt injuries. Failure to diagnose myocardial rupture or early discharge of stable patients from the emergency department could result in serious legal consequences.
In addition to the conditions listed in the differential diagnosis, other problems to be considered include true ventricular aneurysm and cardiac contusion.
Chest Radiography
Chest radiographs may show cardiomegaly with clear lung fields in patients with free-wall rupture or pseudoaneurysm (see the image below). Pulmonary edema with a normal cardiothoracic ratio may be present after papillary muscle or ventricular septal rupture. Mediastinal widening with or without pleural effusion (hemothorax) may be present in those with aortic dissection. Hemothorax also may be observed in patients who have free-wall rupture with an associated pericardial tear.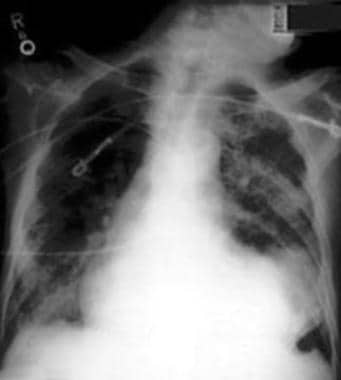 Myocardial Rupture. Chest radiograph in the posteroanterior projection showing a large pseudoaneurysm manifesting as a bulge in the left cardiac border.
Echocardiography
Emergency bedside transthoracic echocardiography (TTE) is the diagnostic modality of choice in all types of myocardial rupture. The following points should be noted:
A regional left ventricular (LV) or right ventricular (RV) wall motion abnormality due to acute myocardial infarction (AMI) or traumatic myocardial injury may be apparent

Evidence of cardiac tamponade may manifest as diffuse or loculated pericardial effusion, atrial collapse, diastolic RV collapse, and marked inspiratory decrease in transmitral Doppler flow velocities

Sampling pulmonary venous and hepatic blood flow with pulse-wave Doppler may help reveal the hemodynamic significance of pericardial effusion

Ruptured papillary muscle may appear as a mobile echo density prolapsing into the left atrium during systole or as a flail mitral leaflet; occasionally, a tear may be evident in one of the papillary muscle heads

Color-flow Doppler studies can determine the severity and mechanism of MR and differentiate papillary muscle rupture from a ventricular septal defect (VSD); acute severe MR may be difficult to identify with color Doppler because of the patient's general condition (acute pulmonary edema that results in tachypnea and tachycardia) and a low pressure difference between left ventricle and atrium during systole

The size, location, and type of VSD are demonstrated in more than two thirds of patients; color-flow Doppler is especially useful for detection of the high-velocity turbulent flow through the defect in almost all patients and can be used to estimate the severity of the shunt; continuous-wave Doppler can be used to estimate RV systolic pressure with the use of the Bernoulli equation and systemic systolic blood pressure

Pseudoaneurysm appears as an echo-free space that enlarges during systole and communicates with the ventricular cavity by a narrow neck; it may be partially or completely filled with thrombus; Doppler studies may show flow through the narrow neck

No abnormalities are observed in as many as 20% of patients who have sustained penetrating or blunt cardiac injury
In a case study of an 82-year-old woman with an anterolateral ST segment elevation myocardial infarction treated with thrombolysis, investigators performed echocardiography and used contrast to improve visualization. [12] They found a small- to moderate-sized circumferential pericardial effusion without frank tamponade. In addition, they found significant intramyocardial tracking of the contrast into the epicardial space, consistent with rupture or disruption of the wall segment. [12]
Transesophageal echocardiography (TEE) is valuable in unstable intubated patients if TTE findings are suboptimal or negative despite a high index of suspicion for aortic dissection or papillary muscle rupture.
Alternatives to echocardiography
Computed tomography (CT) and magnetic resonance imaging (MRI) are useful imaging techniques when echocardiography produces suboptimal images in stable patients, such as those with pseudoaneurysm.
Electrocardiography
Electrocardiographic (ECG) evidence of transmural (ST elevation) AMI is present in most patients with ischemic myocardial rupture before the event. Persistent ST-segment elevation after AMI is associated with a higher incidence of myocardial rupture. In the setting of an anterior AMI, ST elevation or development of Q waves in inferior leads (as a result of occlusion of a large wraparound left anterior descending coronary artery) is associated with an increased risk of VSD. [13]
After traumatic cardiac injury, ECG changes usually are nonspecific.
Free-wall rupture is often associated with the sudden onset of bradycardia and electromechanical dissociation (pulseless electrical activity).
In pericardial tamponade, ECG may show low-voltage QRS complexes, especially in the precordial leads. Electrical alternans, commonly seen with large, slowly accumulating effusions, is often absent in the setting of acute hemorrhagic pericardial tamponade.
Right bundle-branch block is frequently observed in patients with VSD. Less frequently, patients may have complete heart block.
Patients with pseudoaneurysm may demonstrate ST-segment elevation, nonspecific ST changes, or pathologic Q waves on ECG.
All patients with significant thoracic blunt trauma should undergo ECG and cardiac monitoring. The ECG may show ST elevation or nonspecific ST-T changes. Normal ECG findings do not exclude myocardial injury following blunt trauma.
Catheterization
Heart
In patients with AMI complicated by myocardial rupture, emergency cardiac catheterization, coronary angiography, and ventriculography may be necessary in a relatively stable patient before surgical intervention. The aim of the study under these circumstances is to assess the distribution and severity of coronary artery disease (CAD). Timely surgical intervention, however, is essential in the treatment of these patients and should not be delayed.
Coronary and LV angiography may be also useful for diagnosis of pseudoaneurysm, MR, and VSD in rare instances.
Pulmonary artery
The presence of large V waves on pulmonary artery wedge tracing can help diagnose acute MR. However, a large acute VSD may also produce large V waves.
Swan-Ganz catheterization can be useful for hemodynamic monitoring and guiding initial medical management of a VSD. An oxygen saturation step-up of more than 10% from the right atrium to the right ventricle is highly suggestive of the presence of a large VSD.
In case of pericardial effusion, elevation (generally >15 mm Hg) and equalization (within 5 mm Hg) of diastolic pressures (LV, pulmonary capillary wedge, RV and right atrial) indicate tamponade.
Histologic Findings
After AMI, myocytes exhibit cytoplasmic hypereosinophilia and nuclear pyknosis, and they develop a typical wavy appearance. Approximately 8 hours post infarction, interstitial edema and neutrophilic infiltration can be observed. After 24 hours, cross-striations are lost, and focal hyalinization appears.
Removal of necrotic fibers starts within 96 hours of AMI. An increase in collagenase activity appears by day 2 and peaks at day 7, leading to collagen degradation. New collagen fibers (type III early and type I later) are evident by day 14. After 4-6 weeks, removal of necrotic myocardium is complete, and the removed myocardial tissue is replaced by scar tissue.
Ischemic myocardial rupture commonly occurs between the time of collagen degradation and the laying down of new fibrous tissue (days 2-14 post infarction). Intense inflammatory response (evidenced by the number of leukocytes), expression of matrix metalloproteinases (collagenases), and presence of intramyocardial hemorrhage (often intensified by thrombolysis, especially if administered late) are pathologic findings that favor myocardial rupture after AMI.
What would you like to print?