Overview
Overview
The most common cause of nasal obstruction is mucosal hypertrophy of the inferior turbinate, followed by structural deformity of the nasal airway (septal deviation, bony inferior turbinate hypertrophy). [1] Medical treatment strategies include oral and intranasal antihistamines, intranasal corticosteroids, saline rinses, and allergen immunotherapy, as well as short-term agents such as oral and topical decongestants. When these treatment options fail, surgical options such as corticosteroid injections, cryosurgery, electrocautery ablation, turbinate out-fracture, microdebrider-assisted inferior turbinoplasty (MAIT), submucous resection, and partial turbinate resection may be considered. The goal of inferior turbinate surgery is to reduce the size of the turbinate without compromising the turbinate's ability to facilitate mucociliary clearance, air humidification, or maintenance of laminar airflow. There is currently no consensus on the most effective technique.
Radiofrequency turbinate reduction (RFTR) is a minimally invasive surgical option that can reduce tissue volume in a precise, targeted manner. This technique uses electrical currents in the range of radiofrequency waves to produce heat around the electrode, thereby creating lesions within the submucosal tissue of the turbinate. [2, 3] The heat produced is sufficient to cause cellular apoptosis of unwanted, redundant tissue while being sufficiently selective to spare nearby tissue of untoward effects. This technique can be used with monopolar or bipolar electrodes. Long-term efficacy is identical between the two, though monopolar ablation is associated with less pain and earlier symptom improvement. [4, 5] Radiofrequency turbinate reduction differs fundamentally from traditional methods by using low-power radiofrequency energy to provide a relatively quick and painless procedure for tissue coagulation.
An explanatory video of the procedure is below.
Radiofrequency turbinate reduction. Image courtesy of Gyrus ACMI-ENT.
The video below depicts RFTR being performed.
In this patient, stacked anterior lesions are placed under local anesthesia in the clinic. Topical aerosolized lidocaine was administered; 1% lidocaine with 1:100K epinephrine was slowly injected into the turbinate. Two lesions were placed on this side. Ideally, the lesion is placed slightly deeper to avoid the mild mucosal ischemia seen toward the end of energy delivery. Video courtesy of Vijay R Ramakrishnan, MD.
There have been multiple studies completed analyzing the outcomes of radiofrequency ablation (RFA) turbinate reduction. In 2009, Hyotnen et al completed a systematic literature review of the RFA technique and concluded that overall, the technique is well tolerated and effective. [6] Duran used blinded reviews of pre and posttreatment CT scans to quantify reduction after RFA and found greater than 25% reduction in size of the inferior turbinates after treatment. [7] Conflicting evidence has been presented regarding potential alteration of nasal histology and reduced mucociliary clearance times, making it difficult to draw definitive conclusions at this time. [8, 9, 10, 11, 12]
Additionally, multiple reviews comparing RFA with MAIT have been published. Lui et al showed no statistically significant difference in outcomes between the techniques at 6 months; however, maintenance of improvement at 3 years was significantly better in the MAIT group. [13] Results also suggest that although RFA and MAIT both result in a statistically significant reduction in nasal blockage, MAIT is more effective in decreasing nasal volume, [14] though this is disputed by Bakshi et al. [15]
Overall, RFA has a low complication rate, can be done in the office setting under local anesthesia, and has been shown to reduce nasal obstruction secondary to inferior turbinate hypertrophy; some studies suggest advantages to microdebrider turbinoplasty as an alternative for surgical treatment of inferior turbinate hypertrophy.
Relevant Anatomy
The lateral nasal walls contain 3 pairs each of small, thin bones: the superior, middle, and inferior conchae, which form the bony framework of the turbinates. These bones are covered in nasal ciliated mucosa. The inferior turbinate runs from anterior to posterior along the majority of the length of the nasal cavity attaching to the lateral nasal wall. The attachment point of the inferior turbinate is on the medial maxillary wall and just inferior to the maxillary sinus ostium. Inferior to the head (anterior aspect) of the inferior turbinate lies the inferior meatus, also referred to as Hasner's valve. This is the drainage opening of the lacrimal system. It is most commonly visualized as a vertical sulcus. [16]
For more information about the relevant anatomy, see Nasal Anatomy.
Indications
Radiofrequency inferior turbinate reduction can be used in patients with the following conditions: [2, 17, 18, 19, 3, 4, 20, 21]
Nasal congestion and rhinorrhea associated with inferior turbinate mucosal hypertrophy

Nasal congestion with inferior turbinate mucosal hypertrophy with a mildly deviated septum

Sleep apnea with increased nasal resistance and difficulty wearing a nasal CPAP mask
Contraindications
No absolute contraindications exist for radiofrequency turbinate reduction. However, the use of the radiofrequency turbinate reduction system is contraindicated in patients with heart pacemakers or other electronic devices unless they can be temporarily deactivated.
Patients with significant systemic comorbidities, such as hypertension or diabetes mellitus, may need special treatment adjuncts in conjunction with their primary care physician prior to undergoing radiofrequency turbinate reduction. Moreover, anticoagulant therapy cessation for 72 hours prior to treatment is necessary. [22]
Factors that may have an influence on the overall success of the radiofrequency turbinate reduction include the following:
Severe nasal and/or septal deformity

Internal or external valve collapse

Active respiratory infection
Anesthesia
When the procedure is performed with the patient awake, topical lidocaine or tetracaine 4% and a vasoconstrictor (eg, phenylephrine HCl) are applied via spray to each nasal cavity, followed by injection of 1 mL 1% lidocaine with 1:100,000 epinephrine into each inferior turbinate. Alternatively, topical 4% cocaine in solution can be used on nasal pledgets.
EMLA cream has been shown to be an efficacious alternative to injected lidocaine. [23]
If the procedure is performed during another nasal procedure with the patient under general anesthesia, the topical lidocaine is omitted. [17, 22, 18]
Equipment
Equipment includes the following: [22]
Needle, 25-30 gauge, 1.5 inch

Topical and local anesthetic/decongestant medications
Positioning
For the stand-alone procedure, seat the patient comfortably in an examination chair with dispersive electrode placed over a well-vascularized muscular site (eg, lower back or lateral scapula) with full contact to the skin.
When performed in the setting of another nasal surgery, no special positioning is required.
Technique
Insert the handheld needle electrode into the anterior portion of the inferior turbinate, as shown.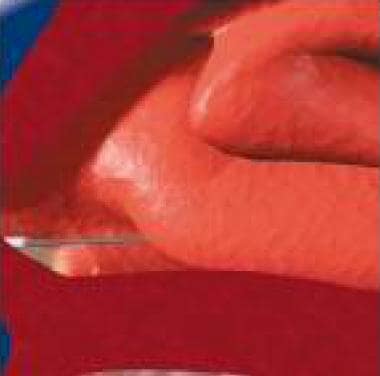 Electrode insertion into anterior portion of the inferior turbinate. Image courtesy of Gyrus ACMI-ENT.
Insert the needle electrode into the middle portion of the inferior turbinate from an inferomedial approach to deliver 350–500 joules, 2–10 watts, and 70–80 volts, with a target temperature of 80°C per lesion. The activated system usually takes 1–2 minutes per lesion. Greater energy levels and decreased time are possible with a patient under general anesthesia.
The depth of insertion should be 5 mm to reduce the risk of damage to the mucosa, causing ulcerations or sloughing.
Several options are available to create lesions within the inferior turbinate in order to achieve technique options (see corresponding images below). [22]
Pearls
Placement of the needle too superficially may result in damage to the mucosa, including ulceration or sloughing of mucosal tissue.
If the lesion takes more than 2 minutes to form, the needle electrode may be too close to the conchal bone.
If the turbinate is enlarged in the anterior and mid-portion, 4 row lesions are recommended.
Complications
Patients may experience mild to moderate pain during treatment of the posterior inferior turbinate. This can be controlled with additional local anesthetic injection.
Mild-to-moderate edema with subsequent nasal obstruction and thick mucus formation can be expected for the first week after the procedure.
If mucosal erosion is present, the risk of postoperative bleeding and adherent crust formation increases. [24]
If performed along with a septoplasty, scar tissue may form between the turbinate and the septum.
What would you like to print?