Overview
Background
Tricuspid valve dysfunction can result from morphological alterations in the valve or from functional aberrations of the myocardium. Tricuspid stenosis is almost always rheumatic in origin and is generally accompanied by mitral and aortic valve involvement. [1]
Most stenotic tricuspid valves are associated with clinical evidence of regurgitation that can be documented by performing a physical examination (murmur), echocardiography, or angiography. Stenotic tricuspid valves are always anatomically abnormal, and the cause is limited to a few conditions. With the exceptions of congenital causes or active infective endocarditis, tricuspid stenosis takes years to develop. [2, 3]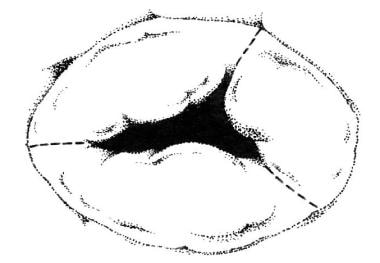 Tricuspid Stenosis. A representation of a stenotic tricuspid valve. This image demonstrates fusion of the commissures (shown as dotted lines).
Pathophysiology
Tricuspid stenosis results from alterations in the structure of the tricuspid valve that precipitate inadequate excursion of the valve leaflets. The most common etiology is rheumatic fever, and tricuspid valve involvement occurs universally with mitral and aortic valve involvement. With rheumatic tricuspid stenosis, the valve leaflets become thickened and sclerotic as the chordae tendineae become shortened. The restricted valve opening hampers blood flow into the right ventricle and, subsequently, to the pulmonary vasculature. Right atrial enlargement is observed as a consequence. The obstructed venous return results in hepatic enlargement, decreased pulmonary blood flow, and peripheral edema. Other rare causes of tricuspid stenosis include carcinoid syndrome, endocarditis, endomyocardial fibrosis, systemic lupus erythematosus, and congenital tricuspid atresia. [2, 3, 4]
In the rare instances of congenital tricuspid stenosis, the valve leaflets may manifest various forms of deformity, which can include deformed leaflets, deformed chordae, and displacement of the entire valve apparatus. Other cardiac anomalies are usually present. [1]
Etiology
At least four conditions can cause obstruction of the native tricuspid valve. These include (1) rheumatic heart disease, (2) congenital abnormalities, (3) metabolic or enzymatic abnormalities, and (4) active infective endocarditis. Note the following:
Rheumatic tricuspid stenosis: In this entity, diffuse thickening of the leaflets occurs, with or without fusion of the commissures. The chordae tendineae may be thickened and shortened. Calcification of the valve rarely occurs. The leaflet tissue is composed of dense collagen and elastic fibers that produce a major distortion of the normal leaflet layers.

Carcinoid heart disease: Carcinoid valve lesions characteristically manifest as fibrous white plaques located on the valvular and mural endocardium. The valve leaflets are thickened, rigid, and reduced in area. Fibrous tissue proliferation is present on the atrial and ventricular surfaces of the valve structure.

Congenital tricuspid stenosis: These lesions are observed more commonly in infants. They may manifest as incompletely developed leaflets, shortened or malformed chordae, small annuli, abnormal size and number of the papillary muscles, or any combination of these defects.

Infective endocarditis: Large infected vegetations obstructing the orifice of the tricuspid valve may produce stenosis. This condition is relatively uncommon, even in those who abuse intravenous drugs.

Unusual causes: Rare causes of tricuspid stenosis include Fabry disease and giant blood cysts.

Mimickers of tricuspid stenosis: Several conditions may mimic tricuspid stenosis by obstructing flow through the valve. These conditions include supravalvular obstruction from congenital diaphragms, intracardiac or extracardiac tumors, thrombosis or emboli, or large endocarditis vegetations. In addition, conditions that impair right-sided filling can produce similar symptoms and physical findings. These conditions include constrictive pericarditis and restrictive cardiomyopathy.
Epidemiology
United States data
Tricuspid stenosis is rare, occurring in less than 1% of the population. While found in approximately 15% of patients with rheumatic heart disease at autopsy, it is estimated to be clinically significant in only 5% of these patients. The incidence of the congenital form of the disease is less than 1%.
International data
Tricuspid stenosis is found in approximately 3% of the international population. It is more prevalent in areas with a high incidence of rheumatic fever. The congenital form of the disease is rare and true incidence is not available.
Race-, sex-, and age-related demographics
No racial predisposition is apparent.
Tricuspid stenosis is observed more commonly in women than in men, similar to mitral stenosis of rheumatic origin. The congenital form of the disease has a slightly higher male predominance.
Tricuspid stenosis can present as a congenital lesion or later in life when it is due to some other condition. The congenital form accounts for approximately 0.3% of all congenital heart disease cases. The frequency of tricuspid stenosis in the older population, due to secondary causes, ranges from 0.3-3.2%.
Prognosis
The prognosis is generally good if therapy is provided for tricuspid stenosis. For those cases in which tumors are the cause of the stenosis, the prognosis is directly related to the prognosis of the underlying disease. In those cases of precipitating infection, if the behavior that caused the initial infection (eg, intravenous drug use) can be modified, prognosis for the patient is good.
Morbidity/mortality
The mortality associated with tricuspid stenosis depends on the precipitating cause. The general mortality rate is approximately 5%.
Complications
Complications that can be encountered after tricuspid valve replacement include infection of the prosthetic valve, particularly in those instances when endocarditis was present preoperatively. Tricuspid insufficiency and thromboembolization can also occur. [5]
Patient Education
Educate patients regarding the adverse effects of anticoagulation. Emphasize instructions regarding dental hygiene and subacute bacterial endocarditis prophylaxis for invasive procedures.
What would you like to print?