Technique
Approach Considerations
Immunotherapy via the subcutaneous or sublingual route is an effective treatment of allergic symptoms.
The typical duration of immunotherapy is at least 3 years; some patients require a more lengthy treatment period. [35, 36, 37, 38, 39, 40]
Subcutaneous immunotherapy should be initiated only in patients willing and able to comply with weekly injections for a year or longer. Once maintenance is reached, the injection regimen may become less frequent; however, several years' duration is commonly required for clinical efficacy.
Sublingual immunotherapy is appropriate for patients who are unable to commit to weekly injections or those who do not want injections.
Immunotherapy
The initial immunotherapy dose is often 0.05 mL of allergy vaccine. Escalation of immunotherapy proceeds weekly by giving 0.05 mL more antigen than the previous injection. It is generally recommended that the antigen dose be reduced by 50% when a new vial is begun.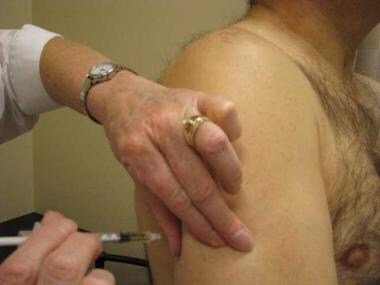 This image demonstrates the ideal location for administration of SCIT.
Immunotherapy escalation schedules
When the volume of the dose reaches 0.50 mL, the next vial should begin with an increase in the concentration of the antigen.
There are multiple escalation schedules. Most common is a weekly increase of 0.05 to 0.1 mL of allergy vaccine, up to a high volume of 0.5 mL, and then to the smallest dose from the next strongest vial, until the maintenance dose is reached.
Rush immunotherapy
Rush immunotherapy may be appropriate in properly selected patients. This regimen begins with 0.5-mL injections and advances weekly by 0.1-mL volumes instead of 0.05 mL.
However, while maintenance is reached more rapidly, the risk of anaphylaxis is greater.
Multiple schedules have been described in the literature. These methods may be most appropriate for stinging insect allergy if the risk of another sting is high.
Immunotherapy maintenance
Immunotherapy maintenance [41, 42] aims to achieve long-lasting symptom relief from aeroallergens and other provoking antigens. The goal is to establish a steady-state dose that provides immediate and long-lasting immune system alteration in response to allergen and keeps a patient asymptomatic. As described above, on a cellular level, the goal is to decrease antigen-specific IgE and increase the levels of antigen-specific IgG4 antibody. [43, 44] The clinical relevance of changes in IgG4 are unclear and are currently under investigation. This alteration tends to occur during escalation and after symptomatic relief is achieved.
Managing physicians may allow selected patients who have well-controlled allergic symptoms and have achieved maintenance on immunotherapy to administer their shots at home. This should be performed with someone else in the home. The patient must have a current EpiPen. As noted by recent guidelines, home administration of immunotherapy should be considered only in "rare and exceptional cases when allergen immunotherapy cannot be administered in a medical facility and withholding this therapy would result in a serious detriment to the patient's health (eg, VIT for a patient living in a remote area). Careful consideration of potential benefits and risks of at-home administration of allergen immunotherapy should be made on an individual basis." [29]
Once maintenance has been achieved for a period, the shot regimen may change from weekly to every other week or every third week. This may be appropriate if, during the schedule change, the patient remains symptom-free and without local reaction. If the patient notices that symptoms increase with a lengthened period between shots, the interval is decreased.
Treatment for 3 years or longer may be required to achieve adequate long-lasting effects.
Sublingual Immunotherapy
The most common technique is to hold the allergy vaccine under the tongue for 2 minutes and then to swallow it. Patients should note any oral itching, swelling, wheezing, rashes, or esophageal or gastrointestinal distress and discuss it with their physician.
Maintenance treatment for 3 years or longer may be required to achieve adequate long-lasting effects.
In April 2014, the FDA approved a sublingual tablet (Oralair) consisting of 5 calibrated grass pollen extracts. It contains Perennial Ryegrass (Lolium perenne), Kentucky bluegrass (Poa pratensis), Timothy grass (Phleum pratense), Orchard grass (Dactylis glomerata), and Sweet Vernal grass (Anthoxanthum odoratum). [45] The Oralair SL tablet needs to be administered 4 months prior to the season for the specific allergen.
A second sublingual tablet (Grastek) for Timothy grass was also approved by the FDA in April 2014 for adults and children aged 5 years or older. It should be administered at least 12 weeks before the start of the grass pollen season. The efficacy and safety in North America was established in a large study (n=1500) of adults and children aged 5-65 years. Results showed a 23% improvement of symptoms in the entire grass pollen season. [46]
A third sublingual immunotherapy tablet for ragweed (Ragwitek) was also approved in April 2014 for adults aged 18 years or older. The effectiveness studies included about 760 patients. Phase 3 clinical trials showed that the tablet reduced rhinoconjunctivitis symptoms over the entire season by 27-43% compared with placebo. [47, 48]
A sublingual (SL) house dust mite (HDM) immunotherapy (Odactra) was approved by the FDA in 2017. It is a standardized allergen extract indicated as daily SL immunotherapy for allergic rhinitis, with or without conjunctivitis, confirmed by in vitro testing for IgE antibodies to Dermatophagoides farinae or Dermatophagoides pteronyssinus house dust mites, or skin testing to licensed house dust mite allergen extracts.
The first dose must be given in a healthcare setting under the supervision of a physician with experience in diagnosis and treatment of allergic diseases. Patient monitoring for signs or symptoms of a severe systemic or local allergic reaction is required following administration. Life-threatening allergic reactions is described in a boxed warning within the prescribing information. The boxed warning also includes the need to prescribe autoinjectable epinephrine for the patient to have while using HDM immunotherapy.
Approval was based on a double-blind, multicenter trial (n = 1482) in adolescents and adults with HDM allergic rhinitis with or without conjunctivitis (AR/C). Over a 52-week period, HDM immunotherapy improved rhinoconjunctivitis score and visual analog scale-assessed AR/C symptoms (P < 0.001). [49]
A double-blind, randomized study by Virchow et al evaluated the efficacy of the house dust mite sublingual allergen immunotherapy tablet (SLIT) by measuring the time to the first moderate or severe asthma exacerbation during an inhaled corticosteroid reduction period in 693 patients. The study found that the two groups that received doses of the tablet had significantly reduced risk (absolute reduction at 6 months of 9 to 10 percentage points) of a moderate or severe asthma exacerbation compared with the placebo group. It should be noted however, that there was no significant difference for change in asthma control questionnaire or asthma quality-of-life questionnaire with active treatment. Although there were no reports of severe systemic allergic reactions, there were treatment-related adverse events commonly seen with SLIT to dust mite. [50, 51]
What would you like to print?