Overview
Background
Impingement syndrome and rotator cuff disorders are common causes of shoulder pain. [1] These conditions are difficult to differentiate clinically. Both are chronic, painful conditions that result from inflammation, damage, or both to the structures that lie within the subacromial space (including the subacromial bursa and the rotator cuff tendons).
The two conditions are treated in the same manner initially. Nonoperative treatment should begin with measures to reduce pain and inflammation, including activity modification, modalities, and nonsteroidal anti-inflammatory drugs (NSAIDs). [2] If this is not effective, some patients may benefit from a subacromial corticosteroid injection.
Corticosteroid injections can decrease inflammation and improve function, [3] thereby permitting improved range of motion (ROM) and facilitating rehabilitative and strengthening exercises. [4] In general, subacromial injection with corticosteroids should not be performed more than four times per year. Combining such injections with exercise may enhance their effectiveness. [5]
The accuracy of a blind anatomic approach to subacromial steroid injections has been a subject of investigation. In a small study that employed a mix of depot methylprednisolone and iopamifodol (a radiographic contrast medium), followed by radiographic assessment 6 weeks later to determine intra-or extra-articular placement of the steroid, only two of the 20 patients who received shoulder steroid injections were found to have intra-articular placement. [6] Radiologic placement was uncertain for 12 of the 20, and the remaining six were found to have extra-articular placement. Another study found the blind approach to be only 29% accurate for subacromial bursa injections. [7]
Ultrasonographic (US) guidance may improve the accuracy of the injection. A randomized controlled clinical trial showed US-guided injections to be substantially more accurate (63%) than blind injections (40%). [8]
A study by Lee et al tested botulinum toxin type B for subacromial injections and concluded that injections with this agent may be an alternative to steroid injections. [9]
In a study of 40 patients with shoulder impingement syndrome with findings of rotator cuff tendinitis or subacromial bursitis on magnetic resonance imaging (MRI), three 20-mg injections of the nonsteroidal anti-inflammatory drug (NSAID) tenoxicam at weekly intervals yielded results comparable to those of a single 40-mg injection of methylprednisolone acetate. [10]
However, a study comparing single-dose subacromial injections of betamethasone (7 mg) and lornoxicam (8 mg) in 70 patients with subacromial impingement syndrome found that whereas the patients in the NSAID group achieved rapid functional recovery that partially extended into the intermediate term, the results were inferior to those seen in the steroid group. [11] The authors suggested that a single lornoxicam injection may be an alternative only in cases where corticosteroids are contraindicated.
Injection of platelet-rich plasma (PRP) has also been employed for rotator cuff disease. In a study by Shams et al that included 40 patients with symptomatic partial rotator cuff tears, PRP injection yielded better early results than corticosteroid injection, though after 6 months, there was no longer a statistically significant improvement. [12] A study by von Wehren et al found similar results. [13] PRP injection has been employed for other shoulder conditions as well. [14] A study by Haider et al found this measure to be useful for reducing pain associated with adhesive capsulitis. [15]
A randomized clinical trial by Atar et al compared three-time ozone (O2-O3) injection (n = 22) with one-time US-guided subacromial corticosteroid injection (n = 22) in patients with chronic supraspinatus tendinopathy, of whom 40 completed the study. [16] Both the groups showed clinically significant improvements with respect to shoulder pain, quality of life, and function. The ozone injection was not found to be superior to the corticosteroid injection in these patients, but it might be comparably effective at 4 weeks and 12 weeks post injection.
Indications
Like most joint and soft-tissue injections with corticosteroids or anesthetics, subacromial injections can be either diagnostic or therapeutic. [2]
Diagnostic joint injection, with or without a corticosteroid, can help determine whether shoulder pain involves the structures that lie within the subacromial space (ie, subacromial bursa or rotator cuff). This can help differentiate impingement syndrome from other shoulder disorders, such as osteoarthritis of the glenohumeral or acromioclavicular joints and labral tears. If pain resolves or decreases after injection, then the pain is likely to be attributable to inflammation of either the subacromial bursa or the rotator cuff.
Furthermore, subacromial injection is particularly helpful in differentiating between shoulder weakness caused by impingement, in which shoulder strength improves after injection, and a true rotator cuff tear (see the images below), in which no change in strength is noted after injection. [4]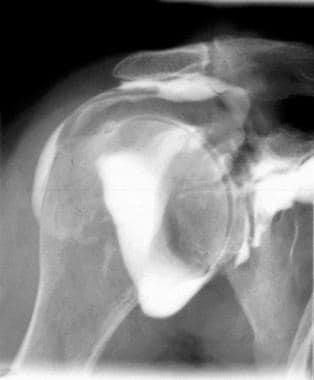 Presence of contrast medium in subdeltoid-subacromial bursa signals presence of complete rotator cuff tear.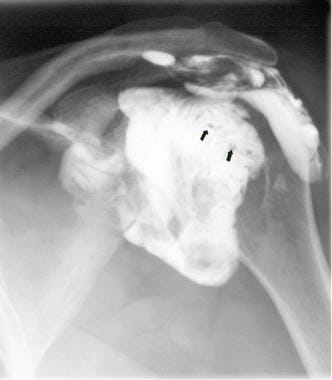 Complete rotator cuff tear with presence of contrast medium in subacromial-subdeltoid bursa. Also note multiple irregularities in synovial fluid, shown as multiple filling defects.
Therapeutic joint injection provides pain relief and functional improvement in symptomatic subacromial impingement syndrome, rotator cuff disorders, and adhesive capsulitis. [17] This is accomplished through delivery of the corticosteroid to either the subacromial bursa or the rotator cuff.
Contraindications
Bacteremia, cellulitis of overlying skin, and adjacent osteomyelitis are often considered absolute contraindications for subacromial injection because of the potential risk of seeding the joint with bacteria. In these situations, the procedure should only be performed when septic arthritis is strongly suspected as the cause of overlying inflammatory changes, and only after consultation with an orthopedist.
Relative contraindications include chronic infection distant from the injection site, allergy to the injectate, diabetes mellitus, and uncontrolled coagulopathy.
What would you like to print?