Presentation
History
Patients with unstable angina represent a heterogeneous population. Therefore, the clinician must obtain a focused history of the patient's symptoms and coronary risk factors and immediately review the electrocardiogram (ECG) to develop an early risk stratification. (See Prognosis.)
Initially, obtain a history to determine whether any evidence of angina is present, then aim to identify whether it is stable or unstable.
Unstable angina differs from stable angina in that the discomfort is usually more intense and easily provoked, and ST-segment depression or elevation on ECG may occur. Otherwise, the manifestations of unstable angina are similar to those of other conditions of myocardial ischemia, such as chronic stable angina and myocardial infarction (MI). With unstable angina, symptoms may (1) occur at rest; (2) become more frequent, severe, or prolonged than the usual pattern of angina; (3) change from the usual pattern of angina; or (4) not respond to rest or nitroglycerin. [3]
Angina can take many forms, and inquiry should be directed at eliciting not only chest pain but also any associated discomfort and its frequency, location, radiation pattern, and precipitating and alleviating factors.
Ischemic pain can manifest as heaviness, tightness, aching, fullness, or burning of the chest, epigastrium, or arm or forearm (usually the left). These sensations less typically involve the back, lower jaw, neck, shoulders, or arms. Important associated symptoms may be dyspnea, generalized fatigue, diaphoresis, nausea and vomiting, flulike symptoms, and, less commonly, lightheadedness or abdominal pain. The intensity of pain on a 1-10 scale does not correlate with diagnosis or prognosis.
Elderly and female patients are more likely to present with atypical signs and symptoms.
Physical Examination
The physical examination is usually not as sensitive or specific for unstable angina as the history or diagnostic tests. An unremarkable physical examination is not uncommon. Perform a quick assessment of patients' vital signs, and perform a cardiac examination. Specific diagnoses that must be explicitly considered are the following:
Leaking or ruptured thoracic aneurysm

Pericarditis with tamponade
Increased autonomic activity may manifest as diaphoresis or tachycardia, and bradycardia may result from vagal stimulation from inferior wall myocardial ischemia.
A large area of myocardial jeopardy may manifest as signs of transient myocardial dysfunction and typically signifies a higher-risk situation. Such signs include the following:
Systolic blood pressure less than 100 mm Hg or overt hypotension

Elevated jugular venous pressure

Reverse splitting of the second heart sound

Presence of a third or fourth heart sound

New or worsening apical systolic murmur due to papillary muscle dysfunction
Findings indicative of peripheral arterial occlusive disease or prior stroke increase the likelihood of associated coronary artery disease (CAD) and are as follows:
Supraclavicular or femoral bruits

Diminished peripheral pulses or blood pressure
Any sign of congestive heart failure (CHF), including isolated sinus tachycardia, particularly in physiologically vulnerable populations (eg, very elderly patients), should trigger expeditious workup, treatment, or consultation with a cardiologist. Such patients can deteriorate rapidly.
The number and diversity of clinical conditions that cause the transient myocardial ischemia of unstable angina, along with its varying intensity and frequency of pain, have made classification within this disorder difficult.
Braunwald Classification
The Braunwald classification (see Table 4 below) is conceptually useful, in that it factors in the clinical presentation (new or progressive vs rest angina), context (primary, secondary, or post-MI), and intensity of antianginal therapy.
Table 4. Braunwald Classification of Unstable Angina (Open Table in a new window)
Characteristic

Class/Category

Details

Severity

I

Symptoms with exertion

II

Subacute symptoms at rest (2-30 days prior)

III

Acute symptoms at rest (within prior 48 hr)

Clinical precipitating factor

A

Secondary

B

Primary

C

Postinfarction

Therapy during symptoms

1

No treatment

2

Usual angina therapy

3

Maximal therapy
Patients in Braunwald class I have new or accelerated exertional angina, whereas those in class II have subacute (>48 hours since last pain) or class III acute (< 48 hours since last pain) rest angina. The clinical circumstances associated with unstable angina are categorized as follows:
Secondary (anemia, fever, hypoxia)

Postinfarction (< 2 weeks after MI)
Intensity of antianginal therapy is subclassified as follows:
Intense therapy (eg, intravenous [IV] nitroglycerin)
Canadian Cardiovascular Society Grading System
Because of its simplicity and practicality, the Canadian Cardiovascular Society Grading System for effort-related angina is widely used to describe symptom severity. The grading system is as follows:
Grade I – Angina with strenuous, rapid, or prolonged exertion; ordinary physical activity, such as climbing stairs, does not provoke angina

Grade II – Slight limitation of ordinary activity; angina occurs with postprandial, uphill, or rapid walking; when walking more than two blocks of level ground or climbing more than one flight of stairs; during emotional stress; or in the early hours after awakening

Grade III – Marked limitation of ordinary activity; angina occurs with walking 1-2 blocks or climbing a flight of stairs at a normal pace

Grade IV – Inability to carry on any physical activity without discomfort; rest pain occurs
Acute Coronary Syndrome Risk Assessment
Estimation of the likelihood of acute coronary syndrome (ACS) is a complex, multivariable problem that cannot be fully specified in the list below, which is meant more to illustrate major relations than to offer rigid algorithms. A high likelihood of ACS includes any of the following features:
History of previous MI, sudden death, or other known history of CAD

Chest, neck, jaw, or left arm pain consistent with prior documented angina

Transient hemodynamic or ECG changes during pain

ST-segment elevation or depression of 1 mm or more

Marked symmetrical T-wave inversion in multiple precordial leads
An intermediate likelihood of ACS includes the absence of high-likelihood features but the presence of one of the following risk characteristics:
Age greater than 70 years

Extracardiac vascular disease (peripheral, brachiocephalic, or renal artery atherosclerosis)

ST depression of 0.05-1 mm

T-wave inversion of 1 mm or greater in leads with dominant R waves
A low likelihood of ACS includes the absence of high- or intermediate-likelihood features and the presence of any of the following:
Chest pain classified as probably not angina

Chest discomfort reproduced by palpation

T-wave flattening or inversion of less than 1 mm in leads with dominant R waves
Thrombolysis in Myocardial Infarction Risk Score
The Thrombolysis in Myocardial Infarction (TIMI) Risk Score for unstable angina/non-ST elevation MI (UA/NSTEMI) is currently the best-validated prognostic instrument that is simple enough to use in settings such as an emergency department. The gradient of MI, severe recurrent ischemia, or death is somewhat proportionate to the TIMI Risk Score (see the image below), though an adverse prognosis appears to be mitigated by the use of newer antithrombotic strategies.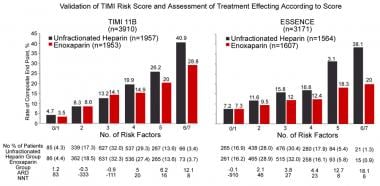 Unstable Angina. Thrombolysis in Myocardial Infarction (TIMI) Risk Score correlates with major adverse outcome and effect of therapy with low-molecular-weight heparin. ARD = absolute risk difference; ESSENCE = Efficacy and Safety of Subcutaneous Enoxaparin in Non–Q-wave Coronary Events; No. = number; NNT = number needed to treat.
The presence of any of the following variables constitutes 1 point, with the sum constituting the patient risk score on a scale of 0-7:
Use of aspirin in the preceding 7 days

Known coronary stenosis of 50% or greater

Elevated serum cardiac markers

At least three risk factors for CAD (including diabetes mellitus, active smoking, family history of CAD, hypertension, or hypercholesterolemia)

Severe anginal symptoms (≥2 anginal events in the preceding 24 hours)
What would you like to print?