Workup
Approach Considerations
Wrist and hand abnormalities may be appreciated clinically. Radiography is useful in identifying more subtle abnormalities. Echocardiography is also an important feature of the workup of Holt-Oram syndrome.
Genetic evaluation is important. [14, 15] Arrange for patients who may have Holt-Oram syndrome to be evaluated by a cardiologist or geneticist with experience in the management of inherited cardiovascular disease.
Cardiac catheterization can be considered to define the nature and severity of intracardiac shunts in patients at high risk for Eisenmenger syndrome because these patients may require surgical intervention.
Radiography
Wrist radiography
Limb involvement is determined by physical examination in some cases. If limb involvement is not grossly obvious, obtain upper limb and hand radiographs to detect subtle anomalies of the wrist bones, as shown below.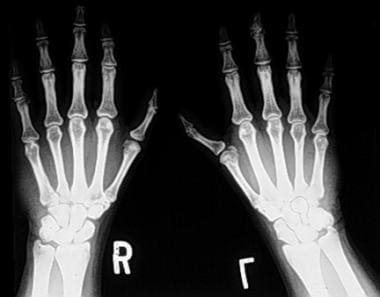 Holt-Oram Syndrome. Posteroanterior radiograph of the hands of a patient with Holt-Oram syndrome. The distal phalanx of the left thumb is hypoplastic. The carpal bones of both hands are abnormal, but the abnormalities on the left side are greater than those on the right side. Left-sided upper limb radial ray abnormalities are often greater than those on the right side. The scaphoid and trapezium of the left hand are enlarged and misshapen, resulting in a distal displacement of the thumb. Note the marked abnormalities of the left capitate and hamate. The left radial stylus is flattened.
Individuals without carpal bone abnormalities in the preaxial radial bones do not have Holt-Oram syndrome.
Chest radiography
Findings may demonstrate enlarged pulmonary arteries due to pulmonary hypertension or cardiomegaly. Evidence of congestive heart failure may be present.
Echocardiography
Numerous varieties of complex congenital heart disease, including atrial septal defect (ASD), ventricular septal defect (VSD) and mitral valve disease, are associated with Holt-Oram syndrome. [16]
Echocardiography is the imaging study of choice to define the presence of septal defects or other cardiac anomalies. The most common cardiac anomaly is ostium secundum ASD. Some patients also may have an isolated VSD.
Unexplained, significant right atrial enlargement in the fetus may signify Holt-Oram syndrome; consider a thorough evaluation for upper extremity abnormalities and discuss genetic testing with the parents. [17]
Severely affected individuals may present with multiple VSDs (Swiss-cheese septum). Other cardiac anomalies may include abnormal isomerism and anomalous pulmonary venous return. [3]
Electrocardiography and Holter Monitoring
Perform an ECG to define involvement of the conduction system. If intermittent dysrhythmia is considered, 24-hour Holter monitoring may be useful.
Periodic evaluation for conduction system involvement, even in the absence of cardiac structural disease, is important given the progressive nature of this finding. ECG evaluations should include consideration of atrial fibrillation.
Genetic Evaluation
Obtain a detailed family history to ascertain if the disease represents a new mutation or if it is part of a familial syndrome.
Consider wrist radiography of the parents of the patient with Holt-Oram syndrome to establish a familial versus sporadic nature of the syndrome in the family.
In a study of 114 extremities in 62 patients with a diagnosis of Holt-Oram syndrome, Wall et al found that, compared with the typical presentation of radial longitudinal deficiency (RLD), the forearm is more often involved in Holt-Oram syndrome and may show radioulnar synostosis. In addition, the thumb often has first-web syndactyly. They concluded that the presence of radioulnar synostosis and syndactyly of the radial two digits in RLD should prompt a hand surgeon to acquire a cardiac evaluation and consider genetic testing for Holt-Oram syndrome. [18]
Mutational analysis of TBX5 is not available on a routine clinical basis and remains a research tool. TBX5 mutations are detected in about 75% of individuals meeting strict clinical criteria for Holt-Oram syndrome. [6] Clinical features of Holt-Oram syndrome result from missense and extended protein mutations of TBX5, as well as TBX5 intragenic duplications. [19] On a case-by-case basis, specifics regarding genotype-phenotype correlations are not available. The ability to identify the disease causing mutation in a family may allow for expanded reproductive options such as preimplantation genetic diagnosis for couples at 50% risk of having an affected child. [20]
What would you like to print?