Presentation
History
Notalgia paresthetica (NP) patients classically present with the hallmark symptom of localized pruritus of the unilateral infrascapula. However, there are many atypical presentations of notalgia paresthetica, including localized pruritus of the upper back, neck, scalp, and shoulder. [1, 3] Frequently, patients may report a spider-bite sensation, prickly feelings, or a bra or clothing tag allergy. Often, there is an indescribable itch sensation that feels more like a dysesthesia with diffuse mild burning, some surface numbness, and almost an "under the skin" discomfort. Most of the symptoms relate to nerve sensations and may best be classified as a localized neuropathy.
Physical Examination
The classic notalgia paresthetica (NP) patient presents with skin findings of a unilateral and ill-defined tan, pink, or hyperpigmented nonindurated patch on the infrascapular back (mid back), as shown in the image below. The affected skin area usually ranges from 3-10 cm.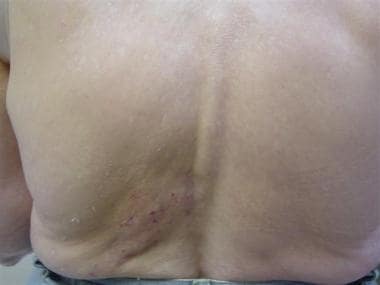 Refractory notalgia mid-back in female who later developed systemic lymphoma. Courtesy of Dr. Nili Alai, The Skin Center at Laguna.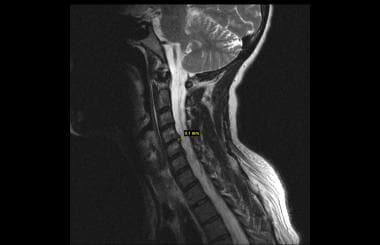 MRI of the cervical spine demonstrating disc bulges at C5-C6. Courtesy of Dr. Nili Alai, The Skin Center at Laguna.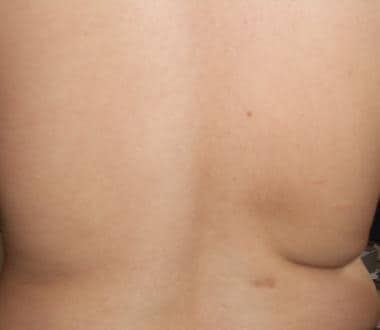 Mildly hyperpigmented skin of right infrascapular back. Courtesy of Dr. Nili Alai, The Skin Center at Laguna.
Secondary skin changes such as lichenification, lichen amyloid, excoriations, eczema, xerosis, and secondary infection may be noted. Associated mild sensory alternations to light touch, vibration, and pin prick may be noted.
Examination of the neck may yield normal results or may reveal tenderness particularly in the C4-C7 area, minimally decreased range of motion in the neck, and possible associated cervical muscle spasm.
Complications
Possible complications of notalgia paresthetica (NP) include skin excoriations, secondary skin infection, prurigo nodules, postinflammatory hyperpigmentation, lichen amyloid, and lichen simplex chronicus.
What would you like to print?