Workup
Laboratory Studies
Laboratory tests are generally not required in the evaluation of notalgia paresthetica (NP).
Imaging Studies
Although imaging tests have traditionally not been a part of the workup of notalgia paresthetica (NP), basic cervical and possibly thoracic radiographs or MRI may be warranted in the initial management of the disorder. Imaging studies may be particularly helpful in patients with contributory spine symptoms of pain, tenderness, spasm, or decreased range of motion and any history of spinal trauma or injury. [15] Note the MRI in the image below.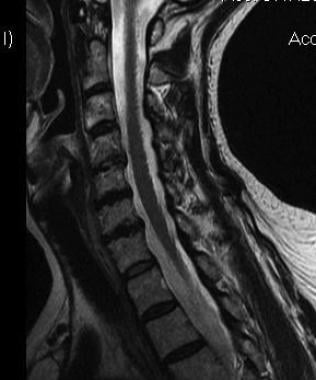 Cervical spine MRI demonstrating cervical disk disease and multilevel degenerative changes from C4-C5 through C7-T1. Note multiple osteophyte complexes and small disk bulges. Courtesy of Dr. Nili Alai, The Skin Center at Laguna.
Histologic Findings
Skin biopsy and tissue histology are usually not indicated for the diagnosis of notalgia paresthetica (NP). Biopsies may be performed to exclude other diagnoses and neoplasms. No criteria for tissue diagnosis of notalgia paresthetica are described, but some believe the macular amyloidosis of the mid back is part of the spectrum of notalgia paresthetica. Published studies have shown various histologic findings, including, postinflammatory hyperpigmentation and localized amyloid. [13]
What would you like to print?