Presentation
History
Patients with minute digitate hyperkeratosis (spiny hyperkeratosis) report multiple tiny spiky hyperkeratotic projections on the trunk or limbs. Sometimes, small domed papules can be seen. Patients rarely report any other symptomatology.
Physical Examination
Lesions of minute digitate hyperkeratosis (spiny hyperkeratosis) are white, yellow, brown, or flesh colored nonfollicular spicules, as shown in the image below. They are occasionally flat-topped, dome shaped, or crateriform papules. They generally measure 0.5-5 mm long and 0.3-3 mm in diameter. Most reported cases note presence on the trunk and limbs, with sparing of the face and palmoplantar surfaces. However, no evidence-based review has been performed on the location of multiple minute digitate hyperkeratosis.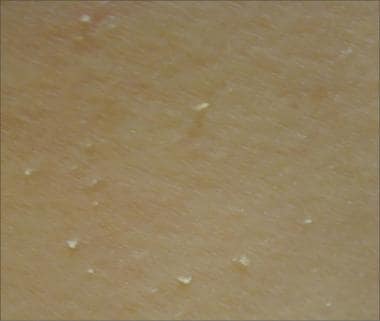 Multiple minute digitate hyperkeratosis. Published with permission granted from and with copyright retained by the American Medical Association. Clark JL, Davis G, Bennett DD. Arch Dermatol. 2008 Aug;144(8):1051-6.
What would you like to print?