Presentation
History and Physical Examination
Patients with lipofibromatous hamartoma (LFH) typically present with gradually enlarging nontender lesions. They may have neurologic symptoms in the distribution of the affected nerve. Unilateral lesions on the thenar areas or fingers may be present. [24] Because LFH often involves the median nerve, the presentation of median nerve LFH shares considerable overlap with carpal tunnel syndrome (CTS). [25, 26] Affected individuals complain of numbness and tingling along the volar aspect of the hand and fingers. Motor deficits are a late finding.
LFH shares considerable gross overlap with neurofibromatosis, at time necessitating both radiologic and microscopic investigation for accurate differentiation. Differentiation of the two conditions is important: LFH is a benign tumor, whereas neurofibromatosis can progress to frank malignancy, and thus, the two entities are treated quite differently. Neurofibromatosis and LFH are further confounded because the former rarely occurs with macrodactyly, whereas the latter can be present with or without macrodactyly. [27]
Grossly, LFH tumors are irregular, yellow masses (see the image below). Barsky reported isolated cases of macrodactyly with fatty infiltration of the digital nerve and marked overgrowth of all tissue types. [27] Johnson and Bonfiglio were the first to propose a microscopic relation between macrodactyly, neurofibromatosis, and LFH, [7] suggesting that macrodactyly involves proliferation of all involved tissues, including skin and bone, and fatty enlargement between nerve fasciculi in the absence of thickening of the epineurium, perineurium, and endoneurium. [28]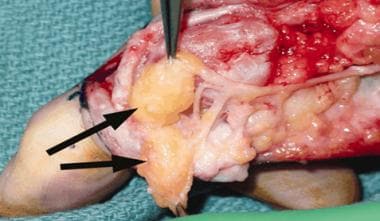 Intraoperative photograph shows lipofibromatous hamartoma and typical gross appearance. Multiple soft, gray-yellow lobulated masses (arrows) are present within epineural sheath of radial digital nerve of right index finger. Epineurium of digital nerve displays extensive perineural fibrosis. Image reprinted with permission from American Journal of Roentgenology.
Neurofibromatosis includes a disorganized proliferation of the epineurium, perineurium, and endoneurium in the absence of fatty infiltration. Finally, LFH involves disorganized overgrowth of epineurium, perineurium, and endoneurium with fatty infiltration, no involvement of surrounding tissues, and no inflammation. [7]
What would you like to print?