Workup
Laboratory Studies
Immunohistochemistry (IHC) can aid in the diagnosis of lipofibromatous hamartoma (LFH). LFH typically stains positive for CD34, S-100 protein and vimentin. IHC yields negative results for epithelial membrane antigen (EMA), desmin, and glial fibrillary acidic protein (GFAP). [17]
Imaging Studies
Magnetic resonance imaging
The appearance of LFH on diagnostic imaging (ie, magnetic resonance imaging [MRI]) is thought to be pathognomonic for the soft-tissue neoplasm. [29, 30]
The characteristic appearance of LFH on MRI is that of serpiginous, low-intensity structures surrounded by fat, demonstrating high intensity on T1-weighted images and low intensity on T2-weighted images. On the axial cuts, the nerve fibers are often described as having a coaxial-cable appearance (see the first image below), whereas on coronal sectioning, they are described as resembling spaghetti (see second image below). [19]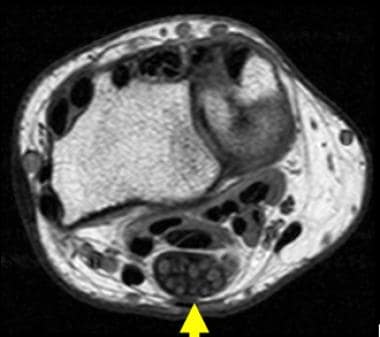 Axial T1-weighted image of 40-year-old woman who experienced several years of paresthesias in her median nerve distribution and mass in her wrist. Note pathognomonic coaxial-cable appearance of involved nerve.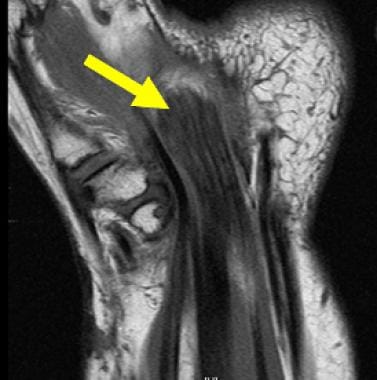 Coronal T1-weighted image of 40-year-old woman who experienced several years of paresthesias in her median nerve distribution. On coronal sectioning, lipofibromatous hamartoma is described as resembling spaghetti.
LFH demonstrates low signal on spin-echo T1-weighted and fast-spin-echo T2-weighted images. [31] Spin magnetic resolution of LFH shows a characteristic pattern of longitudinally oriented fibers with interspersed signal voids that represent nerve fascicles being infiltrated by fat. [19]
Although a case of atypical MRI findings was reported with LFH in the distribution of the medial plantar nerve, differentiation of LFH from other lesions on the basis of MRI has become relatively straightforward.
Whereas LFH displays uniform fatty infiltration, intraneural lipomas show focal fatty masses separated from the individual nerve bundles. [31] LFH differs from ganglion cysts, traumatic neuromas, macrodactyly, Dejerine-Sottas syndrome, and plexiform neurofibromas in that these show high-intensity signals on T2-weighted imaging. [32] Although both hemangiomas and LFH demonstrate high-intensity signals on T1-weighted imaging, only hemangiomas have a markedly increased uptake on T2-weighted imaging as well. [32]
Ultrasonography
Ultrasonography (US) has been used to provide further support for the diagnosis of LFH but has not been considered sufficient to establish the diagnosis by itself. [33] However, a case report on a 27-year-old woman with LFH found that the use of ultrahigh-frequency US (UHFUS) was capable of providing valuable information not available with standard US. [34]
Histologic Findings
Before the substantial advances in MRI, the diagnosis of LFH was strongly supported by imaging modalities and confirmed by tissue biopsy. Currently, however, the diagnosis is now made solely on the basis of MRI. [35]
Sectioning of the involved nerve typically demonstrates nerve bundles that are entrapped within a fibrofatty, fusiform mass. [7] LFH involves disorganized overgrowth epineurium, perineurium and endoneurium with fatty infiltration, no involvement of surrounding tissues and no inflammation. [7] Histologic findings are limited to perineural and endoneural fibrosis with axons that are normal in size or atrophic and with fatty infiltration around the nerve branches. [32]
What would you like to print?