Definition
Helicobacter -associated gastritis is a primary infection of the stomach caused by Helicobacter bacteria. The most frequent Helicobacter species found in patients with active gastritis is Helicobacter pylori (H pylori). H pylori is also the primary cause of chronic gastritis. [1] A small number of cases of chronic gastritis are associated with Helicobacter heilmannii.
Epidemiology
Approximately 50% of the world population is estimated to be infected with H pylori. [2, 3] This bacterial infection is highly prevalent in Asia as well as Central and South America, and it is generally most prevalent in developing countries. The known long-term complications of chronic gastritis, namely atrophic gastritis and gastric adenocarcinoma, are significantly more prevalent in these areas of the world.
In the United States, approximately 17.1% of the population are infected with H pylori, [4] but the prevalence of infection in minority groups, immigrants from developing countries, and those with low socioeconomic status is much higher. [2] The infection is usually acquired during childhood; children aged 2-8 years in developing nations acquire the infection at a rate of about 10% per year. In contrast, US children become infected at a rate of less than 1% per year. This difference in the rate of H pylori infection in childhood underscores the differences in epidemiology of Helicobacter -associated diseases between developed and developing countries.
Socioeconomic differences are the most important predictor of the prevalence of the infection in any group. [2] Higher standards of living are associated with higher levels of education and better sanitation, which results in lower prevalence of H pylori gastritis. In the United States and in other countries with modern sanitation and clean water supplies, the rate of acquisition has been decreasing since 1950. The rate of infection in people with several generations of their families living at a high socioeconomic status is in the range of 10%-15%. This is probably the lowest the prevalence can decline spontaneously until eradication or vaccination programs are instituted.
Etiology
The genus Helicobacter was established in 1989 with H pylori representing the type species. [5, 6]
Infection of the stomach by H pylori persists lifelong and causes gastric inflammation. A small proportion of infected patients develop peptic ulceration (approximately 15%) or gastric adenocarcinoma (0.5%-2%) and gastric mucosa–associated lymphoid tissue (MALT) lymphoma.
Several factors affect the patterns of disease outcome associated with H pylori infection, including: (1) the virulence of the strain; (2) host genetic susceptibility factors and host immune response to infection; and (3) modulating environmental factors such as diet or smoking. [7, 8]
In North America and Europe, the prevalence of H heilmannii infection ranges from 0.3% to 1.1% in the general population. [8] H heilmannii infection has been reported in association with the full spectrum of gastric diseases related to H pylori infection, including gastric cancer and MALT lymphoma. Biopsies from infected patients with chronic gastritis reveal similar, albeit less severe features than in H pylori gastritis. [9]
Once H pylori enters the host stomach, it uses urease activity to neutralize the gastric acidic environment. [4] Then, the organism utilizes flagella-mediated motility to move toward the gastric epithelium cells. Thereafter, interactions between bacterial adhesins and host cell receptors result in successful colonization and persistent infection. Finally, H pylori releases several toxins, leading to host tissue damage. [4]
Cag + strains account for 60%-70% of the US clinical strains. [9] When CagA is translocated to epithelial cells, it induces cell-signaling pathways, following phosphorylation of tyrosine residues by host cell Scr kinases. This leads to a number of effects in the host cell, including proliferation, cytoskeletal changes, and cytokine production. CagA also causes loss of the barrier function through disruption of apical junctional complexes between epithelial cells. Variability in the structure of CagA among different strains appears to further influence the extent to which these changes occur and, thus, affects the likelihood to develop a particular disease. [10]
The vacuolating toxin A gene (vacA), unlike the cag pathogenicity island (PAI), is present in all H pylori strains and is polymorphic. This polymorphism, which is predominantly present in 2 regions termed the mid and signal regions, is a major determinant of pathogenicity. VacA can bind to a number of epithelial cell receptors, such as the receptor protein tyrosine phosphatase (RPTP), the epidermal growth factor receptor (EGFR), and glycosylphosphatidylinositol (GPI) – anchored protein. VacA is a pore-forming toxin that mediates several effects in epithelial cells in vitro, including alterations in cell permeability, induction of apoptosis, and cell-signaling interference. The extent to which these effects occur in vivo remains undetermined. [9]
H pylori bacteria also express adhesion molecules that mediate interaction of the bacterium with blood group antigens expressed on gastric epithelial cells. Strains that possess the blood group antigen binding adhesin (BabA) can bind to Lewis b antigens and are associated with increased inflammation and proliferation.
Host response
Epithelial cell damage allows for H pylori bacteria to enter the lamina propria, where direct interaction with innate and acquired immune response cells occurs. [11] T helper (Th)-cell responses play a major role in the pathogenesis of H pylori infection. Although both Th-1 and Th-2 responses are activated, the relative balance of these responses is variable among different people and influences the density of the bacterium, severity of the gastritis, and the cancer risk. [12]
Gastric epithelial cells express class II molecules, which may increase the inflammatory response by presenting H pylori antigens, leading to further cytokine release and more inflammation. High levels of cytokines, particularly tumor necrosis factor-alpha (TNF-a) and multiple interleukins (ILs) (IL-6, IL-8, IL-10), are detected in the gastric mucosa of patients with H pylori gastritis.
Location
After the initial acute infection, H pylori –associated chronic gastritis progresses with two main topographic patterns.
H pylori gastritis should be categorized on the basis of gastric subsites not only because the risks of gastric cancer and peptic ulcer are affected by gastritis patterns but also because such characterization is key in identifying those who remain at high risk following eradication of H pylori and should thereby undergo regular endoscopic and histologic follow-up. [1]
Clinical Features and Imaging
Acute H pylori infection is usually not clinically detected. [1] Experimental infection results in a clinical syndrome characterized by epigastric pain, fullness, nausea, vomiting, flatulence, malaise, and sometimes fever. Persistence of H pylori causes chronic gastritis, which is generally asymptomatic but may present with epigastric pain or, rarely, with nausea, vomiting, anorexia, or significant weight loss. Symptoms may occur with the development of complications of chronic H pylori gastritis, which include peptic ulcers, gastric adenocarcinoma, and mucosa-associated lymphoid tissue (MALT) lymphoma. [13]
The findings associated with H pylori gastritis and its complications are most commonly evaluated by endoscopic examination with esophagogastroduodenoscopy (EGD) procedures.
Cakmakci et al conducted a study to determine whether transabdominal ultrasonography may have a role in the detection of antral gastritis and H pylori infection in the antrum. The investigators concluded that antral gastritis caused by H pylori infection is associated with thickening of antral walls and mucosal layers, as evidenced on ultrasonography. They suggest that these findings may be useful in the diagnosis of gastritis and in avoiding unnecessary interventions and measures. [14]
Gross Findings
The H pylori –infected stomach shows a range of findings, best demonstrated during endoscopic examination. There may be erythema, a nodular appearance of the mucosa, frank ulceration, or the mucosa may appear relatively unremarkable. However, the endoscopic findings are not specific, and, therefore, the standard for diagnosis remains the evaluation of gastric mucosa biopsies.
Microscopic Findings
In addition to recommendations that H pylori gastritis be categorized by gastric subsites, it is also advised that H pylori gastritis be categorized on the basis of histology (extent/severity of inflammation/atrophy) owing to the risk of development of gastric cancer. [1] Moreover, gastric erosions should not only be reported separately from gastritis but the etiology, natural history, and clinical significance of gastroduodenal erosisions should also be evaluated.
H pylori infection of the stomach is associated with bacterial colonization primarily localized to the mucous layer that covers the gastric surface epithelium and the upper portions of the gastric foveolae (see the following images). H pylori may be dispersed or cluster as groups of bacteria in the mucus and adherent to the apical side of gastric surface cells, occasionally in the lower portions of the gastric foveolae, and rarely within the deeper areas of the mucosa in association with glandular cells.
H pylori bacteria can be found in the deeper glands, namely those of the oxyntic mucosa of the body and fundus, in particular in those patients who are under treatment with proton pump inhibitors (PPIs). [15] The presence of H pylori bacteria leads to inflammatory response of the underlying gastric mucosa, characterized by a combination of active and chronic gastritis. The chronic inflammatory host response to H pylori and bacterial products is composed of T- and B-cell lymphocytes, plasma cells, rare eosinophils, and mast cells that primarily expand the lamina propria, as well as infiltration of the lamina propria and gastric epithelium by polymorphonuclear leukocytes that eventually phagocytize the bacteria (see the image below).
Patients with typical cases of infection develop chronic active gastritis in which H pylori are initially observed in both the antrum and corpus, but the organisms are usually more numerous in the antrum (see the following images). [13]
Polymorphonuclear leukocytes (neutrophils) infiltrate the lamina propria, glands, surface epithelium, and foveolar epithelium, occasionally spilling into the lumen and forming small microabscesses (see the image below).
The presence of neutrophils in a background of chronic inflammation is diagnostic of active gastritis, and this may be graded as mild, moderate, or severe, based on the numbers of neutrophils in the mucosa and epithelium. [16, 17, 18] Neutrophilic infiltrates appear to be most susceptible to eradication therapy, followed by eosinophils. The numbers of lymphocytes and plasma cells tend to decline at slower rates.
Immunohistochemistry
Identification of H pylori in tissues can be easily done by examination of hematoxylin and eosin (H&E) – stained slides in about 70%-80% of infected patients. Special stains, including Gram stains, silver stains, Giemsa, Diff-quick, thiazine, and immunohistochemical stains, can detect the remaining 10%-20% (see the images below). Immunohistochemical stains for H pylori can also be performed and are particularly helpful in the detection of coccoid forms of the bacterium and in cases with low bacterial density, such as in treated patients or in cases with intestinal metaplasia. [8]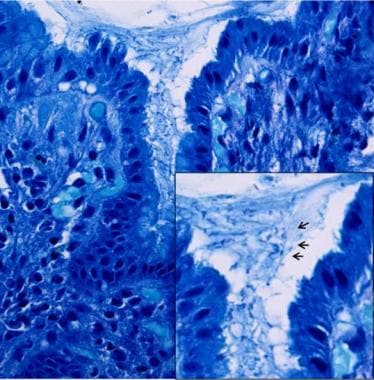 Helicobacter pylori bacteria can be identified on thiazine stains. Arrows point out the group of H pylori within the mucus layer that lines the luminal surface of the gastric mucosa. Original magnification (400X).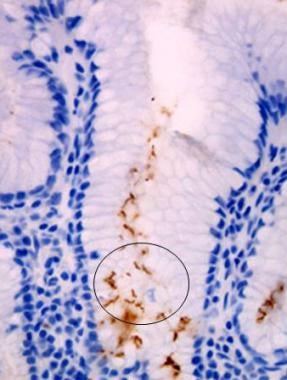 Helicobacter pylori bacteria can be identified by immunohistochemistry. A group of H pylori(highlighted by the brown stain) adherent to the surface of the gastric epithelial cells and in the mucus layer that lines the luminal surface of the gastric mucosa can be appreciated within the circle. Other H pylori forms are also seen elsewhere in the picture adherent to the foveolar epithelium. Original magnification (400X).
Prognosis and Predictive Factors
All patients diagnosed with H pylori infection should be treated. The optimal timing of H pylori eradication in asymptomatic persons is during the period when the mucosal damage remains nonatrophic. [1] Left untreated, H pylori gastritis has a 15%-20% lifetime risk of developing peptic ulcer disease. [19] Patients with H pylori –associated chronic gastritis may be asymptomatic or present with dyspeptic symptoms or with specific complications such as gastric ulcers, carcinoma, or mucosa–associated lymphoid tissue (MALT) lymphoma. More than 90% of primary gastric MALT lymphomas are seen in patients with H pylori gastritis. [19]
Eradication results in rapid cure of the infection with disappearance of the neutrophilic infiltration of the gastric mucosa, whereas disappearance of the lymphoid component of gastritis might take several months after treatment. Follow-up for as long as several years after H pylori eradication has not demonstrated regression of gastric atrophy in most studies, whereas others have reported improvement in the extent of atrophy and intestinal metaplasia. [20] (See the image below.)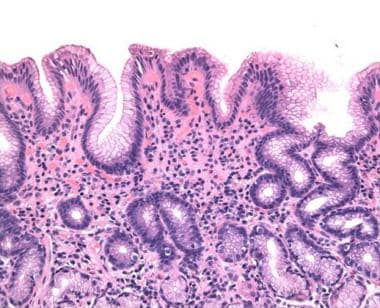 Gastric antral mucosa with mild chronic (inactive) gastritis, from a patient who was successfully treated for Helicobacter pylori gastritis (original magnification 200X).
Persistence of the organisms and associated inflammation during long-standing infection is likely to permit the accumulation of mutations and epigenetic alterations in the gastric epithelial cell genome. [21, 22, 23, 24] Prospective data in a Japanese population showed that H pylori eradication in patients with endoscopically resected early gastric cancer was associated with decreased appearance of new early cancers. [25] The stomach represents the primary organ affected by H pylori infection and is also the most common site for primary gastrointestinal lymphomas, accounting for more than 75% of cases. [26] Notably, H pylori eradication alone may be sufficient to cure early stage MALT lymphoma.
Differential Diagnosis
Conditions to consider in the differential diagnosis of H pylori -associated gastritis include the following:
Gastropathy in the setting of chronic conditions (eg, portal hypertensive gastropathy)

Autoimmune gastritis

Gastritis in patients with Crohn disease involving the stomach

Lymphocytic gastritis

Nonspecific chronic inactive gastritis
What would you like to print?