Definition
Postoperative spindle cell nodules (PSCNs) are benign, localized, reactive lesions [1] usually described as histologically identical to inflammatory myofibroblastic tumors (IMTs), except that a history of instrumentation or trauma to the bladder (eg, core needle biopsy, surgery) can be elicited (see the image below). [2, 3, 4, 5, 6] PSCNs are polypoid or nodular and involve any portion of the bladder wall, most commonly the dome.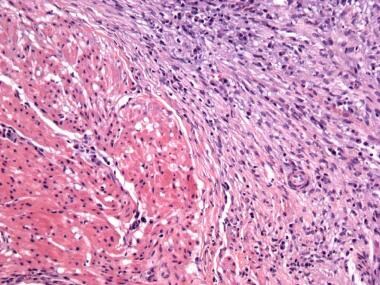 Postoperative spindle cell nodule of the bladder, with muscularis propria on the left.
Males are affected more commonly than females, with a male-to-female ratio ranging from 2:1 [2] to 3:1. [3, 4] The first large series of 38 cases comprised patients aged 2.5 months to 87 years. [4] The mean patient age was 65 years.
Hematuria is the most common presenting symptom, present in most patients, followed by bladder outlet obstruction and dysuria.
Gross, Microscopic, and Immunohistochemistry Findings
Gross findings
The tumor size of postoperative spindle cell nodules (PSCNs) ranges from 1 cm to 10 cm (with 4 cm being the mean). [3] The mean tumor size is comparable with that of inflammatory pseudotumor/inflammatory myofibroblastic tumor (IMT), as well as sarcoma. [4]
Microscopic findings
Plasma cells are often less prominent than in inflammatory IMTs.
Immunohistochemistry findings
The immunoreactivity of PSCNs is identical to that of inflammatory IMT. Some cases have been reported positive for ALK-1. [3, 7, 8, 9]
In a study by Sukov et al, detection of ALK protein and ALK gene rearrangements were found to be useful in distinguishing inflammatory myofibroblastic tumor from spindle cell malignancies in the urinary bladder. The authors additionally noted that ALK rearrangement is the primary mechanism for ALK activation and that IMT likely represents a heterogeneous group of spindle cell proliferations, with the majority associated with ALK translocations. [10]
In separate studies, Tsuzuki et al and Freeman et al also confirmed results supporting that ALK-1 immunostaining is useful in differentiating PSCNs from other malignant spindle cell neoplasms of the bladder. [7, 8]
What would you like to print?