Definition
Stromal tumors arising from the specialized stroma of the prostate are uncommon proliferations with several histologic patterns. [1, 2] The term stromal tumors of uncertain malignant potential (STUMP) was coined to describe a proliferation of stromal cells that is behaviorally and histologically distinct from benign hyperplasia and whose behavior cannot be predicted by its histologic appearance (see the images below). [3, 4, 5]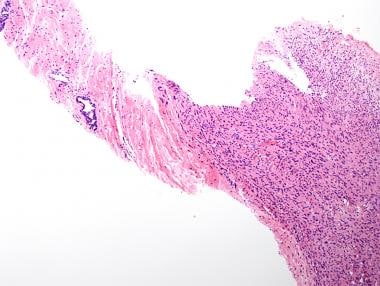 Low-power magnification of prostate core biopsy showing stromal tumor of uncertain malignant potential at right and sharp demarcation from benign prostatic tissue. Note increased cellularity and hyperchromasia of nuclei and haphazard arrangement of cells.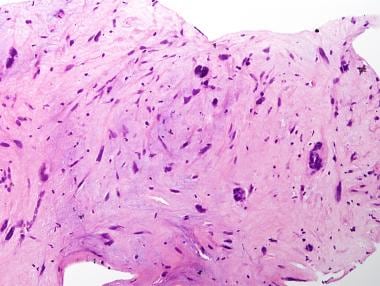 High magnification of stromal tumor of uncertain malignant potential showing myxoid stroma and degenerative cells.
The neoplastic nature of these proliferations remains controversial, with arguments favoring these lesions to be hyperplastic or pseudosarcomatous processes existing to date. [6, 7, 8, 9] On the opposite spectrum of malignancy, true stromal sarcomas represent the malignant counterpart of lesions arising in the specialized stroma and are not discussed in this article.
Although the phyllodes pattern of proliferation has been included with STUMP by some authors, phyllodes tumors of the prostate will not be discussed in this article because of certain histologic differences. [10] The occasional coexistence of STUMP with stromal sarcomas (or progression from STUMP to sarcomas) and the few reported cases that have shown recurrence make the term STUMP acceptable. [3, 11, 12, 10, 13]
Epidemiology
Stromal tumors of uncertain malignant potential (STUMP) are rare. [10, 11, 12, 14, 15, 16, 17, 18] Because STUMP is a newly described entity, reports using other nomenclature likely refer to the same lesion, including terms such as atypical spindle cell proliferations, prostatic stromal hyperplasia with bizarre nuclei, bizarre leiomyoma, atypical stromal hyperplasia, and stromal hyperplasia with atypia. [6, 8, 9, 19]
Etiology
The etiology and the pathogenesis of stromal tumors of uncertain malignant potential (STUMP) are unknown. No risk factors have been associated with these proliferations.
Location
Stromal tumors of uncertain malignant potential (STUMP) arise in the specialized stroma of the prostate and do not seem to display any zonal predilection. Both transitional zones and peripheral zones of the prostate have been reported to contain these lesions, predominantly the latter. [12] A case of an extraprostatic STUMP has been reported. [17] A heterogeneous midline mass extending from the prostate base is sometimes seen by ultrasound examination. [20]
Clinical Features and Imaging
Stromal tumors of uncertain malignant potential (STUMP) have been reported in both young patients and elderly patients (age range, 27-83 y), with most patients older than 50 years.
Patients present most often with urinary and/or fecal obstruction, hematuria, abnormal rectal examination with a rectally palpable mass, or elevated prostate specific antigen (PSA) levels. [21] Association with adenocarcinoma of the prostate has been reported in a small percentage of cases. [3, 10, 12]
Gross Findings
Stromal tumors of uncertain malignant potential (STUMP) are grossly characterized by solid masses with occasional cystic spaces filled with mucinous or clear fluid.
Microscopic Findings
Stromal tumors of uncertain malignant potential (STUMP) are stromal proliferations characterized by hypercellularity and/or cytologic atypia without evidence of true sarcomatous transformation. [22] The atypical stromal cells have enlarged nuclei with nuclear hyperchromasia and occasional multinucleation. Few or no mitotic figures are present in reported cases of STUMP, and the occurrence of atypical mitoses should make the pathologist highly suspicious of a prostatic stromal sarcoma or other sarcomas involving the prostate. An association with prostatic glands is common, which are histologically benign.
Four different patterns of STUMP have been described, as follows:
Degenerative atypia with hypercellularity

Degenerative atypia without hypercellularity

Myxoid pattern, which is set apart by extensive overgrowth of myxoid stroma that resembles the stroma of benign prostatic hyperplasia.
Investigators recently identified a novel round cell histological pattern of STUMP. Tumors with round cell morphology may be misidentified as gastrointestinal stromal tumor, prostatic adenocarcinoma, or benign prostatic hyperplasia. [1, 22]
STUMPs may have a mixture of patterns.
Histologic pattern recognition is helpful in the identification of these lesions, but there is no association of histologic pattern with aggressive local growth or progression to sarcoma. Although the seminal paper on the categorization of STUMP argued that a subset of these lesions may reflect hyperplastic processes, criteria allowing separation of some atypical hyperplastic lesions from STUMP have not been established. [3]
Nagar and Epstein systematically described the epithelial proliferations occurring in STUMP and suggested from their findings that, within STUMPs, there is epithelial-mesenchymal crosstalk, as has been described in benign prostate and prostatic carcinogenesis. According to the authors, in unusual cases of STUMP, the epithelial proliferation may predominate to the extent that it can mask the diagnosis of STUMP. [23]
In the Nagar and Epstein study, the most common abnormalities were glandular crowding in 35 of 70 cases (50%), a very prominent basal cell layer in some glands in 32 of 70 cases (46%), and prominent papillary infolding in 13 of 70 cases (19%). Other epithelial changes within the STUMP included cystically dilated glands; basal cell hyperplasia; urothelial metaplasia; squamous metaplasia; cribriform hyperplasia; adenosis; and high-grade PIN, low-grade PIN, and partial atrophy. The glandular component of STUMP was histologically normal in 12 (17%) cases. [23]
Immunohistochemistry
Immunohistochemical staining of stromal tumors of uncertain malignant potential (STUMP) reveals positivity with vimentin, progesterone receptor, actin, and CD34 in variable amounts. [24] A few cases also show estrogen receptor positivity. Beta-catenin was reportedly positive in one case of STUMP.
Ki-67 proliferative index is low but not discriminatory from stromal sarcomas. Negativity for CD117 allows distinction from gastrointestinal stromal tumors in small biopsy samples.
Molecular/Genetics
No information is available on genetic alterations of stromal tumors of uncertain malignant potential (STUMP).
A study by Pan et al was conducted to detect the chromosomal imbalances in stromal sarcoma and STUMP by using array comparative genomic hybridization (aCGH). The study found that stromal sarcoma and STUMP shared similar profiles of chromosomal imbalances (mainly deletions of chromosomes 13, 14, and 10). [25]
Tumor Spread and Staging
Stromal tumors of uncertain malignant potential (STUMP) are most often confined to the prostate.
Prognosis and Predictive Factors
Patients with stromal tumors of uncertain malignant potential (STUMP) have a good prognosis, and most cases of STUMP do not seem to behave aggressively. In fact, it has been argued that they represent benign stromal hyperplasia with reactive atypia similar to stromal changes seen in other sites, such as the cervix, vagina, vulva, bladder, and breast. [26, 9] However, Herawi et al reported that 16% (7/43) of STUMPs progressed to or were subsequently found to be associated with prostatic stromal sarcomas. [12]
What would you like to print?