Treatment
Medical Care
Medical management is not indicated unless symptoms are minimal, operative risks are prohibitive, or tumor size limits adequate resection. Thus, medications are not indicated for primary treatment.
Rhabdomyomas have a high tendency to regress, therefore close follow-up with a pediatric cardiologist is needed. Indications for resection are usually for severe intracavitary obstruction.
Consult with the following specialists:
Oncologist if malignant disease is suspected
Surgical Care
Complete surgical resection of benign masses typically is curative. [2, 14, 15] Note the following:
Resection typically involves cardiopulmonary bypass with cardiac arrest.

Cardiac autotransplantation is also a feasible technique for resection of complex left-sided cardiac tumors. [17]
Fibromas should be resected, if possible, due to impedance of cardiac flow, ventricular contraction abnormalities, and conduction abnormalities. Also, lethal arrhythmias are a risk in cardiac fibroma; based on this, excision should be considered, even in asymptomatic patients. See the images below.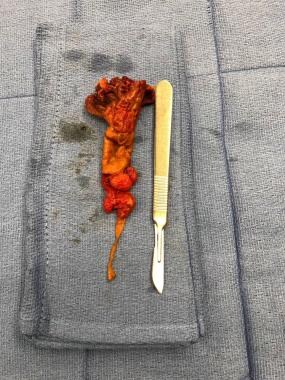 Benign Cardiac Tumors. Resected cardiac fibrosarcoma.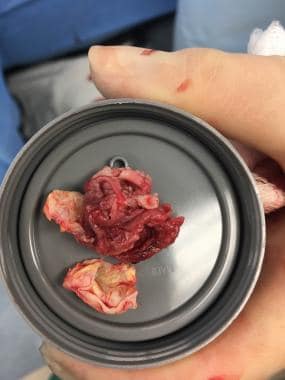 Benign Cardiac Tumors. Resected left atrial myxoma.
Ventricular tumors should be resected to preserve ventricular function, maintain valve function, and preserve as much of the conduction system as possible.
Conventional surgical treatment uses standard median sternotomy; however, right anterolateral minithoracotomy (RALT) recently has become an alternative method. [20, 21] Dong et al compared the outcomes of 66 patients undergoing RALT (n=30) with median sternotomy (n=36) for resection of left atrial myxoma. There were no significant differences in aortic cross-clamp and cardiopulmonary bypass time, the number of blood transfusions, or postoperative complications. The total incision length was significantly shorter in the RALT group resulting in a more favorable cosmetic outcome. The length of stay in both the ICU and hospital was shorter, resulting in a lower total cost of the RALT procedure. [21] Overall that RALT procedure outperformed the standard median sternotomy, although the number of patients in the study was small.
No restrictions on activity are necessary following elective resection (other than usual postoperative restrictions during the recovery phase).
Long-Term Monitoring
Long-term follow-up with transthoracic echocardiography is needed in all patients after tumor resection. [8] Routine transthoracic echocardiographic evaluation is recommended every 2-5 years to evaluate for recurrence. According to American Heart Association guidelines, to minimize the risk of endocarditis, instruct the following patients to take prophylactic antibiotics:
Patients with residual postoperative valvular dysfunction

Patients with implanted prosthetic valves or artificial materials (used to repair postresection myocardial defects)

Patients with outflow tract obstruction
What would you like to print?