Workup
Ultrasound
Ultrasound examination remains the most reliable method for diagnosis of multiple gestations. Chorionicity should be established as soon as possible during pregnancy because it can affect future management decisions. The optimal time for diagnosis is in the first trimester or early second trimester. [11]
The most reliable predictor of a dichorionic gestation is the presence of two separate placentas. However, if the placentas have fused by the time an ultrasound examination is performed, a dichorionic, diamniotic gestation can show evidence of a "twin peak" or "lambda" sign on ultrasound. This refers to a triangular portion of the chorion fused between two layers of amnion. See the images below.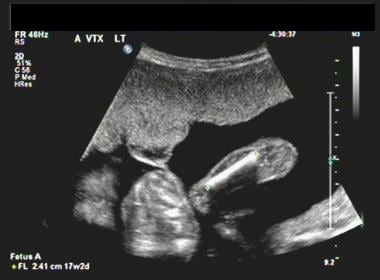 Twin peak sign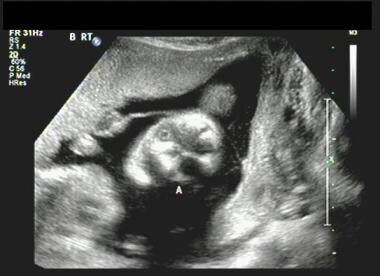 Twin peak sign
A monochorionic, diamniotic gestation can have the presence of a "T" sign, which is the appearance of the amnion as it comes off the placenta at a 90° angle. See the image below.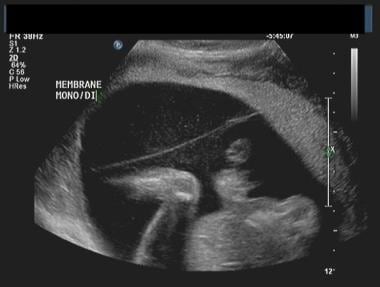 "T" sign
These signs can be more difficult to appreciate as the pregnancy progresses.
What would you like to print?