Workup
Laboratory Studies
For most patients with illness serious enough to cause third-degree atrioventricular (AV) block (ie, complete heart block), a complete blood count (CBC) is indicated to screen for coincident problems (eg, anemia, infection) that may require emergency intervention. The presence of fever or an elevated white blood cell (WBC) count should be evaluated by using blood cultures because endocarditis can be complicated by heart block.
Serum concentrations of electrolytes, including potassium and magnesium, should be measured to look for metabolic imbalance, indications of renal insufficiency or failure, and particularly for severe hyperkalemia. The prothrombin time and activated partial thromboplastin time should also be routinely obtained.
A digoxin level should be obtained for patients on digoxin or in whom ingestion of digoxinlike compounds (eg, Lily of the Valley, Oleander, Foxglove, Bufonidae toads) is suspected. The same should be done for any other drugs the patient is taking that are capable of causing AV block. Note that the presence of a detectable digoxin level following a nondigoxin cardiac glycoside ingestion can only confirm the presence of such a toxin. The digoxin level does not correlate to the degree of cardiac glycoside toxicity following nondigoxin-induced cardiac glycoside ingestions.
Myocarditis-related laboratory studies should be performed in patients suspected of having myocarditis. Such studies include Lyme titers, HIV serologies, enterovirus polymerase chain reaction (PCR), adenovirus PCR, and Chagas titers, as clinically appropriate.
Lyme titers should be obtained from all patients who may have been exposed to Lyme disease. Because cardiac manifestations of Lyme disease are delayed, Lyme-induced heart block can occur during any season. The decision to perform serologic testing for Lyme disease or any of the collagen vascular diseases depends on other associated history and findings.
Imaging Studies
A chest radiograph should be obtained.
If examination findings or history suggest cardiomyopathy or valvular disease, then transthoracic echocardiography should be performed. Specific etiologies (eg, valve ring abscess) may call for transesophageal echo imaging. A determination of left ventricular function by means of echocardiography or another technique can help in determining whether a pacemaker or defibrillator should be implanted for the treatment of the heart block.
Electrocardiography
The most important study is 12-lead electrocardiography (ECG). On 12-lead ECG, third-degree AV block is characterized by complete lack of conduction (no P waves cause a QRS complex). If complete AV block exists, then the R-R interval is very regular; therefore, before diagnosing third-degree AV block, the R-R interval should be either marched out or measured. If high-grade AV block exists without complete heart block, then some irregularity may occur during intervals following conducted P waves.
Various pathologic conditions can cause conduction system disease and heart block (see Etiology). These systemic or myocardial diseases rarely present as conduction block, with the exception of Lyme disease, inferior myocardial infarction (MI), and some of the neuromuscular diseases. Unless suggested by history, examination findings, family history, risk factors, or 12-lead ECG findings, the authors do not screen for underlying pathology.
Surface ECG and review of prior ECG data can provide important clues to the level of third-degree AV block. The assessment can begin with a review of the current QRS width and morphology, comparing the QRS during heart block to the QRS when conduction was occurring (see the image below).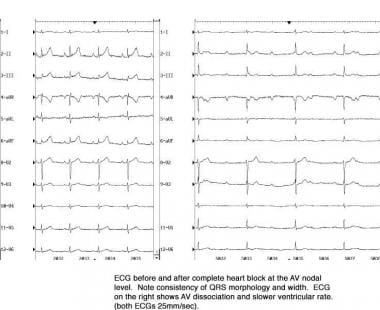 ECG before and after complete heart block at the AV nodal level.
If the QRS is narrow (< 120 msec) during conducted beats and narrow with the same morphology during escape beats, then the block is in the AV junction. If the conducted QRS was narrow at baseline and is wide during the escape rhythm (see the image below), then this is likely a distal level of block located anatomically in the His bundle or in both right and left bundles.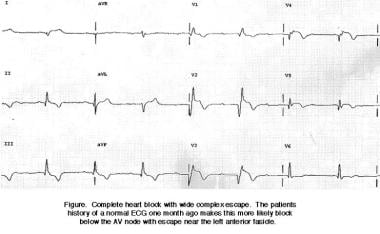 Complete heart block with wide complex escape.
Other Studies
If history or 12-lead ECG findings suggest active coronary artery disease, then cardiac enzyme levels measurements and an evaluation of ischemia, including either cardiac catheterization or stress testing, are needed.
Ambulatory monitoring may be performed to document heart-transient heart block or other bradyarrhythmias in patients presenting with symptoms suggestive of bradycardia.
Diagnostic electrophysiologic studies can be performed to assess AV conduction and to discern the level of block (AV nodal or infranodal) when necessary.
What would you like to print?