Definition
Urothelial papilloma is a benign exophytic neoplasm composed of a delicate fibrovascular core covered by normal-appearing urothelium. [1, 2]
Epidemiology
Urothelial papilloma has a low incidence; it represents 1-4% of bladder tumors. The male-to-female ratio is 1.9:1. Urothelial papilloma tends to occur in younger patients and may be seen in children. [1]
Etiology
The risk factors for urothelial papilloma are similar to those of other urothelial neoplasms. Cigarette smoking and occupational exposure to aromatic amines are the most important among them. [2]
Location
The posterior or lateral walls close to the ureteric orifices and the urethra are the most common locations. [1, 3, 4, 5, 6]
Clinical Features and Imaging
Hematuria is the most common presenting symptom. Most papillomas are single and occur in younger patients (mean age, 46 years; range, 22-89 years). [1, 4] Urothelial papilloma may recur; however, it does not progress. Aggressive behavior has been reported in a patient with urothelial papilloma who was receiving immunosuppressive therapy secondary to renal transplantation. [5] Urothelial papilloma may arise as a de novo neoplasm, or it may occur as a secondary papilloma in patients with a history of bladder cancer. [1, 2]
Gross Findings
Urothelial papillomas are delicate and small; the endoscopic appearance is identical to that of low-grade papillary neoplasms. [6]
Microscopic Findings
Urothelial papilloma shows discrete papillary fronds with occasional branching but without fusion; these are covered by normal urothelium (see the image below). [1, 2]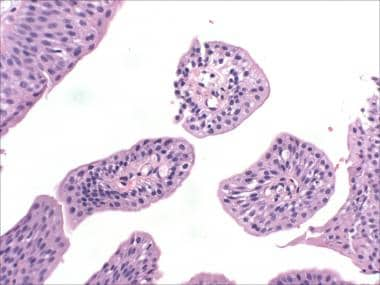 Urothelial papilloma of the bladder. The lesion is composed of a delicate fibrovascular core covered by normal-appearing urothelium.
The superficial (umbrella) cells are often prominent and may display increased cytoplasm, vacuolization, and degenerative nuclear atypia. Mitoses are absent or rare; if present, they are located in the basal cell layer. The stroma may show edema and/or lymphoid inflammatory cells. Rarely, urothelial papilloma extensively involves the mucosa, a phenomenon referred to as diffuse papillomatosis. [1, 6]
Immunohistochemistry
Papilloma shows low proliferation and uncommon p53 nuclear accumulation. Cytokeratin 20 expression is limited to the superficial (umbrella) cells, as is usual in normal urothelium. [7]
Molecular/Genetics
Papillomas are diploid and show frequent FGFR3 mutation (seen in 75% of cases). A recent study found FGFR3 mutations in urothelial papilloma; a comparable percentage of mutations was seen in cases of papillary urothelial neoplasm of low malignant potential and low-grade papillary urothelial carcinoma. [4]
Williamson et al reported results that support the idea that mutations of the FGFR3 and TP53 genes are rare or absent in urothelial neoplasms of young patients. In contrast, the study reported that chromosomal abnormalities detected by UroVysion fluorescence in situ hybridization are sometimes present in patients above 19-20 years of age. The authors added that this finding supports the recently proposed hypothesis that an age of 19-20 years separates distinct molecular pathways of urothelial carcinogenesis. [8]
Tumor Spread and Staging
TNM stage Ta applies (noninvasive). Urothelial papilloma does not spread.
Prognosis and Predictive Factors
Urothelial papilloma is a benign tumor that may recur but does not progress. Rare cases of progression have been described in association with immunosuppressive therapy. [5]
What would you like to print?