Presentation
History
See the list below:
Pertinent history may be obtained from bystanders, family, friends, or EMS providers. Pill bottles, drug paraphernalia, or eyewitness accounts may assist in the diagnosis.

Ingestion time, quantity, and co-ingestants are important aspects of the history and should be ascertained.
Physical
The clinical effects of the Suboxone preparation depend substantially upon individual patient characteristics and will vary depending on whether the patient is opioid naive, tolerant or dependent, a special vulnerable population (eg, a toddler, a patient with lung disease such as COPD, or dependent on opioids). Clinical effects also vary based on the route of administration of buprenorphine/naloxone combinations and whether the patient has other opioids in his or her system when Suboxone was ingested.
In children younger than 6 years, the most common clinical effects include the following:
Lethargy

Vomiting

Miosis

Respiratory depression

Agitation

Coma
In one retrospective review of 86 children younger than 6 years with exposures to buprenorphine, 54 children were found to develop toxicity. The mean time to onset of clinical effect was 64.2 minutes (range, 20 min to 3 h). Fifty-nine percent of the children experienced clinical effects that lasted between 2 and 8 hours, and 26% of children experienced clinical effects of up to 24 hours in duration. [9] The mean duration of clinical effects in this review is illustrated in the chart below: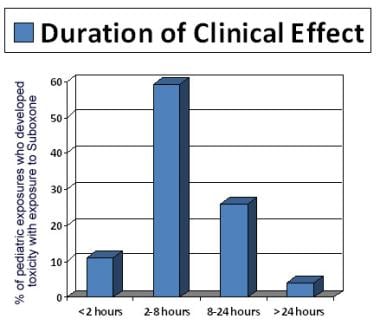 Duration of clinical effects in pediatric Suboxone exposure. Adapted from Pediatrics. Apr 2008;121(4):e782-6.
Specific toxicity:
The respiratory effort frequently is impaired in opiate intoxication. Both bradypnea and hypopnea are observed. Rates as slow as 4-6 breaths per minute often are observed with moderate-to-severe intoxication. The body retains the hypoxic drive to breathe but may be overridden by the CNS sedative effects of a severe overdose.

Mild peripheral vasodilation may occur and result in orthostatic hypotension. However, persistent or severe hypotension should raise the suspicion of co-ingestants and prompt reevaluation.

Opioids prolong GI transit times, possibly causing delayed and prolonged absorption. Initial tendencies for nausea and emesis are transient.

Pink frothy sputum, dyspnea, hypoxia, and bronchospasm strongly suggest acute lung injury (ALI).

Cardiovascular effects, as well as other clinical findings (ie, sedation, nausea, vomiting, dizziness, sweating, headache) may be similar to full opiate agonists such as morphine.

[7]
Causes
See the list below:
Intentional ingestions in attempted suicide

Unintentional exposure (illicit or diverted Suboxone source)

Unintentional pediatric exposure to Suboxone
What would you like to print?