Overview
Overview
Because myeloid sarcoma represents the tissue mass form of various subtypes of acute myeloid leukemia (AML), the diagnosis is equivalent to a diagnosis of AML. Myeloid sarcoma may occur de novo, may precede or coincide with AML, or may represent a blastic transformation of a preceding myelodysplastic syndrome or chronic myeloproliferative neoplasm.
Myeloid sarcoma may be composed of the same cell types as AML—that is, granulocytic precursors, monocytic precursors, erythroid precursors, or even megakaryocytic precursors. Various types of myeloid sarcoma are named in accordance with the type of cell that composes the sarcoma (see Disorders, below).
Disorders
Granulocytic sarcoma (ie, chloroma)
Monocytic sarcoma
Erythroid sarcoma
Definition
Myeloid sarcoma is a tissue mass that effaces tissue architecture. It is composed of blasts (ie, granulocytic, monocytic, erythroid, or megakaryocytic precursors) and occurs at anatomic sites outside of the bone marrow.
Epidemiology
Myeloid sarcoma has a predilection for males (male-to-female ratio, 1:2). It typically occurs in the later decades of life (median age, 56 years; range, 1 month to 89 years). [1, 2]
Clinical Features
The more frequent sites of involvement are the skin, lymph nodes, gastrointestinal tract, bone, soft tissue, and testis. [3, 4] More rarely, multiple anatomic sites are involved (< 10% of cases).
Morphologic Features
The morphologic features of myeloid sarcoma are similar to those of the various subtypes of AML, except in tissue form.
In granulocytic sarcoma, the tumor mass is composed of granulocytic precursors with varying degrees of differentiation. In some cases, there is a predominance of myeloblasts (see the image below); in other cases, there is a spectrum of granulocytic differentiation.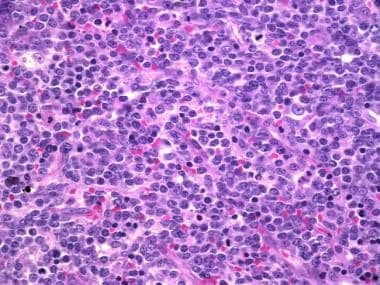 Granulocytic sarcoma (hematoxylin-eosin).
Monocytic sarcoma may be composed of a uniform population of monoblasts or show a spectrum of monocytic differentiation (ie, mature monocytes, promonocytes, and monoblasts) (see the image below).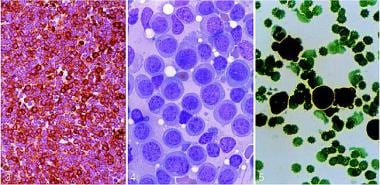 Monocytic sarcoma (left to right: lysozyme stain, Wright stain of touch preparation, and nonspecific esterase stain of touch preparation).
Erythroid sarcoma is relatively rare and displays sheets of primarily immature erythroid precursors (ie, pronormoblasts) (see the image below).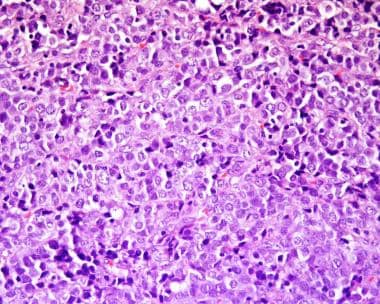 Erythroid sarcoma (hematoxylin-eosin).
Immunophenotypic Features and Methods
Touch preparations of the tissue involved may be stained with enzyme cytochemical stains (ie, myeloperoxidase, Sudan black B, chloroacetate esterase, α-naphthyl acetate esterase, or α-naphthyl butyrate esterase).
Tissue suspensions may be analyzed by flow cytometric analysis. Paraffin sections may be analyzed by immunohistochemistry.
Myeloid sarcomas have immunophenotypic features that are identical to those of their liquid counterparts (see Acute Myeloid Leukemia, Not Otherwise Categorized).
Molecular/Genetic Features and Methods
Myeloid sarcomas are associated with chromosomal abnormalities (55% of cases) seen in AML, including monosomy 7, trisomy 8, MLL-rearrangement, inversion(16), trisomy 4, monosomy 16, 16q-, 5q-, 20q-, and trisomy 11. [2] [5] In approximately 16% of cases, NPM1 mutations are present. [1, 6] t(8;21) is more frequently seen in pediatric cases. [2, 7]
What would you like to print?