Technique
Placement of Nasotracheal Tube
Nasotracheal intubation, blind and unblinded, is illustrated in the video below.
Nasotracheal intubation (blind and unblinded). Video courtesy of Therese Canares, MD, and Jonathan Valente, MD, Rhode Island Hospital, Brown University.
Establish the patency of the nares with a well-lubricated nasal trumpet (see the images below). Placement of a nasal airway to dilate the nasal cavity before nasotracheal intubation may facilitate subsequent passage of the tube. [10, 11]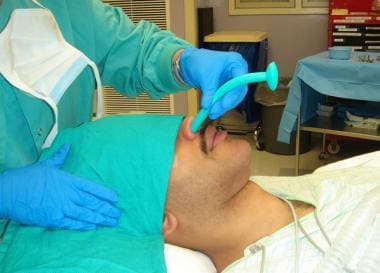 Inserting nasal trumpet. Note that insertion angle is almost perpendicular to face.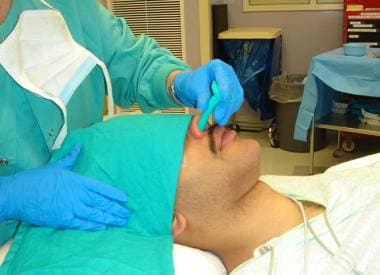 Nasal trumpet insertion (continued).
Insert a well-lubricated tube with fully deflated cuff via a patent, lubricated naris, at a right angle to the face (see the image below).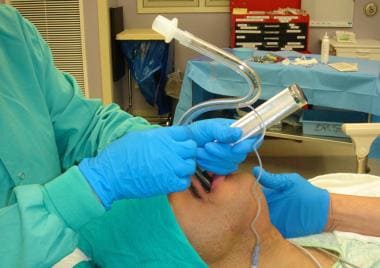 Direct laryngoscopy with Miller blade. Insert nasal RAE endotracheal tube, and advance it a little before putting laryngoscope in mouth.
Some resistance is commonly encountered, most likely caused by the right arytenoid. This is usually overcome with slight counterclockwise rotation of the tube.
Once the tube is beyond the nasopharynx, introduce the laryngoscope into the oral cavity, and advance the tube under direct vision (see the images below).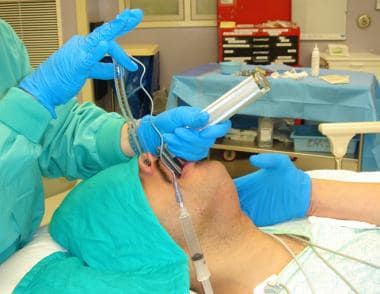 Once vocal cords are seen, endotracheal tube is advanced by laryngoscopist or assistant.
Sometimes, to avoid tearing the cuff with the forceps, Magill forceps are needed to guide the tube through the vocal cords; if this is the case, an assistant advances the tube (see the image below).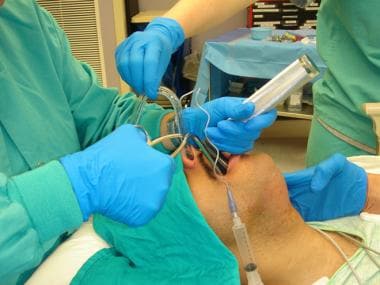 Endotracheal tube is advanced with Magill forceps by laryngoscopist. Assistant helps advance tube by slowly pushing it in.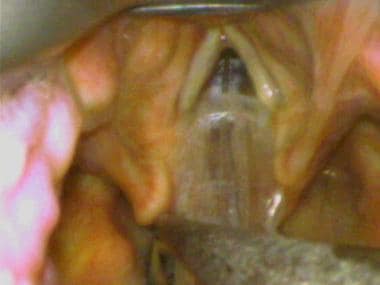 Magill forceps directing endotracheal tube (above cuff) for its advance through vocal cords.
A randomized comparison by Yeom et al found that in using the GlideScope device, a vascular forceps with a tube exchanger offered advantages over a Magill forceps—specifically, reduced total intubation time and lower incidence of epistaxis. [12]
A randomized controlled clinical trial by King et al found that the use of video laryngoscopy for routine nasotracheal intubation in oral and maxillofacial surgery procedures, compared with direct laryngoscopy, was associated with significantly faster intubation times and decreased use of Magill forceps. [13]
Complications
Complications of nasotracheal intubation include the following:
Epistaxis (the most common complication), resulting from abrasion of the nasal mucosa when the tube is passed posteriorly

Damage to nasal cavity (avulsion of nasal polyps, fracture of the turbinates, septal abscesses)

Aspiration

Vagal stimulation

Laryngospasm

Bacteremia from introduction of nasal flora to the trachea
If bleeding is noticed but intubation could still be achieved, the procedure should be completed. An endotracheal tube in proper position allows tamponade of the bleeding and protects the airway. If repeated attempts are needed, the tube should be withdrawn until the cuff is positioned to be inflated in order to tamponade the bleeding (usually in the postnasal space); another option is to withdraw the tube completely and pinch the nostrils together. Preprocedural xylometazoline spray may be considered as a preventive measure. [15]
What would you like to print?