Workup
Complete blood count (CBC)
A complete blood count (CBC) may show anemia, which may be a sign of colorectal disease, due to GI bleeding.
Colonoscopy and Flexible Sigmoidoscopy
Colonoscopy and flexible sigmoidoscopy are the most common methods used to detect the presence of colorectal polyps. The presence of greater than 100 polyps is diagnostic of FAP. Barium enemas may also be used.
See the images below.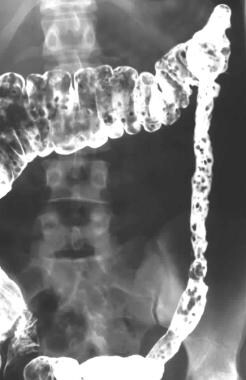 Colon, polyposis syndromes: polyposis coli. Postevacuation image obtained after double-contrast barium enema study shows extensive polyposis of the colon.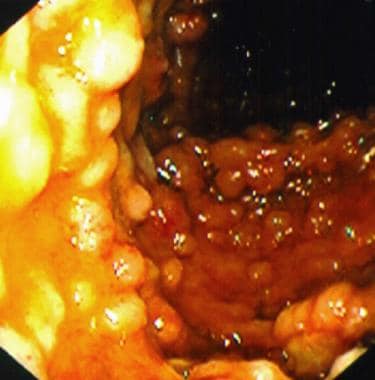 Endoscopic images showing multiple large intestinal polyps in a patient with Gardner syndrome. Courtesy of Christina Surawicz, MD, Harborview Medical Center, Seattle, Wash.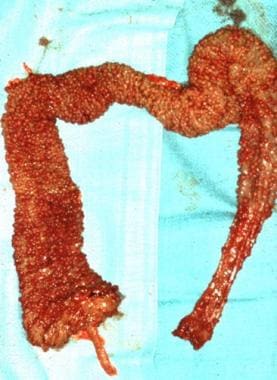 Surgical specimen of the colon in a patient with familial polyposis after total colectomy with ileoanal anastomosis. Note the carpetlike appearance of the mucosa covered with polyps.
Esophagogastroduodenoscopy
Esophagogastroduodenoscopy (EGD) is used to screen patients for gastric, duodenal, and periampullary polyps. This is essential in patients with previously diagnosed Gardner syndrome because these polyps, if present, may undergo malignant transformation.
Plain radiography may be used to diagnose both osteomas and dental abnormalities. See the image below.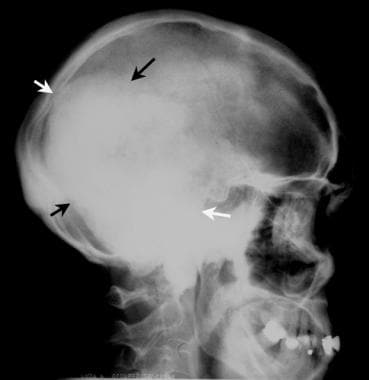 Plain lateral skull radiograph in a patient with known Gardner syndrome shows a large osteoma in the occipital region (arrows).
Ultrasonography
Ultrasound may be used to diagnose both thyroid and abdominal masses and may be used as a screening tool for both. CT scanning or MRI may also be used.
Histologic Findings
Colonic adenomas occur in varying shapes and sizes but consistently share several histological characteristics, including hyperchromatic nuclei, increased nuclear-to-cytoplasmic ratio, pseudostratification of the nuclei, mucin dropout, and increased mitotic activity. Three main types of adenomas are noted: tubular, villous, and tubulovillous. Tubular adenomas are the most common, whereas villous adenomas have a higher propensity to become adenocarcinoma. Villous adenomas differ from tubular adenomas in that they show large papillary villous projections, often with a larger base and no stalk. Tubulovillous adenomas show characteristics of both and must have at least 25% of both tubular and villous components.
See the images below.
Odontomas are the most common odontogenic tumor and are considered to be hamartomas. Typically, they are found in the maxilla or the mandible. Histologically, they arise from the epithelium and show extensive deposits of enamel and dentin, which typically form small, irregular supernumerary teeth.
Epidermal cysts are the most common type of keratinous cysts. They are benign cysts lined by cornified epithelium. Lamellated keratin is found within the cystic wall. Often, these cysts are associated with trauma or irritation; thus, inflammatory cells may also be found associated with them. See the image below.
Fibromatosis (or desmoid tumor) is defined by the proliferation of well-differentiated fibroblasts, typically with abundant collagen in between. It is not defined as a malignant lesion because it does not distantly metastasize and shows benign cytologic features with little to no mitotic activity. However, these lesions often show aggressive growth locally, with a tendency to infiltrate neighboring tissue (see the image below).
Pancreatic adenocarcinoma has multiple histological subtypes. By far the most common is ductal adenocarcinoma. This tumor typically shows ductlike structures that show enlarged hyperchromatic nuclei, at least 4 times the size of normal duct nuclei, as well as increased mitotic activity, enlarged nucleoli, and incomplete gland structures. A desmoplastic response can often be found surrounding the tumor cells.
What would you like to print?