Workup
Laboratory Studies
The diagnosis of heroin poisoning is usually made clinically, and laboratory analysis does not alter therapy in the emergent setting. Additional tests and further workup are indicated if the patient's condition does not respond to naloxone or if the patient's course of treatment is complicated.
Qualitative analysis may be helpful in confirming heroin use, as well as concomitant use of other drugs. Co-ingestion of alcohol, benzodiazepines, cocaine, and amphetamines is common and may contribute to morbidity and mortality. If the patient is taking prescription narcotics, which commonly contain acetaminophen or aspirin, serum drug levels should be obtained.
Heroin is quickly metabolized to 6-MAM and morphine. Most qualitative toxicologic studies screen for morphine only and use the presence of morphine in the urine as a surrogate for heroin use. In criminal and legal cases, however, testing for specific compounds is necessary, and—because 6-MAM can be generated only from heroin metabolism—the presence of 6-MAM on a drug screen is taken as evidence for heroin use.
In mild-to-moderate heroin overdoses, arterial blood gas (ABG) analysis reveals respiratory acidosis. In more severe overdoses, tissue hypoxia is common, leading to mixed respiratory and metabolic acidosis. The presence of unexplained metabolic acidosis should prompt a search for a co-ingestion or contamination with poisonous substances such as cyanide and clenbuterol. [20]
Hypoglycemia must be diagnosed at the bedside and treated immediately. A complete metabolic panel is indicated if the patient's coma persists despite the infusion of naloxone (Narcan), dextrose, and thiamine (the coma protocol).
Other studies to consider include the following:
Liver function tests (LFTs) and coagulation studies are indicated if hepatitis is suspected and can determine ammonia levels if hepatic encephalopathy is suspected.

Renal function should be monitored in patients with rhabdomyolysis, shock, or prolonged coma and in the setting of sepsis, severe hypertension, and preexisting renal insufficiency.

Complete blood cell (CBC) count is indicated if infection, blood loss, or immunodeficiency is suspected.

Creatine kinase (CK) level determination is indicated when rhabdomyolysis or compartment syndrome is suspected; an elevated CK level may denote cardiac injury in comatose patients.

A pregnancy test should be considered in women of childbearing age.

Cerebrospinal fluid (CSF) analysis is indicated when an infectious process is suspected.
Imaging Studies
Chest radiography is indicated if the patient remains hypoxic. A chest radiograph may help diagnose many of the pulmonary complications of heroin poisoning, including noncardiogenic pulmonary edema (depicted in the radiograph below), aspiration pneumonitis, atelectasis, and other complications of drug use such as pneumothorax, pneumomediastinum, pneumoperitoneum, septic pulmonary emboli, fungal infections, and aspiration pneumonia.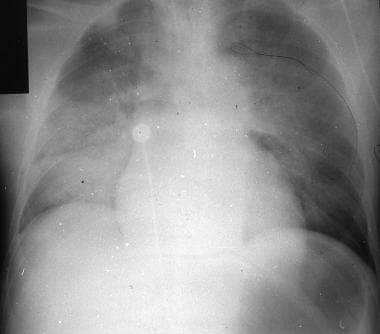 Heroin-related noncardiogenic pulmonary edema.
Adulterants may also cause pulmonary abnormalities. Talc, for example, causes granulomatosis and thrombosis of small pulmonary vessels and may appear as a reticulonodular pattern. Long-term talc exposure may also result in pulmonary hypertension.
Abdominal radiographs are helpful in demonstrating the presence of radiopaque substances in the gastrointestinal (GI) tract, such as vials or bags of heroin. The sensitivity of radiographs is only 85-90%.
A noncontrast computed tomography (CT) scan of the abdomen and pelvis has a higher sensitivity for foreign bodies in the GI tract than plain radiographs. CT scanning is also able to demonstrate lack of progression of the foreign body within the GI tract to help pinpoint the site of obstruction and the site of viscus perforation.
A CT scan of the brain is indicated in the presence of focal neurologic findings or when coma persists. A CT scan may reveal space-occupying lesions such as brain abscesses, intracerebral or extracerebral hematomas, and stroke.
Magnetic resonance imaging (MRI) of the brain is helpful in establishing the diagnosis of heroin-induced leukoencephalopathy. Findings include white-matter abnormalities in the cerebellum and posterior limb of the internal capsule.
Other Tests
An electrocardiogram (ECG) may show abnormalities in rhythm and rate, which are rare in pure opioid overdoses but common with toxicity from some co-ingestants and adulterants of street drugs. An ECG may also reveal evidence of myocardial ischemia.
Echocardiography is indicated if endocarditis is suspected. An echocardiogram may also help diagnose acute pulmonary hypertension secondary to embolic disease.
Procedures
Endotracheal intubation is indicated for airway protection and may be required in the management of hypoxia due to noncardiogenic pulmonary edema. Endotracheal intubation with ventilation may also be required in the management of increased intracranial pressure and shock.
Pulmonary artery catheterization may be indicated. Noncardiogenic pulmonary edema secondary to opioid overdose is characterized by a normal pulmonary capillary wedge pressure and mildly increased pulmonary arterial pressure.
Lumbar puncture may be indicated. In the absence of signs of increased intracranial pressure, a lumbar puncture is indicated in comatose patients who have evidence of meningitis or fever without a source. In cases in which bacterial meningitis is suspected, antibiotic therapy should not be delayed by the lumbar puncture.
What would you like to print?