Definition
There are 3 main patterns of malignant change that occur in pleomorphic adenoma. Metastasizing pleomorphic adenoma is 1 of these; the other 2 are carcinoma ex pleomorphic adenoma and true malignant mixed tumor (carcinosarcoma). Metastasizing pleomorphic adenoma (the term currently preferred by the World Health Organization [WHO]) is also known as metastasizing benign pleomorphic adenoma, metastasizing benign mixed tumor, and metastasizing mixed tumor.
By definition, metastasizing pleomorphic adenoma is characterized by the presence of 1 or more foci of metastatic, histologically benign pleomorphic adenoma. The stage of the tumor is variable, depending on the site of metastasis and the extent of the metastatic foci. Typically, pleomorphic adenoma of major or minor salivary gland origin is present at the time of diagnosis, or the patient has a history of such adenoma, which may be recurrent.
Epidemiology
In a review by Nouraei et al, [1] 42 cases of metastasizing pleomorphic adenoma were found to have been reported in the English-language literature between 1953 and 2005. An exhaustive literature review by Marioni et al identified approximately 60 recorded cases since 1942. [2]
It should be noted, however, that the exact number of cases of metastasizing pleomorphic adenoma has been a matter of controversy among reviewing authors. Some investigators have questioned the very existence of this entity or the accuracy of the diagnostic criteria used in many of the reported cases, [3, 4] whereas others have reaffirmed the existence of this disease. [5]
In the reported cases, the distribution of cases of metastasizing pleomorphic adenoma among males and females was almost statistically equal. Patients ranged in age from 8 to 73 years (average, 32.9 ± 18.5 years). [1] The time from initial presentation to the detection of metastases for patients who had no intervening local recurrences was 12.3 ± 8.6 years. [1] For patients with a history of local recurrence, it was 16.9 ± 13.3 years. [1] Intervals of up to 55 years have been recorded. [1, 4, 5, 6] The parotid gland is the most common primary site. [1]
Etiology
The etiology of metastasizing pleomorphic adenoma is not clearly understood; a number of theories have been put forward to explain it. [2, 4, 5] In most reported cases, a history of multiple local recurrences of pleomorphic adenoma is seen, although in some cases, such a history is absent. [7, 8, 9, 10] Khademi et al reported the simultaneous detection of a primary benign pleomorphic adenoma of the minor salivary glands of the tongue and a concurrent benign metastasizing pleomorphic adenoma in the cervical lymph nodes. [11]
Metastasis may occur via the hematogenous or the lymphatic route. It has been postulated that the tumor may gain access to the vascular or lymphatic system as a result of iatrogenic manipulation during a surgical procedure, increasing the risk of involvement of the angiolymphatic system, as well as the risk of multiple recurrences. In a series of 24 tumors reported by Chen and Tu, [4] 20 spread through the hematogenous route, whereas 4 spread through the lymphatic channels. Wenig et al reported spread through both routes as well. [5]
Wermuth et al [12] suggested that pulmonary metastasis of pleomorphic adenoma could arise from aspiration of tumor cells shed from salivary glands into the pharynx.
Some investigators hypothesize that there is an intermediate link in the transformation of pleomorphic adenoma into carcinoma ex pleomorphic adenoma. [13]
Location
In the review by Nouraei et al, the parotid gland was by far the most common primary site (74%), followed by the minor salivary glands (17%) and the submandibular gland (10%). [1]
Metastasis occurs primarily to bone (45%), followed by the head and neck (43%) and the lungs (36%). [1, 2, 14] Other sites of metastasis include the skin, the liver, [15] the retroperitoneum, the kidney, [16, 17] lymph nodes, and the central nervous system.
Clinical Features and Imaging
Most patients present with symptoms and signs related to the area of the metastasis. However, some lesions may be asymptomatic; such lesions are sometimes discovered incidentally during a workup. Metastasis may be solitary, or multiple metastases may be present.
The clinical history is essential for differentiating metastasizing pleomorphic adenoma from a primary pleomorphic adenoma that is arising in an unusual site.
Gross Findings
Both the primary tumor and the metastatic lesion appear well circumscribed.
Microscopic Findings
The diagnosis of metastasizing pleomorphic adenoma should fulfill 2 criteria. [6, 18] First, the primary and metastasizing tumors must not show changes indicative of malignancy (ie, anaplasia, necrosis, increased mitosis, and an invasive growth pattern). Second, the primary site must be separate from the metastatic site, and both must show the features of biphasic benign pleomorphic adenoma. Although atypia may occasionally be seen, such atypia should be consonant with the atypia encountered in pleomorphic adenomas in general.
To date, there have been no reports of morphologic features in the original pleomorphic adenoma that can help predict the tumor's ability or inability to metastasize; histologic analyses of parameters such as cellularity, mitotic rate, or infiltrative growth pattern have not revealed any significant leads. [18]
Although primary and recurrent pleomorphic adenomas are usually of similar appearance, the histologic subtypes may not be identical with regard to the ratio of the epithelial/myoepithelial components to the stromal components. In some cases, metastatic deposits show a more cellular yet benign-appearing component than the original tumor (see the image below). [19]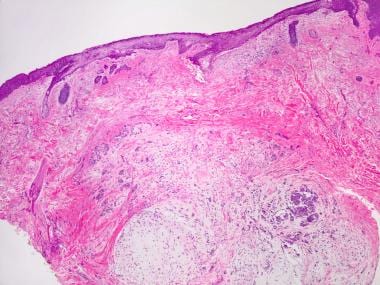 Image shows metastasizing pleomorphic adenoma of skin on lower anterior neck of patient who had previously undergone resection of right parotid pleomorphic adenoma. There was no recurrence at primary site. Neck nodule manifested itself 3 years after resection (unreported case).
Immunohistochemistry
With regard to immunohistochemistry, there are no differences between the original tumor and the metastasizing tumor. The immunoprofiles of the primary tumor and the metastasizing tumor are similar and delineate the epithelial, myoepithelial, and modified myoepithelial cells encountered in pleomorphic adenoma. [20]
Molecular/Genetics
In an analysis of 3 skeletal metastases from a pleomorphic adenoma, Jin et al found that the karyotypic features of the metastases were different from those of benign pleomorphic adenoma and carcinoma ex pleomorphic adenoma. [21] Their findings suggested that deletions of 1 or more tumor suppressor genes (3p deletions), which are frequently seen in a large variety of malignant epithelial neoplasms, might be important in the progression of some pleomorphic adenomas to metastasis.
Takeuchi et al, [22] in a study of a single case, did not find that the oncogenes and tumor suppressor genes they tested (bcl -2, c-erbB -2, c-myc, L-myc, N-myc, Ha-ras, Ki-ras, RB, p16, and p53) played a role — that is, they observed no rearrangement or overexpression. In addition, immunohistochemical studies did not document any aberrance in the expression of the tumor suppressor gene products RB, p16, and p53 within the tumor.
In an extensive flow-cytometric analysis of the tumors and their metastatic counterparts, Wenig et al [5] failed to uncover any significant predictive findings.
Prognosis and Predictive Factors
Although metastasizing pleomorphic adenoma appears histologically benign, its clinically observed behavior generally supports the premise that it should be regarded as a true malignant entity, mostly of low grade but sometimes aggressive. In the reported cases, mortality ranged from 20% to 43%. [5, 23, 24, 25] The 5-year disease-specific and disease-free survival rates were 58% and 50%, respectively. [26] There is no relation between tumor behavior and outcome with regard to the primary site of the tumor. [27]
Nouraei et al [1] found that patients presenting with metastasis within 10 years of the occurrence of their initial primary tumor had a worse prognosis in comparison with those patients presenting with metastasis more than 10 years after the occurrence of their primary tumor. These investigators also found that metastasis to multiple locations was an independent negative prognostic factor. Immunosuppression seems to contribute to the rapid progression of this benign-appearing tumor in a fashion similar to that encountered with many malignancies. [23]
What would you like to print?