Definition
Xanthoma of the prostate is a localized collection of lipid-laden histiocytes within the prostatic gland.
Epidemiology
Prostatic xanthomas are uncommon, and there have been few case reports of the condition. Although no specific epidemiologic data are available, cases have been discovered mostly in prostate core biopsy specimens, which suggests that prostatic xanthomas occur in men in the same age range as those with prostate cancer. [1, 2]
Etiology
Most cases are idiopathic, although xanthoma has been reported in individuals who have hyperlipidemia. [3]
Location
Xanthomas are more frequently described in transrectal needle biopsy specimens, suggesting that they may be located predominantly in the peripheral zone of the prostate. Occasionally, xanthomas are encountered in the transition zone. [1, 2]
Clinical Features and Imaging
No specific clinical findings have been reported other than an elevation in the serum level of prostate-specific antigen (PSA), which prompts the prostatic biopsy.
Gross Findings
No specific macroscopic findings have been reported, although large xanthomas may appear as yellowish foci on cut sections of the prostate gland.
Microscopic Findings
Most xanthomas are tiny; they have been reported to be less than 0.5 mm in size, although lesions measuring up to 2.5 mm have been described. [1, 4] Xanthomas often occur as focal nodular collections of lipid-laden histiocytes. Other patterns include arrangement of the histiocytes in cords or single cells that percolate between benign prostatic glands. [1, 4]
The histiocytes do not incite an inflammatory reaction. They are composed of cells with central, bland nuclei; small, inconspicuous nucleoli; and abundant, finely vacuolated, foamy cytoplasm with no mitotic figures. (See the image below.)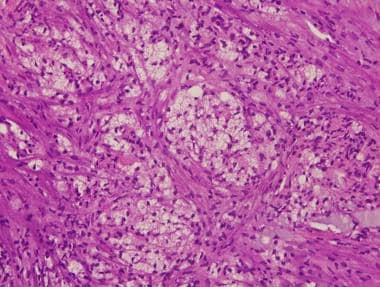 Prostatic xanthoma comprises collections of histiocytes with finely vacuolated, lipid-laden cytoplasm.
Prostate xanthomas may mimic high-grade prostatic acinar adenocarcinoma with foamy cytoplasm, as well as adenocarcinoma with posthormonal therapy effect, particularly androgen deprivation therapy. [1] This is especially the case when they occur in seemingly infiltrating nests, cords, or single cells on small biopsy specimens.
Foamy gland carcinoma of the prostate features cells with abundant finely vacuolated cytoplasm and pyknotic hyperchromatic nuclei. While commonly occurring as a glandular proliferation, higher-grade tumors with solid sheets and single cells do occur [5] and can resemble xanthoma cells in small biopsies.
The prostate xanthoma is usually an incidental and focal finding; in comparison, high-grade adenocarcinoma is more likely to present with extensive disease, [6] hence being detected in more tissue with an infiltrative pattern. Coexisting foamy and nonfoamy adenocarcinoma with glandular differentiation devoid of basal cell lining is helpful in clarifying their malignant nature. In difficult cases, immunohistochemical stains can help differentiate prostate xanthoma from cancer.
If prostate biopsies are performed following hormonal therapy for prostatic adenocarcinoma, the appearance of residual tumor cells can mimic xanthoma cells. They may show abundant clear-to-vacuolated cytoplasm with hyperchromatic nuclei without nucleolar prominence. [4] Knowledge of preceding treatment and the finding of other therapy-related changes, such as glandular atrophy, as well as basal cell hyperplasia, should alert to this differential. Tumor cells usually retain prostatic epithelial antigenicity, and immunohistochemical stains can be used for their identification.
Immunohistochemistry
The histiocytic nature of the cells is demonstrated by a positive result on staining with CD68. Rare cases may demonstrate reactivity of the histiocytes to prostate-specific antigen (PSA), prostate-specific acid phosphatase (PSAP), and alpha methylacyl coenzyme A racemase (AMACR), likely as a result of the presence of phagocytosed material. [1] Prostatic xanthomas are negative for MNF116 and other cytokeratin stains, including CAM5.2.
Molecular/Genetics
No information on the molecular and genetic features of prostatic xanthoma is currently available.
What would you like to print?