Treatment
Medical Care
Toxic shock syndrome (TSS) has a rapid, dramatic, and fulminant onset. Quick recognition of the syndrome is important for enabling appropriate and prompt treatment. S pyogenes continues to be susceptible to beta-lactam antibiotics. Although very effective in treating pharyngitis and other superficial infections, aggressive group A Streptococcus (GAS) infections do not respond well to penicillin and continue to be associated with high mortality rates and extensive morbidity.
The principles in the management of septic shock in general must be instituted as soon as possible (see Septic Shock). These include the following components:
Early and adequate antibiotic therapy

Source control and early debridement of infected/necrotic wounds

Early hemodynamic resuscitation and continued support

Corticosteroids (refractory vasopressor-dependent shock)

Tight glycemic control (Glucose target of < 180 mg/dL are considered to be adequate based on present data.)

Proper ventilator management with low tidal volume in patients with acute respiratory distress syndrome (ARDS) with maintenance of plateau pressures of less than 30 cm of water.
In experimental models of S pyogenes infection, penicillin proved to be inferior to clindamycin. The physiologic state of the organism attributed to the inoculum effects is suggested as the mechanism of failure.
Penicillin and other beta-lactam antibiotics are most efficacious against rapidly growing bacteria; therefore, these antibiotics have the greatest efficacy when organisms are growing rapidly during the early stages of infection or in mild infections. When higher concentrations of GAS accumulate (eg, deep-seeded infections), the effectiveness of beta-lactam antibiotics decreases because the bacterial growth slows (stationary phase).
Penicillin mediates its antibacterial action against GAS by interacting with penicillin-binding proteins (PBPs). Experimentally, the binding of penicillin has been shown to decrease in stationary cells, related to cells in the logarithmic growth phase; thus, the loss of certain PBPs during the stationary growth phase may be secondary to the inoculum effect and may account for penicillin failure.
Clindamycin has multiple effects against GAS infection. The efficacy of clindamycin is not affected by inoculum size or growth stage; furthermore, this agent is a potent suppressor of bacterial toxin synthesis. Clindamycin facilitates phagocytosis of S pyogenes by inhibiting M protein synthesis. Clindamycin suppresses synthesis of PBPs, which also are enzymes involved in cell wall synthesis. Clindamycin has a longer postantibiotic effect than penicillin. Clindamycin causes suppression of lipopolysaccharide-induced monocyte synthesis of TNF. [15]
Dixit et al reported successful treatment of a case of recurrent menstrual TSS after tampons were discontinued with rifampicin and clindamycin. [16]
The FDA approved three newer antibiotics, oritavancin (Orbactiv), dalbavancin (Dalvance), and tedizolid (Sivextro), for the treatment of acute bacterial skin and skin structure infections. These agents are active against Staphylococcus aureus (including methicillin-susceptible and methicillin-resistant S aureus [MSSA, MRSA] isolates), Streptococcus pyogenes, Streptococcus agalactiae, and Streptococcus anginosus group (includes Streptococcus anginosus, Streptococcus intermedius, and Streptococcus constellatus), among others. For complete drug information, including dosing, see the following monographs:
Most patients who develop TSS are critically ill and should be transferred to an intensive care unit of an institution capable of caring for these patients.
Recommended antibiotic therapy
For patients with GAS infection, the administration of clindamycin (600-900 mg IV q8h) is recommended. Other clinicians recommend combined therapy, in which penicillin G (4 million U IV q4h) is combined with clindamycin.
Because differentiating between STSS and streptococcal TSS on clinical grounds alone is difficult, intravenous penicillin also should be administered in addition to a beta-lactamase resistant antibiotic until a bacteriologic diagnosis is confirmed by culture. Alternatively, a first-generation cephalosporin or vancomycin can be used.
Staphylococcal toxic shock syndrome
Large doses of a beta-lactamase–resistant, antistaphylococcal, antimicrobial agent should be administered intravenously to patients with staphylococcal infections. The usually prescribed antibiotics are nafcillin, oxacillin, and first generation cephalosporin. Nafcillin or oxacillin (2 g q4h) is generally recommended. Vancomycin can be used in penicillin-allergic patients.
These agents have been known to increase TSST-1 in culture possibly by cell lysis. Therefore, clindamycin may be used in combination for the first few days to reduce synthesis of TSST-1.
The antibiotic treatment is continued for 10-14 days in absence of a complication.
Intravenous fluids
TSS causes intractable hypotension and diffuse capillary leak; therefore, massive amounts of intravenous fluids (10-15 L/d) often are necessary. Patients in shock may require central venous monitoring or right heart catheterization to guide fluid management.
The patient's blood pressure may improve with administration of fluids alone; otherwise, mild vasopressors (eg, dopamine) or even more potent vasoconstrictors (eg, norepinephrine) are required. Norepinephrine with or without dobutamine may be more effective than high-dose dopamine or epinephrine to preserve splanchnic perfusion.
Patients with TSS will require supportive measures, including intubation and mechanical ventilation, dialysis in patients who have developed renal failure, and adequate nutritional support.
Other treatment measures
Intravenous immunoglobulin
Several anecdotal reports, one large series of 21 patients and a case control study, reported lower mortality rates for patients with streptococcal TSS (STSS) treated with intravenous immunoglobulins. [12, 17, 18] Intravenous immunoglobulins also have been reported to be beneficial in severe cases of Staphylococcal TSS. A single dose of IVIG (400 mg/kg), generates protective levels of antibody to TSST-1 that persist for week. The recommended initial dosage is 2 g/kg, followed by 0.4 g/kg for as long as 5 days.
The mechanism responsible for the efficacy of gamma-globulin therapy may be neutralization of the circulating toxins, inhabitation of TNF-alpha production via nonspecific inhabitation of monocyte or T-cell activation, or inhibition of other streptococcal virulence factors. The contraindications include a history of anaphylaxis from immune globulin in past, immunoglobulin A (IgA) deficiency, and circulating anti-IgA antibodies. [19]
One case series described seven patients with severe soft tissue infection caused by GAS and TSS. All were treated with effective antimicrobials and high-dose intravenous immune serum globulin (IVIG). Surgery was either not performed or only limited exploration was carried out. Six of the patients had toxic shock syndrome. The study suggests that the use of a medical regimen including IVIG in patients with severe GAS soft tissue infections may allow a minimally invasive approach. This can limit the need to perform immediate wide debridements and amputations in unstable patients. [20]
Another prospective, randomized, controlled study included patients with severe sepsis and septic shock of intra-abdominal origin admitted to the ICU. Polyvalent IgM-enriched immunoglobulin (Ig) (Pentaglobin; IVIG group) at a dosage of 7 mL/kg/day for 5 days or an equal amount of 5% human albumin (control group) was randomized. Fifty-six patients were enrolled. The overall mortality rate was 37.5%. In the intent-to-treat analysis, the mortality rate was reduced from 48.1% in patients treated with antibiotic plus albumin to 27.5% for patients with antibiotic plus IVIG. IVIG administration in combination with adequate antibiotics improved the survival of surgical ICU patients with intra-abdominal sepsis. [21]
Others
Hyperbaric oxygen has been used anecdotally in few patients, but whether this treatment is useful is not clear.
High-dose corticosteroid therapy has not been shown to be beneficial; stress-dose steroids (hydrocortisone 50 mg IV every 6 hours) should be considered in patients with refractory shock despite adequate antimicrobial theory and source control.
In recent years, research is continuing to develop either monoclonal antibodies against TSST-1 or other peptides to block the ability of bacterial toxins to activate T cells, therefore blocking the toxicity cascade. [22] Most of this research presently is focused on in vitro and animal models of toxic shock.
Surgical Care
Prompt, aggressive exploration and debridement of patients thought to have deep-seeded pyogenic infection constitutes a surgical emergency. Surgical exploration through a small incision with visualization of the muscle and fascia may provide an early and definitive diagnosis of necrotizing fasciitis. Infection often is more extensive than is apparent from external examination. Surgical debridement of infected tissue is extremely important and often requires re-exploration to ensure adequacy of resection.
See the images below.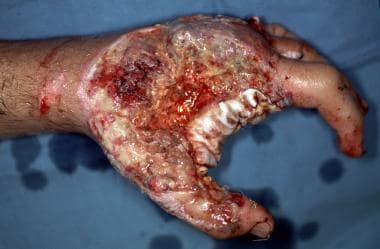 Extensive debridement of necrotizing fasciitis of the hand.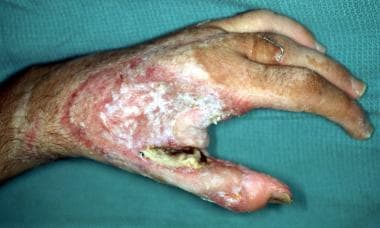 The hand is healing following aggressive surgical debridement of necrotizing fasciitis of the hand.
Consultations
Consultation with a surgeon should occur early.
A consultation with an infectious diseases specialist is mandatory, and a consultation with an intensivist also is required for management of these patients in an intensive care unit.
Prevention
Patients who recover from TSS are at risk of recurrent episodes of STSS. Consider or recommend preventive therapy (eg, discontinuation of tampon usage, administration of antistaphylococcal antibiotics) before and during each menstrual period for several months.
Chemoprophylaxis of household contacts of STSS patients: Household contacts of people with STSS have a higher risk of invasive GAS infection compared to the general population. The Centers for Disease Control and Prevention have not made definite recommendations; some authors have recommended a 10-day course of cephalosporin.
What would you like to print?