Treatment
Approach Considerations
The treatment of choice for choledochal cysts is complete excision. [28] Patients with type I, II, or IV cysts are recommended for surgical excision due to the risk of malignancy, if they are deemed good surgical candidates. Type III cysts may be managed with endoscopic retrograde cholangiopancreatography (ERCP) with sphincterotomy or endoscopic resection. Primary care physicians who encounter a patient with a choledochal cyst should consult a surgeon.
A retrospective (1996-2015) analysis of 36 adult patients with congenital biliary dilatation suggests that laparoscopic surgery may be effective and provide acceptable outcomes. [29] A different retrospective study (2011-2016) of 20 adults with choledochal cysts (type I, n = 19; type IV, n = 1) who underwent laparoscopic choledochal cyst excision reached similar findings but noted there was one fatality involving bilioenteric anastomosis leak with pseudoaneurysm that led to uncontrolled intraabdominal hemorrhage. [30]
It remains unclear what the optimal therapy is for the rare isolated choledochal cyst involving the proximal cystic duct. [15] Treatment options that have been considered include a bilioenteric reconstruction (because of the wide cystic duct-bile duct junction), as well as cholecystectomy, in combination with examination of the specimen and frozen section (to rule out any abnormalities), with close follow-up owing to the risk of malignancy. [15]
Pregnant women with choledochal cysts are managed on the basis of whether or not cholangitis is present. [31] In those with cysts refractory to medical management, biliary tree decompression is indicated, followed by postpregnancy definitive treatment. [31]
Contributing factors for recurrent biliary obstructions after primary laparoscopic hepaticojejunostomy in children with choledochal cyst appear to include the presence of an aberrant hepatic artery, unresolved hepatic duct strictures, and a poor anastomotic technique. [32] Early surgical correction is important for minimizing liver injury.
Medical Care
Appropriate antibiotic therapy and supportive care should be given to patients presenting with cholangitis. Patients who present at a late stage, after the development of advanced cirrhosis and portal hypertension, may not be good candidates for surgery because of the prohibitive morbidity and mortality associated with these comorbid conditions.
Note the following:
No medical therapy specifically targets the etiology of choledochal cysts, nor is any drug or any type of nonsurgical modality curative.

Patients who present with cholangitis should be treated with broad-spectrum antibiotic therapy directed against common biliary pathogens, such as Escherichia coli and Klebsiella species, in addition to other supportive measures, such as volume resuscitation.

Again, it must be emphasized that these means are supportive and that surgery is the only currently available definitive therapy.
Patients with choledochal cysts require lifelong follow-up because of an increased risk of cholangiocarcinoma and gallbladder carcinoma, even after complete excision of the cyst. [20]
Surgical Care
The treatment of choice for choledochal cysts is complete excision of the cyst with construction of a biliary-enteric anastomosis to restore continuity with the gastrointestinal tract. [5, 6, 28, 33] According to Jordan and associates, both partial resection of the cyst and internal drainage procedures expose patients to increased risks of cholangitis, pancreatitis, and cholangiocarcinoma. [34, 35]
The positive results of proper surgical treatment were reinforced by Visser and colleagues. [36] These investigators reported a series of 39 adult patients with choledochal cysts. Cholangiocarcinomas or gallbladder cancers were noted in 8 patients (21%) at the initial operation performed by the authors. Seven of these patients had previously undergone a partial cyst excision, drainage procedure, or expectant management. No cancer was noted during the follow-up care of the patients who underwent complete cyst excision.
Shimotakahara and coworkers compared Roux-en-Y hepaticojejunostomy to hepaticoduodenostomy for biliary reconstruction following choledochal cyst excision and concluded that hepaticojejunostomy was a better choice because of an unacceptably high rate of duodenogastric bile reflux (33.3%) in the hepaticoduodenostomy group. [37] See a review of 79 cases by Mukhopadhyay et al. [38]
In a report of three cases of laparoscopic choledochal cyst excision and Roux-en-Y reconstruction in children, one was converted to open operation owing to the involvement of the confluence of the lobar hepatic ducts. [23] All three children did well postoperatively. In a more recent study of 110 patients (55 children, 55 adults) who underwent laparoscopic cyst excision and biliary-enteric reconstruction for type I choledochal cysts and IVA cysts (intrahepatic and extrahepatic fusiform cysts), investigators found an overall complication rate of 10% (including 3 of 6 patients who developed cholangitis that required intervention for anastomotic stricture), with a 2% reexploration rate; there was 1 postoperative death. [28] Children had a significantly lower rate of blood transfusions and shorter operative time; 3 adults required conversion to open laparotomy.
Laparoscopic surgical management of choledochal cysts in a series of 12 adult patients (mean age, 37.3 y) was successful in all patients via complete cyst excision and reconstruction via Roux-en-Y hepaticojejunostomy. [39] No mortalities and no anastomotic complications occurred. The mean operative time was 228 minutes. Patients were discharged from the hospital after an average stay of 5.8 days.
Robotically-assisted laparoscopic resection of choledochal cysts is a relatively recent technique. This technique was used successfully in the management of a 5-year-old child with a type I choledochal cyst. [40] The total robotic operative time was 390 minutes, and the time for the entire procedure was 440 minutes. No complications occurred. The patient was reported well after 6 months of follow-up.
Choledochal cyst excision in 198 children early in the neonatal period has been reported to have a lower complication rate and less hepatic fibrosis, particularly in neonates who underwent excision of a choledochal cyst within the first 30 days of life. [41]
No mortalities occurred in a study of 32 patients, 84% of whom underwent an initial operation with complete cyst excision and Roux-en-Y hepaticojejunostomy and the remaining 16% had revisional surgery for incompletely resected cysts with hepaticojejunostomy. [42] The overall morbidity rate was 44%, with wound infection being the most common (19%). Malignancy was found in only one specimen (3%). The authors emphasized the importance of treating cyst-associated complications, such as pancreatitis and sepsis, before attempting to define cyst anatomy with ERCP or MRCP. This aids in delineating the extent of involvement of the biliary tree and the exact type of choledochal cyst. Furthermore, they reiterated the importance of complete cyst excision and reconstruction with Roux-en-Y hepaticojejunostomy. [42]
Surgical management by choledochal cyst type
Type I
The treatment of choice is complete excision of the involved portion of the extrahepatic bile duct. A Roux-en-Y hepaticojejunostomy is performed to restore biliary-enteric continuity. [7, 8] (See images below.)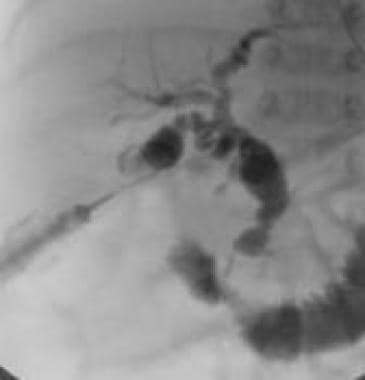 Intraoperative cholangiogram of a type I choledochal cyst.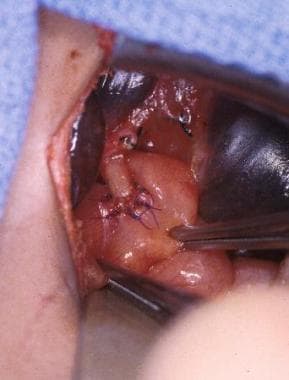 Intraoperative image of a Roux-en-Y hepaticojejunostomy to restore biliary-enteric continuity following resection of a choledochal cyst.
Type II
The dilated diverticulum comprising a type II choledochal cyst is excised in its entirety. The resultant defect in the common bile duct is closed over a T-tube.
Type III (choledochocele)
The choice of therapy depends upon the size of the cyst. Choledochoceles measuring 3 cm or less can be treated effectively with endoscopic sphincterotomy. Lesions larger than 3 cm typically produce some degree of duodenal obstruction. These lesions are excised surgically through a transduodenal approach. If the pancreatic duct enters the choledochocele, it may have to be reimplanted into the duodenum following excision of the cyst.
Type IV
The dilated extrahepatic duct is completely excised and a Roux-en-Y hepaticojejunostomy is performed to restore continuity. Intrahepatic ductal disease does not require dedicated therapy unless hepatolithiasis, intrahepatic ductal strictures, and hepatic abscesses are present. In such instances, the affected segment or lobe of the liver is resected.
Type V (Caroli disease)
Disease limited to one hepatic lobe is amenable to treatment by hepatic lobectomy. When this occurs, the left lobe usually is affected. Hepatic functional reserve should be examined carefully in all patients before committing to such therapy. Patients with bilobar disease who begin to manifest signs of liver failure, biliary cirrhosis, or portal hypertension may be candidates for liver transplantation.
Lilly technique
Occasionally, the cyst adheres densely to the portal vein secondary to long-standing inflammatory reaction. In this situation, a complete, full-thickness excision of the cyst may not be possible. In the Lilly technique, the serosal surface of the duct is left adhering to the portal vein, while the mucosa of the cyst wall is obliterated by curettage or cautery. Theoretically, this removes the risk of malignant transformation in that segment of the duct.
What would you like to print?