Definition
Enchondromas are benign, intramedullary neoplasms of hyaline cartilage. These ectopic cartilage rests most likely arise from foci of cartilage displaced or "remodeled out" of the growth plate. Enchondromas can occur in the medullary cavity, intracortically, or on the bone surface. [1, 2] These lesions occur mainly in the extremities but can occur anywhere. [3, 4]
Multiple enchondromas are known as Ollier disease, and Maffucci syndrome is characterized by multiple enchondromas with hemangiomas. [2]
Epidemiology
Enchondroma is a relatively common lesion, accounting for about 10% of benign osseous tumors, and they are identified on approximately 3% of routine magnetic resonance images (MRIs) of the knee. [2, 5]
Etiology
Enchondromas are thought to be growth plate remnants that are not resorbed and either persist or begin to grow in the medullary canal on the metaphyseal side of the growth plate. Depending on the position of the original piece of the growth plate, cartilage remnants may be remodeled into the cortical bone, resulting in cortical and juxtacortical chondromas. [6] These isolated fragments of cartilage grow very slowly in a lobular configuration and demonstrate ossification at their periphery.
Location
Enchondromas occur almost exclusively in the appendicular skeleton, and about half involve the hands and feet. [6] The proximal humerus and the proximal or distal femur are other affected sites. [7] Enchondromas of the pelvis, vertebrae, or ribs are uncommon.
Clinical Features and Imaging
Patients range from age 5 to 79 years, with most patients in their 20s to 40s, [2, 4] and lesions are equally distributed between males and females. Enchondromas are often discovered incidentally and are not usually painful. Pain as the presenting symptom for a cartilage lesion arouses the suspicion of chondrosarcoma, [3] except when the pain is due to an associated fracture, especially in the hands and feet.
On plain films, enchondromas are predominantly lucent with internal mineralization (see the following image). [2, 6] The calcified foci vary from powderlike to dense aggregates. This mineralization is a result of the endochondral ossification that accompanies these tumors. Computed tomography (CT) scans reveal the internal matrix production. Examination with magnetic resonance imaging (MRI) sequences show a high water content on T2-weighted sequences and reveal a lobular organization.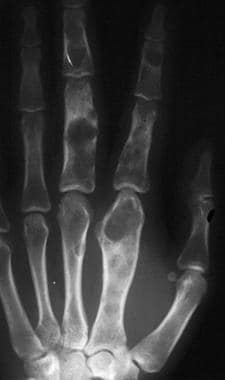 Plain films will reveal lytic lesions with scalloped borders. When internal matrix is present, it is arranged in arc and ring or stippled patterns. A fracture can be associated with the lesion, especially in the small bones of the hands and feet.
Enchondromas may be located centrally, eccentrically, or they may occasionally be multicentric. In large tubular bones, enchondromas produce little if any endosteal cortical erosion, and if endosteal scalloping is present that is greater than two thirds of the cortical thickness, a diagnosis of chondrosarcoma must be considered. [2]
Differentiation on MRI between enchondroma and chondrosarcoma was the subject of two separate studies. In the first study, Choi et al compared the MRI findings of 18 patients with low-grade chondrosarcoma and 16 patients with enchondroma, patients with low-grade chondrosarcoma, and reported significantly higher incidence of MRI findings (P< .05) in the chondrosarcoma group. The predominant findings were intermediate signal on T1-weighted images (72% vs. 25%) and multilocular appearance on contrast-enhanced T1-weighted images (83% vs. 44 %). Cortical destruction (33%), a soft tissue mass (28%) and adjacent bone marrow and soft tissue abnormal signal (22%) appeared in a minority of the low-grade chondrosarcoma group, but were not present in the enchondroma group. [8]
In the second study, DeConinck and colleagues conducted a retrospective study of 75 patients with enchondromas and 31 patients with chondrosarcoma to determine if dynamic contrast-enhanced (DCE) MRI can differentiate between the two tumors compared to standard MRI, as well as the cutoff value for accuracy. The accuracy of prediction of chondrosarcoma was similar with both modalities. The cutoff values were found to be: relative enhancement = 2 and slope = 4.5. 100% chondrosarcoma detection corresponded with 36.7 % false-positive diagnosis of enchondroma. The researchers concluded that both MRI and DCE-MRI are important tools in differentiating enchondroma from low-grade chondrosarcoma, and a combination of both imaging techniques leads to the highest diagnostic accuracy. [9]
Gross Findings
Most enchondromas are treated by curettage, and resected specimens are rare. The curetted material is hyaline cartilage and thus is grayish-blue and glistening, sometimes mixed with yellow, calcified foci.
Microscopic Findings
Microscopically, enchondromas demonstrate a lobular arrangement of the neoplastic cartilage. [6] The lobules are frequently rimmed by a narrow band of reactive bone as a result of endochondral ossification. [7] The key feature is that the cartilage lobules are surrounded by bone and do not show an infiltrative pattern. The lobules can be hypercellular, especially lesions in the hands and feet, as a result of trauma. Mitotic figures are usually not noted in enchondromas unless a fracture is associated. Atypical mitotic figures are never noted.
When these lesions are sampled with fine-needle aspiration (FNA) or other cytologic preparations, the material consists of thick, metachromatic cartilaginous tissue with small, uniform cells. [1] These features should always be correlated with the pertinent radiologic studies.
The following images depict histologic characteristics of enchondromas.
Immunohistochemistry
Immunohistochemistry is not routinely used in enchondromas, but chondrocytes are S100 positive if a question exists as to whether a tumor represents a cartilaginous tumor in a limited sample.
Prognosis and Predictive Factors
Most enchondromas are followed conservatively, but when treatment is indicated, they are treated by curettage, with or without bone grafting. Cartilage lesions are resistant to chemotherapy and radiotherapy, and these treatments are not used for enchondromas. The recurrence rate for curetted enchondromas is less than 5%, especially in areas of complicated anatomy. [3]
Differential Diagnosis
What would you like to print?