Definition
Prostatic stromal sarcoma is a rare malignant neoplasm that is believed to originate from specialized stromal prostatic cells. [1, 2, 3, 4, 5] At present, there is still debate on its specific definition, pathology, and prognosis. [3, 6]
This tumor was initially named as atypical stromal hyperplasia, cystosarcoma phyllodes, prostatic cystic epithelial-stromal tumor, and mullerian adenosarcomalike tumor; most of these were presented as a few isolated case reports and without distinction from other spindle cell neoplasms of the prostate. [1, 7, 8] The phyllodes pattern of mesenchymal proliferation has been included with stromal tumors of uncertain malignant potential (STUMP). [9, 10, 11, 12]
Prostatic stromal sarcoma was formally described by Gaudin et al in 1998. [1] The current World Health Organization (WHO) (also known as l'Organisation Mondiale de la Sante [OMS]) classification includes this tumor as a distinctive spindle cell neoplasm. [13] (See the related images below.)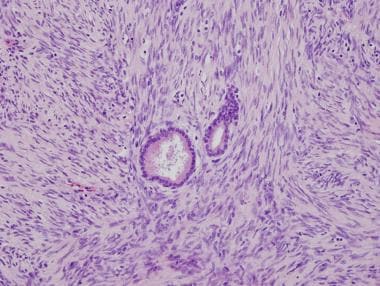 Medium magnification showing spindle cell sarcoma replacing and distorting prostatic tissue. Note the presence of hypercellularity and nuclear atypia. The residual prostatic gland in the center shows no anaplasia.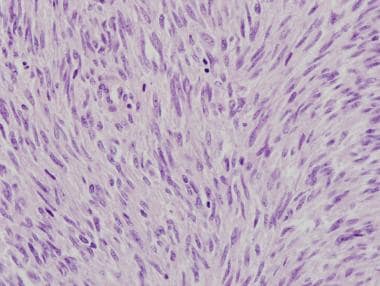 At higher magnification of the previous image, numerous mitoses can be seen. The tumor shows no specific pattern of differentiation.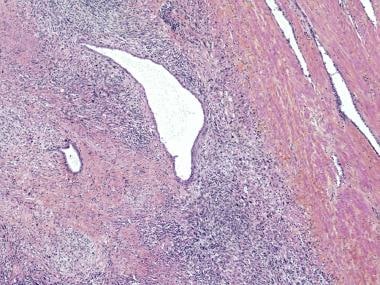 This image demonstrates a malignant spindle cell tumor replacing the prostatic stroma and invading vascular structures. The normal fibromuscular stroma of the prostate is appreciated at the right side of the figure.
Epidemiology
The true incidence of prostatic stromal sarcomas has not been established because of the rarity of this tumor. [1, 2, 3, 4, 13, 14, 15, 16, 17, 18, 19] In the largest series, patients' ages ranged from 25 to 86 years, and at least one half of these patients were younger than 50 years. [1, 3, 4, 13] There have also been reported cases in younger adults. [14, 15]
Sarcomas arising in the prostatic stroma in children are virtually always rhabdomyosarcomas. [20, 21] Some authors consider stromal tumors of uncertain malignant potential (STUMPs) and stromal sarcoma to be in a spectrum of the same disease, [3, 4] whereas others favor STUMP as a type of hyperplasia with little to no malignant potential. In contrast to STUMPs, stromal sarcomas tend to affect a slightly younger population. [4]
Etiology
The prostate has a complex stromal-epithelial interaction that responds to hormonal stimulation that is responsible for prostatic epithelial morphogenesis, differentiation, proliferation, and expression of prostate-specific proteins. It is believed anomalous or exaggerated stimulation in these pathways may give origin to stromal sarcoma. [22]
Stromal sarcoma may arise de novo or coexist with either preexistent or concurrent STUMP, suggesting a potential for STUMP in dedifferentiate into stromal sarcoma. Indeed, Herawi et al studied 50 stromal tumors of prostate. The investigators found 14 stromal sarcomas, of which 7 were associated with STUMP. [2] Due to the relation and coexistence of STUMP and prostatic stromal sarcomas in the same cases as reported by Herawi et al, the term STUMP seems to be acceptable.
Location
There is no specific site of occurrence of stromal sarcoma within the prostate. However, these tumors have been reported to arise more often from the posterior region of the prostate, and some extend to the vasa deferentia and seminal vesicles. [16, 23, 24] Some large tumors may protrude outside the prostate and mimic gastrointestinal stromal tumors or other neoplasms arising outside the prostate.
Clinical Features and Imaging
Common clinical presentations in men with prostatic stromal sarcoma are urinary retention, abnormal digital rectal examination (DRE), hematuria or hematospermia, and a palpable rectal mass. Although serum prostate-specific antigen (PSA) is usually negative, interestingly, there are also some reported cases with either sole or concurrent elevation in serum PSA. [1, 3, 17, 18, 25] Although there are some reports of combined stromal sarcoma with prostatic adenocarcinomas, it is likely that these represent sarcomatoid carcinomas (carcinosarcomas) rather than true primary sarcomas colliding with prostatic carcinomas. [17] Although there have been reported cases, sarcomatoid carcinomas of the prostate are more likely to occur than 2 separate colliding tumors.
Gross Findings
There is no specific gross finding in these tumors. Prostatic stromal sarcomas can be solid or mixed with cystic areas, and they may show a tan to white cut surface and areas of edema and hemorrhage. Necrosis may also be found, especially in high-grade tumors. [4, 25]
Size is variable and has ranged from 2 to 18 cm in the hitherto reported cases. Interestingly, size has not correlated with the grade or clinical behavior of the tumor in most cases. [2, 3, 4]
Microscopic Findings
Stromal sarcomas (see the images below) are histologically characterized by stromal overgrowth, variable cellular atypia, mitosis, and increased cellularity. They are further divided into low-grade and high-grade tumors, based on moderate to high cellular atypia and hypercellularity in high-grade tumors. Other findings such as necrosis and high mitotic counts are more commonly found in high-grade neoplasms. [17, 18, 26]
The stromal component can be solid or interspaced with normal glandular elements (see the images below). The most common patters are the storiform, epithelioid, fibrosarcomatous, or "patternless-type." [4] Leaflike structures, resembling breast phyllodes tumor, are also found. These are more associated with low-grade sarcomas, and on histologic grounds alone, it may be difficult to predict the behavior of such tumors because of their bland appearance. The distinction between low-grade prostatic stromal sarcomas and stromal tumors of uncertain malignant potential (STUMPs) is based on the degree of cytologic atypia, and they are supported by the local aggressive behavior found in low-grade sarcomas. [1, 3]
Immunohistochemistry
As a neoplasm originated from specialized prostatic stroma, stromal sarcomas are progesterone- receptor (PR) positive, normally in a diffuse pattern. Occasional cases have shown estrogen-receptor (ER) positivity. CD34 and vimentin are both expressed diffusely in most cases. Smooth muscle actin is reportedly positive in some stromal tumors of uncertain malignant potential (STUMPs) but not in stromal sarcomas.
Rare desmin positivity is acceptable and is found in a minority of the cases. Beta-catenin and p53 expression are more commonly found in high-grade sarcomas, but sometimes they are also expressed in low-grade neoplasms. [4] Cytokeratins are negative in all reported cases. A high Ki-67 index is seen in most high-grade cases, but this finding is of little utility in the diagnosis of these neoplasms.
Molecular/Genetics
The current literature provides no data about specific molecular or genetic abnormalities in prostatic stromal sarcoma; neither are there studies that show any specific alteration that could predict the development of a stromal sarcoma from a stromal tumor of uncertain malignant potential (STUMP).
Tumor Spread and Staging
Low-grade sarcomas are locally aggressive neoplasms that can show contiguous involvement of seminal vesicles and extraprostatic extension. They normally do not metastasize or involve the bladder and rectum. [1, 4] but the true clinical behavior of these neoplasms is not entirely known, as only a few cases have been reported. It has been suggested that even low-grade sarcomas can locally invade, despite having at times a relatively bland cytology. [4]
However, high-grade neoplasms are more aggressive, with a higher prevalence of spread to the seminal vesicles, bladder, and rectum. Surgical margins are sometimes difficult to obtain because of involvement of adjacent structures. Vascular invasion has also been shown to be present in high-grade sarcomas, with selected cases demonstrating metastases to the liver and lung. [2, 18, 27]
Although there is no specific staging system for prostatic stromal sarcoma, pathologists should document the status of margins, distance to the closest margin, involvement of the seminal vesicles, and extraprostatic extension, similar to what is performed in adenocarcinomas. This process will provide clinicians with necessary information.
Prognosis and Predictive Factors
Because prostatic stromal sarcoma is a rare tumor, there are limited data about its prognosis, mostly in a very few case reports or from series with a small number of cases. Low-grade stromal sarcomas can be locally invasive, but these tumors normally do not metastasize.
The high-grade counterpart is more aggressive and may lead to death mainly because of metastasis or early local invasion. A minority of patients diagnosed with high-grade stromal sarcomas showed poor short-term survival if they were diagnosed early with resection with clear margins. Cases with distant metastasis behaved variably, with some early deaths due to widespread metastases and others showing long-term survival years after their initial presentation. [16, 17]
Patients are normally treated with radical prostatectomy or cystoprostatectomy. There are no current data to evaluate the effectiveness of chemotherapy or radiotherapy. [1, 2, 18, 23]
What would you like to print?