Workup
Approach Considerations
Patients with uncomplicated cholelithiasis or simple biliary colic typically have normal laboratory test results. Laboratory testing is generally not necessary unless cholecystitis is a concern. [13]
Asymptomatic gallstones are often found incidentally on plain radiographs, abdominal sonograms, or computed tomography (CT) scans for workup of other processes. Plain radiographs have little role in the diagnosis of gallstones or gallbladder disease. Cholesterol and pigment stones are radiopaque and visible on radiographs in only 10%-30% of instances, depending on their extent of calcification.
Hematologic Studies
In patients with suspected gallstone complications, blood tests should include a complete blood cell (CBC) count with differential, liver function panel, and amylase and lipase.
Acute cholecystitis is associated with polymorphonuclear leukocytosis. However, up to one third of the patients with cholecystitis may not manifest leukocytosis.
In severe cases, mild elevations of liver enzymes may be caused by inflammatory injury of the adjacent liver.
Patients with cholangitis and pancreatitis have abnormal laboratory test values. Importantly, a single abnormal laboratory value does not confirm the diagnosis of choledocholithiasis, cholangitis, or pancreatitis; rather, a coherent set of laboratory studies leads to the correct diagnosis.
Choledocholithiasis with acute common bile duct (CBD) obstruction initially produces an acute increase in the level of liver transaminases (alanine and aspartate aminotransferases), followed within hours by a rising serum bilirubin level. The higher the bilirubin level, the greater the predictive value for CBD obstruction. CBD stones are present in approximately 60% of patients with serum bilirubin levels greater than 3 mg/dL.
If obstruction persists, a progressive decline in the level of transaminases with rising alkaline phosphatase and bilirubin levels may be noted over several days. Prothrombin time may be elevated in patients with prolonged CBD obstruction, secondary to depletion of vitamin K (the absorption of which is bile-dependent). Concurrent obstruction of the pancreatic duct by a stone in the ampulla of Vater may be accompanied by increases in serum lipase and amylase levels.
Repeated testing over hours to days may be useful in evaluating patients with gallstone complications. Improvement of the levels of bilirubin and liver enzymes may indicate spontaneous passage of an obstructing stone. Conversely, rising levels of bilirubin and transaminases with progression of leukocytosis in the face of antibiotic therapy may indicate ascending cholangitis with the need for urgent intervention. Blood culture results are positive in 30%-60% of patients with cholangitis.
Abdominal Radiography
Upright and supine abdominal radiographs are occasionally helpful in establishing a diagnosis of gallstone disease.
Black pigment or mixed gallstones may contain sufficient calcium to appear radiopaque on plain films. The finding of air in the bile ducts on plain films may indicate the development of a choledochoenteric fistula or ascending cholangitis with gas-forming organisms. Calcification in the gallbladder wall (the so-called porcelain gallbladder) is indicative of severe chronic cholecystitis.
The main role of plain films in evaluating patients with suspected gallstone disease is to exclude other causes of acute abdominal pain, such as intestinal obstruction, visceral perforation, renal stones, or chronic calcific pancreatitis.
See Imaging of Cholelithiasis for complete information on this topic.
Ultrasonography
Ultrasonography is the procedure of choice in suspected gallbladder or biliary disease; it is the most sensitive, specific, noninvasive, and inexpensive test for the detection of gallstones. [14] Moreover, it is simple, rapid, and safe in pregnancy, and it does not expose the patient to harmful radiation or intravenous contrast. An added advantage is that it can be performed by skilled practitioners at the bedside. The American College of Radiology (ACR) in its Appropriateness Criteria right upper quadrant pain, published in 2010, supports this conclusion. [15]
Sensitivity is variable and dependent upon operator proficiency, but in general, it is highly sensitive and specific for gallstones greater than 2 mm. It is less so for microlithiasis or biliary sludge.
Ultrasonography is very useful for diagnosing uncomplicated acute cholecystitis. The sonographic features of acute cholecystitis include gallbladder wall thickening (>5 mm), pericholecystic fluid, gallbladder distention (>5 cm), and a sonographic Murphy sign. The presence of multiple criteria increases its diagnostic accuracy.
Gallstones appear as echogenic foci in the gallbladder. They move freely with positional changes and cast an acoustic shadow. (See the image below.)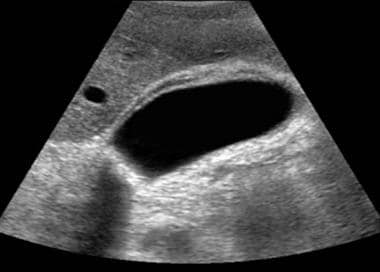 Cholecystitis with small stones in the gallbladder neck. Classic acoustic shadowing is seen beneath the gallstones. The gallbladder wall is greater than 4 mm. Image courtesy of DT Schwartz.
Ultrasonography is also helpful in cases of suspected acute cholecystitis to exclude hepatic abscesses and other liver parenchymal processes.
When the gallbladder is completely filled with gallstones, the stones may not be visible on ultrasound. However, closely spaced double echogenic lines (one from the gallbladder wall and one from the stones) with acoustic shadowing may be evident. (See the images below.)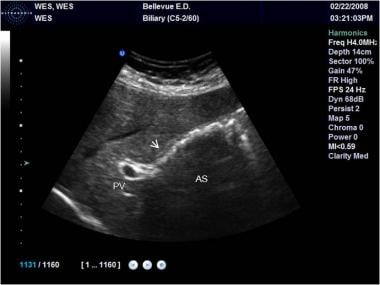 The WES (wall echogenic shadow) sign, long axis of the gallbladder. The arrow head points to the gallbladder wall. The second hyperechoic line represents the edge of the congregated gallstones. Acoustic shadowing (AS) is readily seen. The common bile duct can be seen just above the portal vein (PV). Image courtesy of Stephen Menlove.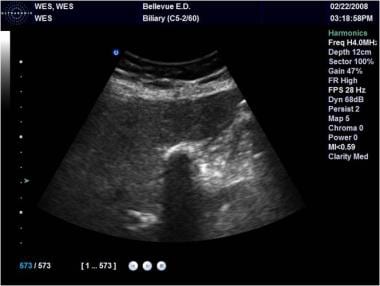 Wall echogenic shadow (WES sign), short axis view of the gallbladder. Image courtesy of Stephen Menlove.
Common bile duct (CBD) stones are missed frequently on transabdominal ultrasonography (sensitivity, 15%-40%). The detection of CBD stones is impeded by the presence of gas in the duodenum, possible reflection and refraction of the sound beam by the curvature of the duct, and the location of the duct beyond the optimal focal point of the transducer.
On the other hand, dilatation of the CBD on ultrasonographic images is an indirect indicator of CBD obstruction. CBD dilatation is identified accurately, with up to 90% accuracy. However, this finding may be absent if the obstruction is of recent onset. The usefulness of ultrasonography findings as a predictor of CBD stones is at best 15%-20%.
See Imaging of Cholelithiasis for complete information on this topic.
Endoscopic ultrasound
Endoscopic ultrasound (EUS) is also an accurate and relatively noninvasive technique to identify stones in the distal common bile duct. Sensitivity and specificity of CBD stone detection are reported in range of 85%-100%. [16]
Laparoscopic ultrasound
Laparoscopic ultrasound has shown some promise as a primary method for bile duct imaging during laparoscopic cholecystectomy. [17] Yao et al were able to evaluate the common bile duct with laparoscopic ultrasound during laparoscopic cholecystectomy in 112 of 115 patients (97.4%) with cholelithiasis.
In patients who were categorized preoperatively as having a low probability of bile duct stones, the occurrence rate of stones was found to be 7%; in those who were preoperatively assessed as having an intermediate probability of such stones, the occurrence rate was 36.4%; and in those who were rated with the highest probability of bile duct stones, the occurrence rate was 78.9%. [17]
The investigators suggested that as experience increases with laparoscopic ultrasound, this method may become routine for evaluating the bile duct during laparoscopic cholecystectomy. In addition, Yao et al advised mandatory aggressive preoperative evaluation of the common bile duct in those who are suspected to have an intermediate or high risk of having choledocholithiasis. [17]
Computed Tomography Scanning
Computed tomography (CT) scanning is more expensive and less sensitive than ultrasonography for the detection of gallbladder stones. CT scanning is often used in the workup of abdominal pain, as it provides excellent images of all the abdominal viscera. CT scanning is superior to ultrasonography for the demonstration of gallstones in the distal common bile duct.
Gallstones are often found incidentally on CT. Findings on CT for acute cholecystitis are similar to those found on sonograms. Although not the initial study of choice in biliary colic, CT can be used in diagnostic challenges or to further characterize the complications of gallbladder disease. CT is particularly useful for the detection of intrahepatic stones or recurrent pyogenic cholangitis.
See Imaging of Cholelithiasis for complete information on this topic.
Magnetic Resonance Imaging
Magnetic resonance imaging (MRI) with magnetic resonance cholangiopancreatography (MRCP) has emerged as an excellent imaging study for the noninvasive identification of gallstones anywhere in the biliary tract, including the common bile duct (see the image below). Because of its cost and the need for sophisticated equipment and software, it is usually reserved for cases in which choledocholithiasis is suspected. The 2010 ACR guidelines recommend MRI as a secondary imaging study if ultrasound images do not result in a clear diagnosis of acute cholecystitis or gallstones. [15]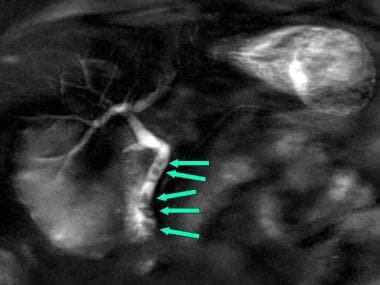 Magnetic resonance cholangiopancreatography (MRCP) showing 5 gallstones in the common bile duct (arrows). In this image, bile in the duct appears white; stones appear as dark-filling defects. Similar images can be obtained by taking plain radiographs after injection of radiocontrast material in the common bile duct, either endoscopically (endoscopic retrograde cholangiography) or percutaneously under fluoroscopic guidance (percutaneous transhepatic cholangiography), but these approaches are more invasive.
See Imaging of Cholelithiasis for complete information on this topic.
Scintigraphy
Technetium-99m (99m Tc) hepatoiminodiacetic acid (HIDA) scintigraphy is occasionally useful in the differential diagnosis of acute abdominal pain. Scintigraphy gives little information about nonobstructing cholelithiasis and cannot detect other pathologic states, but it is highly accurate for the diagnosis of cystic duct obstruction.
HIDA is normally taken up by the liver and excreted into bile, where it fills the gallbladder and can be detected with a gamma camera. Failure of HIDA to fill the gallbladder, while flowing freely into the duodenum, is indicative of cystic duct obstruction. A nonvisualizing gallbladder on a HIDA scan in a patient with abdominal pain supports the diagnosis of acute cholecystitis.
A meta-analysis by Mahid et al found that patients without gallstones who have right upper quadrant pain and a positive HIDA scan result are more likely to experience symptom relief if they undergo cholecystectomy than if they are treated medically. [18]
Endoscopic Retrograde Cholangiopancreatography
Endoscopic retrograde cholangiopancreatography (ERCP) permits radiographic imaging of the bile ducts. In this procedure, an endoscope is passed into the duodenum and the papilla of Vater is cannulated. Radiopaque liquid contrast is injected into the biliary ducts, providing excellent contrast on radiographic images. Stones in bile appear as filling defects in the opacified ducts. Currently, ERCP is usually performed in conjunction with endoscopic retrograde sphincterotomy and gallstone extraction. [19]
Percutaneous Transhepatic Cholangiography
Percutaneous transhepatic cholangiography (PTC) may be the modality of choice in patients in whom ERCP is difficult (eg, those with previous gastric surgery or distal obstructing CBD stone), in the absence of an experienced endoscopist, and in patients with extensive intrahepatic stone disease and cholangiohepatitis. A long large-bore needle is advanced percutaneously and transhepatically into an intrahepatic duct, and cholangiography is performed. A catheter can be placed in the biliary tree over a guidewire.
Uncorrected coagulopathy is a contraindication for PTC, and the normal size of the intrahepatic ducts makes the procedure difficult. Prophylactic antibiotics are recommended to reduce the risk of cholangitis.
What would you like to print?