Workup
Approach Considerations
Mandatory studies include upper GI endoscopy and manometry. Endoscopy can help confirm the diagnosis of reflux by demonstrating complications of reflux (esophagitis, strictures, Barrett esophagus) and can help in evaluating the anatomy (eg, hiatal hernia, masses, strictures). Manometry helps surgical planning by determining the lower esophageal sphincter (LES) pressure and identifying any esophageal motility disorders. Esophageal amplitudes and propagation of esophageal swallows are also evaluated.
Optional studies include 24-hour pH probe test and upper GI series. Use of 24-hour pH testing helps confirm the diagnosis in patients in whom the history is not clear, atypical symptoms dominate the clinical picture, or endoscopy shows no complications of reflux disease. Upper GI series can be ordered to further delineate the anatomy. Hiatal hernias can be evaluated (size) and reflux can be demonstrated. In addition, gastric emptying can be evaluated to a limited extent. If a question exists regarding inadequate gastric emptying or if the patient has a history of nausea and vomiting, a nuclear medicine gastric emptying study can be obtained.
At the authors' institution, endoscopy, manometry, and 24-hour pH studies are obtained routinely. Upper GI series and nuclear medicine gastric emptying studies are ordered only if clinically indicated. Currently, no role exists for CT, MRI, or ultrasonography in the routine evaluation of patients with reflux disease.
Upper Gastrointestinal Endoscopy
Esophagogastroduodenoscopy (EGD) demonstrates the anatomy and identifies the possible presence and severity of complications of reflux disease (esophagitis, Barrett esophagus, strictures). Using the patient's history and pathologic analysis of biopsy specimens obtained during endoscopy, the diagnosis of GERD can be made. EGD also excludes the presence of other diseases (eg, peptic ulcer) that can present similarly to GERD.
Although EGD is frequently performed to help diagnose GERD, it is not the most cost-effective diagnostic study, because esophagitis is present in only 50% of patients with GERD.
Esophageal Manometry
Esophageal manometry defines the function of the LES and the esophageal body (peristalsis). Esophageal manometry is essential for correctly positioning the probe for the 24-hour pH monitoring.
Indications for esophageal manometry and prolonged pH monitoring include the following:
Persistence of symptoms while taking adequate antisecretory therapy, such as PPI therapy

Recurrence of symptoms after discontinuation of acid-reducing medications

Investigation of atypical symptoms, such as chest pain or asthma, in patients without esophagitis

Confirmation of the diagnosis in preparation for antireflux surgery
Ambulatory 24-Hour pH Monitoring
Ambulatory 24-hour pH monitoring is the criterion standard in establishing a diagnosis of GERD, with a sensitivity of 96% and a specificity of 95%. It quantifies the gastroesophageal reflux and allows a correlation between the symptoms of reflux and the episodes of reflux.
Patients with endoscopically confirmed esophagitis do not need pH monitoring to establish a diagnosis of GERD.
Imaging in Gastroesophageal Reflux Disease
Plain radiographic findings are not useful in evaluating patients for GERD, but they are helpful in evaluating the pulmonary status and basic anatomy. Chest images may demonstrate a large hiatal hernia, but small hernias can be easily missed. Upper GI contrast-enhanced studies are the initial radiologic procedure of choice in the workup of the patient in whom GERD is suggested. Esophageal inflammatory and neoplastic diseases are better detected with double-contrast techniques. Conversely, single-contrast techniques are more sensitive for structural defects such as hiatal hernias and strictures or esophageal rings. [27]
Although delayed gastric emptying is present in as many as 60% of patients with GERD, this emptying defect is usually a minor factor in the pathogenesis of the disease in most patients (except in patients with advanced diabetes mellitus or connective tissue disorders). Patients with delayed gastric emptying typically experience postprandial bloating and fullness in addition to other symptoms. Gastric emptying studies may be worthwhile in the evaluation of patients in whom delayed gastric emptying is believed to contribute to the manifestation of GERD symptoms.
See Gastroesophageal Reflux Disease Imaging for more information.
Nuclear Medicine Gastric Emptying Study
Gastroesophageal reflux scintigraphy can be performed with acidified orange juice labeled with technetium-99m sulfur colloid. Compared with fluoroscopy, this allows for a longer time of evaluation, a decreased radiation dose, and the ability to semiquantitate the amount of reflux. However, gastroesophageal reflux scintigraphy has little role in the adult patient due to limited sensitivity and the availability of other methods of evaluation.
Gastroesophageal reflux scintigraphy is much more commonly used in infants and children due to the noninvasive nature of the study and relatively low radiation dose. In infants and children, the study is often performed with labeled milk. In addition to evaluating the degree of reflux, pulmonary aspiration can be detected by imaging over the lungs.
Intraluminal Esophageal Electrical Impedance
Intraluminal esophageal electrical impedance (EEI), a newer test, is useful for detecting both acid reflux and nonacid reflux by measuring retrograde flow in the esophagus. Gastroesophageal reflux episodes as brief as 15 seconds may be measured (see the image below).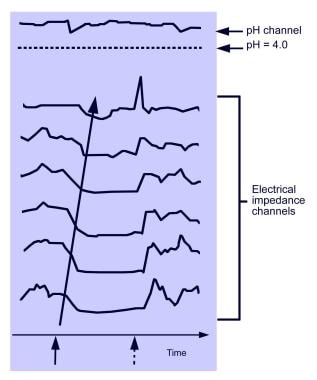 The image is a representation of concomitant intraesophageal pH and esophageal electrical impedance measurements. The vertical solid arrow indicates commencement of a nonacid gastroesophageal reflux (GER) episode (diagonal arrow). The vertical dashed arrow indicates the onset of a normal swallow.
In adult studies, impedance measurements have been used in conjunction with 24-hour intraesophageal pH monitoring in order to provide a more complete picture of bolus movement in the esophagus. EEI has not been thoroughly validated, and normal values have not been determined in the pediatric age group.
What would you like to print?