Treatment
Approach Considerations
Treatment for infection with hepatitis D virus (HDV) consists primarily of supportive measures (in part owing to the fact that HDV is very host dependent and absent of potentially drugable enzyme in its genome [23] ). Observe synthetic liver function markers and mental status closely. Deterioration of either should prompt early consultation with hospital personnel capable of performing liver transplantation.
Diet need not be restricted. If enteral intake is poor, intravenous fluids can be administered. Total parental nutrition is seldom needed.
Liver transplantation is indicated in patients with fulminant liver failure. Patients with evidence of decompensated liver disease or fulminant liver failure should be immediately transferred to a center capable of performing a liver transplantation.
The first pharmacologic treatment for HDV, bulevirtide (Hepcludex) gained conditional approval by the European Union (EU) in July 2020. [24] EU approval was based on data from a phase 2 trial of bulevirtide plus pegylated interferon (PEG-IFN) or tenofovir DF presented at the 2020 Digital International Liver Congress. In the United States, a new drug application submission is expected in late 2021. Bulevirtide is a first-in-class entry inhibitor for HDV that blocks viral entry into liver cells through binding to the sodium taurocholate cotransporting polypeptide (NTCP). NTCP is a cell surface receptor expressed in the basolateral membranes of hepatocytes that is necessary for the entry of HBV and HDV. [25]
Peginterferon alfa-2a (PEG-IFNa2a) and nucelos(t)ide analogues have been used to manage chronic HBV infection, but only PEG-IFN has shown anti-HDV activity. [8, 26, 27] However, a study of the efficacy of PEG-IFNa2a found that treatment with or without adefovir over 48 weeks resulted in sustained HDV RNA clearance in approximately one fourth of patients. [28] In another study, PEG-IFN achieved sustained viral response (SVR) and remission in only 29.4% of patients. [29] Thus, PEG-IFN2a has low rates of SVR and clinical improvement. [27] The efficacy rate of interferon-based therapy does not exceed 30%, with frequent termination of therapy owing to serious side effects, and the relapse rate is very high. [8]
Similar findings were reported in a 2021 meta-analysis of the efficacy of PEG-IFN (a2a or a2b) monotherapy in the treatment of chronic HDV infection. [30] The analysis comprised 13 studies of 475 patients who underwent at least 48 weeks of PEG-IFN therapy and were followed up for 24 weeks after therapy. The pooled virologic response after 24 weeks was achieved in 29% of patients, biochemical response was achieved in 33% of patients, and HBsAg clearance with seroconversion to anti-HBs was achieved in only 1% of patients. [30]
The following is a proposed algorithm for the treatment of chronic hepatitis D by Shah et al. [21]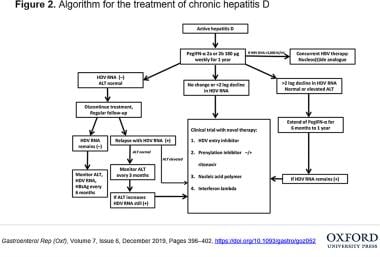 Algorithm for the treatment of chronic hepatitis D. Courtesy of Gastroenterology Report (Shah PA, Choudhry S, Reyes KJC, Lau DTY. An update on the management of chronic hepatitis D. Gastroenterol Rep (Oxf). 2019 Oct 19;7(6):396-402. PMID: 32494363; PMCID: PMC7249531).
Potential new therapies remain under investigation, including prenylation inhibitors (against HDV only), as well as viral entry inhibitors and HBsAg-release inhibitors (against HDV and hepatitis B virus [HBV] coinfection). [8, 31, 32]
Early notification of a hepatologist or gastroenterologist is warranted.
No vaccine is available for HDV, but the HBV vaccination is effective against HDV.
See the following articles for more information:
Prevention
Cost-effective, optimal strategies to reduce the prevalence of hepatitis B virus (HBV) in moderately endemic hepatitis D virus (HDV) regions include the implementation of all four of the following interventions [20] :
Testing, with HBV adult vaccination (diagnosis)

Diagnosis, with anti-HBV therapy (mono-infections)

Diagnosis, with combined anti–HBV-HDV therapy (dual infections)

Creation and utilization of effective awareness programs
Long-Term Monitoring
Follow-up is recommended for at least 6 months to determine if chronic hepatitis B virus (HBV) and hepatitis D virus (HDV) infection develop.
Perform a liver biopsy to stage liver disease prior to beginning interferon alfa therapy.
Treatment with interferon can be continued after the 1-year period if well tolerated and efficacy is demonstrated. Monitoring HDV RNA and hepatitis B surface antigen (HBsAg) levels may help in guiding therapy. [33]
What would you like to print?