Workup
Laboratory Studies
The following is an algorithm proposed by Shah et al for the evaluation of chronic hepatitis D. [21]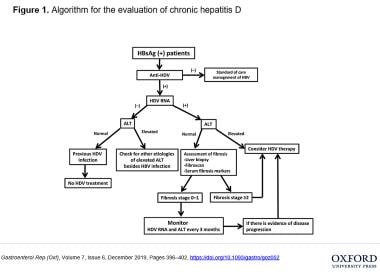 Algorithm for the evaluation of chronic hepatitis D. Courtesy of Gastroenterology Report (Shah PA, Choudhry S, Reyes KJC, Lau DTY. An update on the management of chronic hepatitis D. Gastroenterol Rep (Oxf). 2019 Oct 19;7(6):396-402. PMID: 32494363; PMCID: PMC7249531).
The following serum test results are present in patients with coinfection with hepatitis D virus (HDV) and hepatitis B virus (HBV):
Results are positive for HDV antigen in 20%

Results are positive for HDV ribonucleic acid (RNA) in 90%; reverse transcriptase polymerase chain reaction assay is currently the most sensitive assay for the detection of HDV viremia [22]

Results for anti-HDV immunoglobulin M (IgM) are positive initially and then are positive for anti-HDV immunoglobulin G (IgG); the finding of antigen A antibody to HDV is almost exclusively associated with chronic HDV infections

Results for anti-HB core IgM are positive, except with superinfection, in which anti-HB core IgM is absent

A hepatic panel may show alanine aminotransferase and aspartate aminotransferase levels greater than 500 IU/L

For synthetic liver function markers, an international normalized ratio greater than 1.5 or a prothrombin time greater than 17 seconds may be the first evidence of fulminant liver failure
Hepatitis B surface antigen (HBsAg) is required for HDV replication but may be suppressed to undetectable levels with active HDV replication.
A potentially useful, semi-automated screening assay for identifying HDV host cell requirements and antiviral targets is under investigation. [23] It consists of a Huh-7/hNTCP cell culture–based system in a 96-well plate format, an automated microscope, and image acquisition in conjunction with CellProfiler software analysis to quantify the impact of different drugs on HDV infection (marked toxicity). Investigators found that interferons alpha-2a and beta-1a were inhibitory. When 160 human kinase inhibitors comprising all parts of the human kinome were evaluated, those that targeted the tyrosine kinase-like group had significant average anti-HDV activity, of which kenpaullone had the highest selective index. [23]
Imaging Studies
Right upper quadrant ultrasonography helps in the evaluation of biliary obstruction and hepatocellular carcinoma.
Perform cholescintigraphy (hydroxy iminodiacetic acid) to exclude acute cholecystitis, if clinically indicated.
Perform computed tomography (CT) scanning or magnetic resonance imaging (MRI) if hepatocellular carcinoma is suspected. (An alpha-fetoprotein [AFP] level greater than 250 ng/mL is highly suggestive of hepatocellular carcinoma [HCC].)
Histologic Findings
Results from liver biopsy in patients with acute disease are consistent with acute hepatitis, and, generally, a biopsy is not indicated. Consider liver biopsy if the serologic diagnosis of hepatitis is inconclusive.
In patients with chronic liver disease, liver biopsy is indicated to evaluate for the presence of fibrosis and cirrhosis.
HDV antigen immunohistochemical analysis of liver tissue is the criterion standard for establishing a diagnosis of persistent HDV infection.
Histologic features are very similar to those observed in patients with HBV infection. Acidophilic bodies and degeneration of hepatocytes with acidophilic cytoplasm are present. The few inflammatory cells (lymphocytes) likely represent the direct cytotoxicity of HDV. Results of immunohistochemical staining for HDV antigen are positive. With superinfection, staining often reveals that HBsAg is suppressed.
What would you like to print?